Traveling to Memphis-Lodging at the Central Station Curio Hotel, Attractions, Dining Tips, May 2022
Memphis is a very underrated but fun place to visit. I took the Amtrak Train from New Orleans, which is one great way to get to the city from other close cities besides flying in.
Highlights included Graceland at home of Elvis, the Blues Hall of Fame (which was fantastic and located a block from the Central Hotel. You can spend hours in there listening to great music with the self interaction displays and then checking out the hall of fame room https://blues.org/hall-of-fame-museum/ ) , the Rock'n'Soul Museum, Sun Studio, Civil Rights Museum, and the popular Beale Street (Featured Photo)

Take in a Memphis Grizzlies NBA game if they're playing (I was lucky to be there during the playoffs and they defeated Golden State in game 5.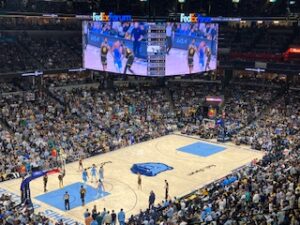 Rent an E bike through their app with stations around the city.  Easy to rent and return using their app.  Make sure to read all the directions and rules so extra fees are not applied but a great way to get around. Explore Bike Share www.explorebikeshare.com
Explore Big River Crossing on the Ebike– The Longest pedestrian & biking bridge over the Mississippi River from Memphis to West Memphis.
Graceland– Just loved the visit and spent hours touring around the variety of rooms at the house and then the exhibits, short film screening and many stores and the complex. It was hard to leave with all the education, videos, music and stuff you can buy. I bought a great Elvis shirt and fedora for my memory. This was a fantastic time and not to miss when you visit Memphis as it is the Top Attraction for a reason. The Mansion tour, plus explore exhibits showcasing Elvis' career, his automobiles, his wardrobe, his gold records, his custom jets, and much more from the Graceland Archives. 
INCLUDES
Graceland Mansion Audio-Guided Tour
Self-guided tour of Elvis' Custom Jets
Full Access to all-new Elvis Presley's Memphis Entertainment Complex, which includes:

Self-guided tour of Presley Motors Automobile Museum
Self-guided tour of Elvis: The Entertainer Career Museum
Self-guided tours of Elvis Discovery Exhibits
Edge Motor Museum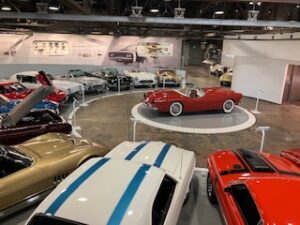 The Edge Motor Museum, American Speed follows the rise, plateau, and fall of the American sports car. See more than a dozen iconic sports cars from post-war United States to the 1970s, and track the cultural, economic, political, and technological trends that helped mold them into reflections of the era.
https://www.edgemotormuseum.com/
Sun Studio is known worldwide as "The Birthplace of Rock'n'roll". It is the discovery location of musical legends and genres of the 50's from B.B. King and Elvis Presley to Johnny Cash and Jerry Lee Lewis; from Blues and Gospel to Country and Rock'n'roll. Today our goal is to spread the story of Memphis' history and culture through the music that put Memphis on the map.
Stand in the very same spot that Elvis first recorded. Your tour guide will tell you the inside stories of B.B. King, Howlin' Wolf and Ike Turner before Elvis, Johnny Cash, Carl Perkins, Jerry Lee Lewis, & Roy Orbison who were all drawn to the new Sun Sound.
See the priceless memorabilia from the musical legends that blended blues and country music to explode in the "big bang" of Rock'n'roll.
Hear the voices of musicians that still haunt this studio, as you listen to outtakes from recording sessions and feel the energy of the music created here.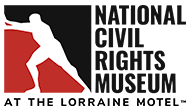 The National Civil Rights Museum at the Lorraine Motel, the assassination site of Dr. Martin Luther King, Jr., chronicles key episodes in the American civil rights movement and the legacy of this movement to inspire participation in civil and human rights efforts globally. https://www.civilrightsmuseum.org/
Stax Museum of American Soul Music
Learn about the history of Stax Records and their artist such as Otis Redding, Isaac Hayes, Sam and Dave, Carla Thomas, William Bell, Booker T. & the M.G.'s, Eddie Floyd, the Bar-Kays, Albert King, and the Mad Lads.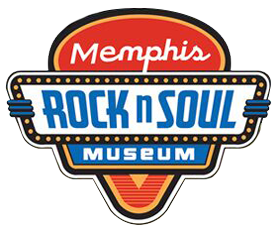 The Memphis Rock 'n' Soul Museum is a music museum located at 191 Beale Street in Memphis, Tennessee. The museum tells the critical story of the musical pioneers who overcame racial and socio-economic obstacles to create the music that changed the cultural complexion of the world. https://www.memphisrocknsoul.org/
I took a fantastic adventure with Kayak Memphis Tours on the Mississippi River. Kayak Memphis offers guided tours and kayak rentals along the Memphis Riverfront. See amazing views of the Memphis skyline from your kayak. Kayaking in the river is not for beginners but if you want a fantastic time and have experience, this is tons of fun. The currant can be a bit strong but overall not dangerous. Go out with Mark or his son (Harry) and they will show you around with a great kayak tour. If you are not as adventurous, stay in the harbor and ride around. Mark also runs Ghost River Kayak for another adventure outside the city. I loved kayaking on the Mississippi river.
https://kayakmemphistours.com/
More fun ideas of things to do on these links here
https://www.memphistravel.com/trip-ideas/cheat-sheet-must-see-do-eat
https://www.memphistravel.com/trip-ideas/best-music-attractionshttps://
www.memphistravel.com/trip-ideas/beale-streethttps://
www.memphistravel.com/trip-ideas/black-history-memphis
Lodging:
The Central Station Curio Hotel is more than just a hotel as it serves as the living room of South Main. The location was perfect as it was about a 12 block walk to Beale Street or short Ebike ride (bike station located right outside the hotel on the street). Close to many local attractions while the staff was friendly and helpful. The room was great with a comfy bed and hd TV.
It's a bourbon with friends, it's the song that makes you close your eyes and sing along, it's a cozy bed after a long business trip. The Central Station is a living, breathing reflection of the South Main community. The trains that ran through Central Station brought goods, the river's current brought people, but the music coursing through Memphis brought spirit.
The Central Station hasn't forgotten that. Central Station will offer 123 guest rooms including 9 Suites. Our oversized rooms showcase timeless decor with subtle touches of Central Station's history with the modern comforts discerning travelers have come to expect. The Central Station has stood watch over South Main Street in downtown Memphis for more than 100 years, a direct reflection of the success, struggle, and spirit of the city that grew up around it.
It was built simply for arrivals and departures, but the life that churned through on its rails gave South Main a vitality that turned it into one of the most iconic and dynamic neighborhoods in the city. Today, Central Station Hotel lets you experience the verve of this town in ways unlike any other, just like a real Memphian would.
https://centralstationmemphis.com/
Dining Options-
Bishop Restaurant at Central Station showcases locally and regionally influenced Southern cuisine, featuring bold, contemporary flavors in a relaxed, yet attentive environment. We had some appetizers and then went for the fish of the day accompanied by a side of creamed spinach.
Enjoy your meal paired with an extensive wine list that offers a selection of unique wines from smaller, family-owned wineries that deserve a place at your table. A French brasserie inspired restaurant with southern influence. Dishes range from escargot to caviar, and duck a l'orange to fried chicken. Bishop features a beautiful charcuterie bar highlighting unexpected favorites like canned seafood, country ham, fresh baguettes, and grand aioli towers. The restaurant also showcases a bar and lounge area with a cocktail list rooted in the classics. Variations of Martinis and other vermouth, sherry and aperitif based cocktails are sure to surprise and delight the most discerning of palates. The wine list is French inspired as well, highlighting each region of France. https://centralstationmemphis.com/food-drink
Memphis' oldest cafe is the Arcade Restaurant. See where Elvis used to sit and eat while lounging in this '50s style diner. Enjoy their breakfast and don't miss the popular sweet potato pancakes (pictured above) . https://arcaderestaurant.com/
Fancy's Fish House-
Located in Downtown Memphis at fabulous One Beale, Fancy's Fish House delivers a riverfront dining experience of chef-inspired favorites including fresh daily caught fish and seafood, a lavish raw bar, and signature dishes from the grill. Plan your trip to Fancy's Fish House today and get hooked. The menu and seafood were amazing as you have great views of the Mississippi River. Here are some of the dishes we had and the view of the river was amazing.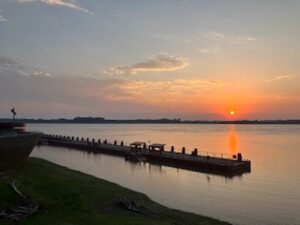 Rendezvous BBQ

–

Your visit to Memphis is not complete unless you get in some bbq and this place was fantastic.

Delicious bbq ribs, chicken, side dishes and more.

The staff is friendly and welcoming and you will see why there is a wait most of the time. The good news is they get the food out fast to you after you order.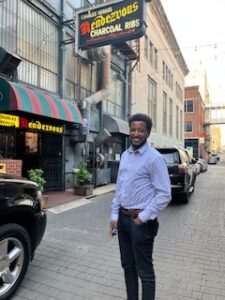 A big thanks to Milton Howery 111 (pictured above outside Rendezvous) – Director of Public Relations who is on top of ensuring the best publicity for the city with everything it has to offer.
Proper Name: Memphis Travel
Tag line: Home of Blues, Soul and Rock 'N' Roll
Hashtag: #MustBeMemphis
Handles: @MemphisTravel , /MemphisTravel