Fosse Musical returned to LA for some Facinating Shows – November 1st, 2003
The exciting Musical "Fosse" came back to Los Angeles for a quick tour in Pasadena, Thousand Oaks and finishine up in Long Beach before going back out on the Road.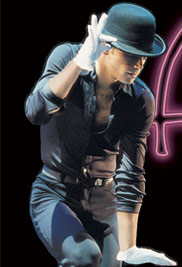 The cast of Fosse was as hot as the Southern Cal weather. The group of two dozen dancer/singers, met with a warmly appreciative and varied audience at the Long Beach Terrace Auditorium, a prize location, where we caught the show.
Truly a tribute to the innovative choreographer and director Bob Fosse, who is best known for writing, directing, and choreographing award-winning works such as Chicago and Cabaret. Perhaps the most familiar number he choreographed was "All That Jazz." But don't expect to view All That Jazz during Fosse.
The performances incorporate Fosses' signature elements, such as slick fluid dance moves with sexy combinations of ballet and acrobatic techniques. The show is in dramatic and not historical order, but it does cover the late Bob Fosse's famous works from (1927-1987) with scenes from '"Hey Big Spender" to "Life is Just a Bowl of Cherries". Dazzling choreography and incredibly limber dancers present a Fosse smorgasbord perfect for those who are in love with Fosse's style. We were surprised to find that this musical lacked plot or even dialogue between characters. It was simply one dance performance after another. So if you're hoping for a traditional musical, this may not be the best choice for you. If however, you enjoy watching dance, you'll appreciate every fantastically choreographed move.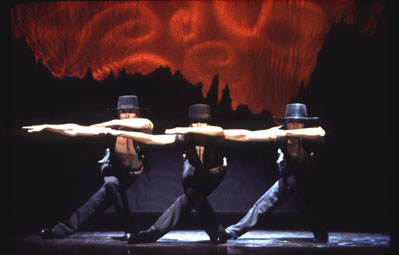 In 1973, Bob Fosse became the first director in history to win the Oscar, Tony, and Emmy award in a single year for the film version of "Cabaret", the Broadway Musical "Pippin", and the TV special "Liza with a Z". Besides "Big Spender", other notable great dance numbers included "Steam Heat", "Bye Bye Blackbird", "Rich Man's Frug", and "Sing Sing Sing".
The Fosse Musical has been seen live by over 4 million people worldwide. For more information and tour schedules, please visit their website at www.fossethemusical.com.