Ruth's Chris One of Kind Steak in Beverly Hills- August 15th, 2007
Are you searching for just about the Best Steak around with a great ambiance- look no further and locate the nearest Ruth Chris Steakhouse.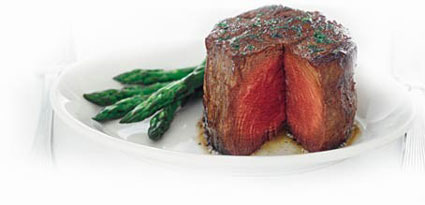 In a city loaded with great restaurants, what separates one from the other? Great service, ambience and an impeccable attention to detail. Ruth's Chris Steakhouse, located in the heart of Beverly Hills has all of the above. Not to mention, of course, some of the highest quality steaks you have ever digested. For those on a strict diet, all steaks can be prepared without butter. The plush red booths provide ample, comfortable seating, and the ambience is perfect for a night out with friends, or an evening with that special someone. The service was strictly first rate, courteous, knowledgeable, and extremely friendly. Overall, Ruth's Chris steakhouse hits high on the scale on all levels…..great food, great service and great atmosphere. Even for those who are watching their waistlines, it is highly recommended that you treat yourself and indulge in a well deserved delicacy! Here are some of the highlights of the menu.
For appetizers and starters, i suggest the BBQ Shrimp in an incredible white wine/butter/garlic sauce. Dip your bread in with what is left over it's that good. The Seared Ahi Tuna was very fresh and of excellent quality from this famous steakhouse.
Some of the popular salads include the Caesar, The Sliced Beefsteak Tomatoes with sliced onions and blue cheese dressing. Ruth's chopped salad is a house favorite with a mixture of lettuce, onions, mushrooms, bacon, hearts of palm, eggs, cherry tomatoes, croutons, and half blue cheese/half lemon basil dressing.
Now onto the reason for our visit. Yes the menu is diversed with other items such as chicken, fish and delicious Lamb Chops, but the recommendations are the Mouth Watering, Melt in your Mouth Fillets, Cowboy Ribeye that is marbled a bit but very tasty, and the N.Y. Steak. All dinners come on a red hot plate over 500% when it set on your table. The Fillet is pictured here and it will be hard to find one better than this spectacular place.
Some of the side dishes worth getting are the variety of potatoes from Baked, Mashed, Au Gratin, & Fries to name a few. Fresh creamed Spinach is to die for along with the tasty Asparagus and Broccoli.
If you are not full by now, there are some great desserts from Carmelized Banana Cream Pie, Warm Apple Tart, Chocolate Sin Cake and Bread Pudding. There is a full bar/entended wine list along with dessert choices.
There are 89 locations around the country and internationally. You will need a good workout after dining here.
For more information about The location at 224 Beverly Dr. in Beverly Hills, call 310-859-8744 to confirm a reservation and feel free to visit the website with more details at www.ruthchris.com Even if you do not eat steak too often, this venue is a place to try it and have a great dining experience.