Laguna Cliffs Marriott Resort & Spa- Great So. Cal getaway/Zoomars petting zoo nearby (7/10)
We spent a wonderful weekend at the Laguna Cliffs Marriott Resort and Spa located right near the Dana Point Harbor. The resort is set high on a bluff overlooking the Pacific Ocean, Doheny State Beach parkland and Dana Point Harbor. This red-roofed Victorian-style resort is great for to both business and leisure travelers, especially families. We ran into several families who live in the area and just came for the night to "get away". This resort has something for everyone.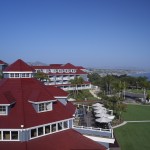 The rooms are lavish and this remodeled property has it all. There are two great heated swimming pools with ocean views. One pool is for family and kids with a splash zone, a kiddie pool, jacuzzi and ping-pong table. The other pool and Jacuzzi is geared for adults and is located away from the excitement of the "kid's location". The resort is walking distance to a few beautiful public parks, Doheny State Beach (popular for surfing) and the quaint seaport village of Dana Point Harbor down a 100+ staircase with many restaurants and shops. The resort has 378 beautiful guest rooms, including 15 deluxe suites. The décor is sunny and fresh with a beachy elegance. The rooms are iPod and iPhone ready.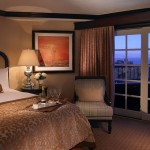 The Spa at Laguna Cliffs is 14,000-square-foot and embraces the relaxed essence of Southern California with specialty massages, facials and body treatments in its ten treatment rooms. Choose from massages, wraps and facials. I was lucky to get Andrea for a deep tissue arnica massage that took away all the stress in my tight muscles and left me wobbly afterwards. My wife, Kelly had the relaxing Swedish aromatherapy massage-just perfect! Make sure to visit the modern fitness center with state-of-the art equipment.This is AAA Four Diamond resort is great for business travelers as well. There are five local golf courses to choose from and more than 50,000 square feet of indoor/outdoor space for meetings. The lobby is spacious and absolutely beautiful.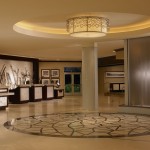 The food at the Laguna Cliffs Marriott is fantastic. Choose from the Overvue restaurant featuring a tapas menu (pictured below) or the Vue restaurant where they have a delicious buffet breakfast and gourmet dinner options. Executive Sous Chef Erasmo Rodriquez made some incredible dishes while we were there.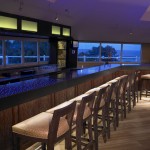 About 4 miles down the road in the quaint town of San Juan Capistrano is Zoomars Petting Zoo. It is the cutest little "farm" with pens full of bunnies, goats, and sheep where children can roam free with the animals and feed them. Zoomars offers pony rides and a train ride. There are alpacas, turkeys, pigs, birds, ostriches, a cow and more! This is a must if you have children. Our daughter loved it! www.zoomars.com
Laguna Cliffs Marriott Resort & Spa
Unveils Multi-Million Dollar Transformation
Dana Point, California, (April 14, 2010) – On April 30, Laguna Cliffs Marriott Resort & Spa will unveil the modern reinvention of the quintessential ocean-side resort as the property completes its full-scale renovation. Transforming practically every aspect of the AAA Four Diamond resort, Laguna Cliffs Marriott has upgraded all 378 guest rooms, created a stunning new OverVue lounge, renovated 20,000 sq. ft. of meeting space and added additional spectacular swimming pool facilities.
Designed to encompass the epitome of the Southern California resort experience, Laguna Cliffs Marriott Resort & Spa will unveil its newly redesigned property to guests and dignitaries on April 30, beginning with a procession of vintage surf "Woodies" courtesy of the South Coast Woodie Club; the iconic automobile that represents the timeless past of California beach culture will make a dramatic entrance, followed by a public ribbon cutting and a private reception.
"With this comprehensive renovation project we have successfully recreated the entire Laguna Cliffs experience allowing us to offer our guests unparalleled luxury at an incredible value," said Jim Samuels, General Manager of Laguna Cliffs Marriott Resort & Spa. "By making this investment during a challenging economic period, we bring to market dazzling new deliverables just at a time when consumer demand is increasing."
The renovation project enhanced interior design, exterior structure and amenities of the resort. Laguna Cliffs Marriott completely refurbished its guest rooms, 20,000 sq. ft. of expanded indoor meeting and banquet facilities, added a new porte cochère entrance and marble lobby with waterfall. Aesthetic and functional improvements have been made to every one of the resort's 378 rooms with luxurious, ocean-inspired furnishings, plush new floorings and sophisticated beach house décor with a variety of amenities from new LCD television sets to technological upgrades including faster Internet access. In addition, the award-winning restaurant VUE has been redesigned with contemporary furnishings and fresh décor and the new OverVue indoor/outdoor lounge and deck offers guests a relaxing and contemporary venue with stunning views of Dana Point and a dramatic water and fire feature. Ocean-view pool areas have been upgraded with a new family pool with a Splash Zone, water cannons, surfboards under a water curl and other family-friendly am0enities. Outdoor improvements include changes to the windows and roofing, and the addition of lush, eco-friendly landscaping including plants that are not only beautiful but also require little or no watering.
Laguna Cliffs Mar­riot Resort & Spa has reached the cov­eted sta­tus of "Favorite Place" on Google, mak­ing it one of the most pop­u­lar local busi­nesses on the site. Accord­ing to Google, less than 1 per­cent of the 28 mil­lion U.S. busi­nesses receive the recog­ni­tion. Google iden­ti­fies the most pop­u­lar local busi­nesses based on how many Google users looked for more infor­ma­tion about a busi­ness, looked for dri­ving direc­tions to the busi­ness, and more.
"At Laguna Cliffs Mar­riott Resort & Spa we embrace new tech­nol­ogy and con­sider it an honor to be rec­og­nized by an online pow­er­house such as Google," said Jim Samuels, Gen­eral Man­ager of Laguna Cliffs Mar­riot Resort & Spa. "We would like to give a spe­cial thanks to our guests who helped us to be named a 'Favorite Place' by research­ing us, writ­ing reviews and vis­it­ing our busi­ness list­ing on Google."
Tak­ing a page from new tech­nol­ogy trends, Laguna Cliffs will post a decal pro­vided by Google that includes a spe­cial bar code guests can scan with their smart­phones. Guests will be able to access the resort's mobile ver­sion of the Place Page on Google where they can read reviews, find out about spe­cials and add the resort as a per­sonal favorite.
To find out more about Laguna Cliffs Mar­riott Resort & Spa, please visit www.lagunacliffs.com