Nalbandian wins the Legg Mason Tennis Classic in Washington DC involving many upsets (8/10)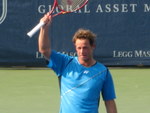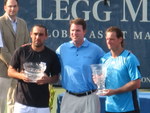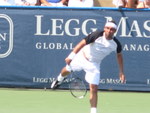 The Legg Mason Tennis Tournament in Washington DC had many upsets during the US Open Series tournament the first week of August. David (pronounced Daveed) Nalbandian took the championship with some incredible play. After watching him destroy highly ranked Stanislis Wawrinka from Switzerland in the second round, I predicted to all of the media that he would win the tournament. I haven't seen a player hit with so much power and accuracy in a long time. Nalbandian then took out Gilles Simon, the high ranked Marin Cilic (pictured in the middle below) from Croatia in the semis, and then Marco Baghdatis in the final. He only dropped one set to Simon while not only beating all the other players but also annihilating great pros.
Nalbandian had some injuries the last couple years with his hip and had missed the last 6 grand slam tournaments. He looks like a force and darkhorse for the US Open and rest of this year the way he played. Both Nalbandian and Baghdatis pictured above.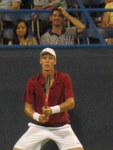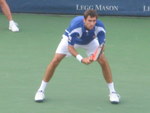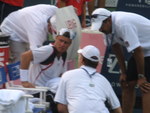 Early upsets included Andy Roddick to Simon, #1 seed Berdych (pictured above on the left) to Malisse in the quarterfinals, Hewitt (pictured with trainers above on the right) to Falla as he had to withdraw due to injury, & Stepanek to Chiudinelli. Other surprises included Tipsarevic over Querrey (who he lost to the week before in LA), Isner losing to Malisse, and Verdasco upended by Baghdatis. Mardy Fish lost a tough three set match to Cilic in the second round but looks like a contender as the summer goes on.
The tournament featured some great play under very hot conditions during the day but peaceful evening temperatures.
More info about the tournament at www.leggmasontennisclassic.com