Traveling to Ojai only about 90 minutes from LA (Lodging at the Emerald & Blue Iguana Inns and Dining recommendations (1/12)
Blue and Emerald Iguana Inns: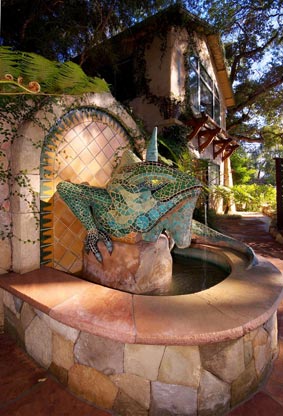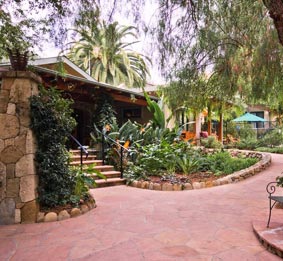 Just a few words to describe the lovely Emerald Iguana Inn. It is conveniently located nestled off the main road but in the middle of town, walking distance to lots of restaurants, Starr Market, cinema, museums, plenty of shops and tons of walking trails. We enjoyed the intimate, charming Emerald Iguana Inn and highly recommend the massage in your comfy room!
Two of us stayed in the Peacock room. Very adorable, with so much attention to detail, down to the wonderful bedding. I am a sheet fanatic. You can tell the owners pay close attention to detail. We had a wonderful, romantic time.   After dinners we returned to our room, lit the fire in the beautiful stove fireplace, and sipped a couple of local wines, which we picked up from the market down the road.  Definitely worth the getaway where you feel like you are in some remote place, and its only 1.5 hours from LA.  The Emerald Iguana Inn is for guests age 18 or over.  www.emeraldiguana.com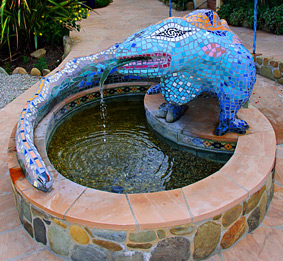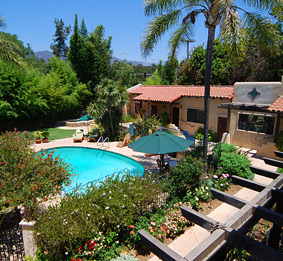 That takes us to the Blue Iguana Inn, which allows pets and kids.  We loved the Blue Iguana Inn, which you arrive at before coming into town only about 2 miles away from downtown Ojai.  The place is so beautiful with the grass courtyard next to the breakfast room (both Inns serve a nice continental breakfast buffet). Both Inns have Jacuzzis and swimming pools but you need to come in the summer, as they are not heated year round.  The owner Julia is super hospitable, friendly and helpful and works in the reception office quite often.  The room was great and spacious including a full kitchen, big bedroom and separate living room area with a fireplace, TV and comfortable sitting area.  www.blueiguanainn.com
Dining in Ojai:
AZU
We went to lunch as Azu Restaurant and Tapas Bar.  The restaurant was a lovely mix of old with a contemporary flair.  You know when a restaurant is good; it's a local hangout, which is exactly that at Azu.  We sat in the front dining room, but the restaurant is very deep and has a lovely rear dining room & bar with an outside terrace for private functions.   Throughout, there is a wonderful display of art well worth perusing. Elizabeth, head of sales/marketing was very welcoming.
The menu is quite eclectic with food samplings from throughout the Med with a main focus on modern Spain.


We started with a selection from the tapas menu, marinated olives, hummus, and fried calamari with a Garlic Aioli dipping sauce (yum), Gambas which is Whole Sautéed Prawns in Olive Oil, Garlic and White Wine.  One item not to miss is the Portuguese Lemon and Chicken Soup.
We then enjoyed a Capra Salad, which is Ojai Organic Greens, Pine Nuts, Cranberries & Goat Cheese on Toast with Fig Vinaigrette.  We shared the large Seafood Paella, mouth-watering mix of Saffron Rice, Shrimp, Calamari, Sea Scallops, Spanish Sausage, Artichoke Hearts and Peas.
Azu is a Great experience with absolutely wonderful food, drinks and ambiance.  Save room for homemade Gelato!!! www.azuojai.com
Osteria Monte Grappa-


What a fantastic place to dine right in the heart of downtown Ojai. We stopped in for lunch and ate on the outdoor patio during our first day and the meal was top notch. The sautéed calamari was tender and a must to order. The staff and service were right on. We met the manager Leon and owner Tammy who were so professional and hospitable.  If you are looking for the best Italian food around Ojai, this is the place.  The homemade saffron pasta with huge clams and/or mussels was just amazing while the seafood risotto was so flavorful and tasty.  There was so much seafood and shellfish in the risotto that you definitely get your money's worth.  You will not leave hungry, as the portions are enormous. This place is not to miss on your next trip to Ojai.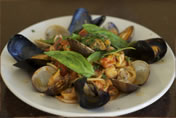 More at www.omgojai.com
Farmer and the Cook-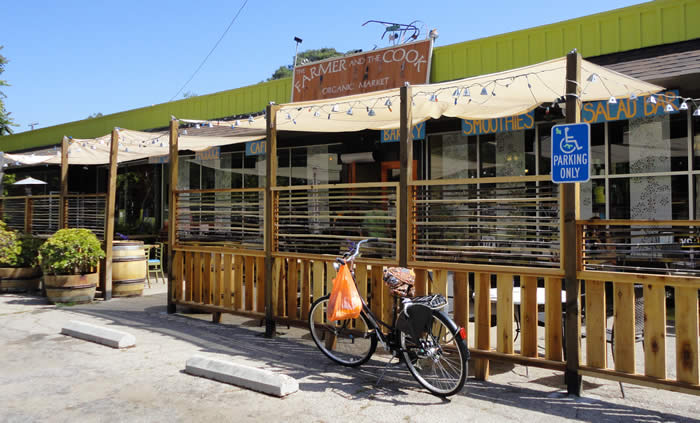 Wow!  We dropped in for breakfast out last day in Ojai and what a great decision that was.  This place has its own market and fresh produce straight from, you got it, the Farm. The homemade quiche was to die for and the breakfast burrito with fresh eggs was the best we have ever had.  The made to order tortilla was incredible and you can taste the difference.  The muffins are delicious and make sure to try their smoothies. Rory is known as the smoothie maker as he creates some incredible combinations like the scariest carrot or the almond/cocoa with some specialty ingredients that will blow you away. They have a wide selection of coffees and teas and the chai tea was fabulous.  They serve lunch every day as well as brunch on the weekend, which we will come back for next time. View more at  www.farmerandcook.com
Bodees: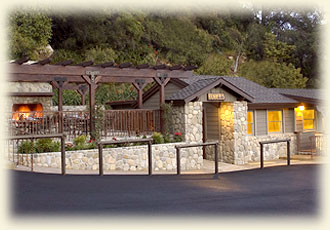 Bodees has amazing food, exceptional service and wonderful ambiance.  It's family run, and Michelle the owner is a Sweetheart and super personable.   You can feel the love and attention in every detail of Bodees.  The quality of products is of the highest quality and this was our favorite restaurant.  Some of the fantastic entrees included the special, grass fed beef filet with a lobster sauce that had large pieces of lobster meat. The filet was Delicious and very tender. The seafood was excellent including the herb-marinated salmon.  As good as the beef was, the best dish in our opinion on the menu was the Cilantro-Garlic Marinated Seared Ahi, and it was out of this world. The sauces were awesome. We also had started with the lobster Mac & cheese (the best one we have ever had) with tons of lobster and the Tuna Tartar with Sesame Wakame Salad, Ponzu aioli and Spicy Chili Sauce Served with Crispy Wontons (unbelievable). Everything we ate was terrific quality and prepared with the love and for the pure enjoyment of food and dining.  The decor and atmosphere was very intimate and romantic including the fireplace and outdoor patio.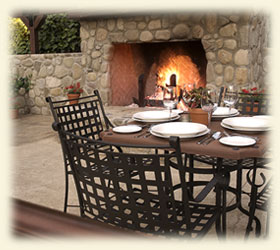 We said "love" twice in this article, but we have to say it again as we Loved this restaurant so much that we intend to come back again and again with friends and family while spreading the word.  The owner Michelle of Bodees has a ranch about 15 miles north of Ojai, which we were told was a fantastic place to visit. They rent out cabins right on the lake.  We plan to visit sometime in the summer. More at www.bodees.net