Jackson Hole, Wyoming extreme Skiing, great Lodging, delicious Dining- March 2014
Lodging
The Snow King Hotel (400 E. Snow King Ave, Jackson Hole, WY 83001,
www.snowking.com
, 307.733.5200), with its location in Jackson, makes it a very attractive Jackson Hole destination for visitors looking for more activity after the sun goes down.  For those unfamiliar with Jackson Hole, the city in Jackson Hole is called Jackson and the valley that encompasses Jackson and Teton Village is called Jackson Hole.  The Snow King Hotel in Jackson offers a more affordable option than the modernized Teton Village which can be a bit pricey. 

Snow King Mountain is walking distance from the resort offering true convenience to expert and beginner runs.  Although the ski area in Jackson pales in comparison to the world class Jackson Hole Resort area of Teton Village, it definitely has its advantages.  For one, Snow King Mountain boasts the steepest north facing FIS

(Fédération Internationale de Ski) racecourse in the lower 48 states; however, the lower mountain caters to beginners and intermediate skiers.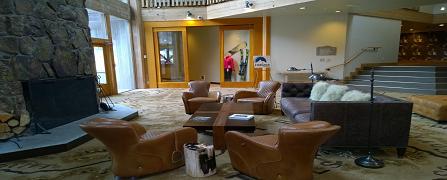 Snow King Hotel also makes a vacation at their facility desirable simply from the outstanding customer service provided by the entire staff.  Everyone is super friendly, knowledgeable and has a unique story about how they ended up in Jackson Hole – some are lifetime locals and can really give you a breakdown of the area as far as the history and plans for future growth.
The hotel was renovated in 2013 with luxury accommodations including a makeover to its interior and exterior.  The fitness center, business center, spa, salon and guestrooms all have been spruced up to stay within the theme of the facility and its location — a carefully thought out plan that has reenergized the hotel for years to come.  Other amenities include large parking area, WiFi throughout the facility, free airport and in town transportation, hair dryer, premium cable selections, free local paper and its pet friendly.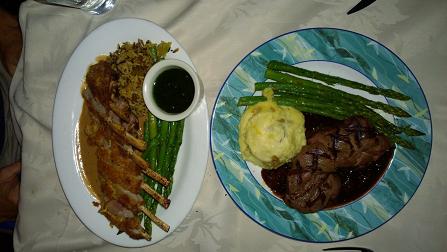 The hotel's restaurant, Hayden's Post Restaurant & Bar, is a fun and comfortable place to hang out for locals and guests alike.  Exceptional food and a lively atmosphere make this establishment a success.  An array of dishes featuring duck, buffalo, elk and bison are mastered. We had the lampchops and elk- pictured above.

SNAKE RIVER LODGE & SPA
The Snake River Lodge & Spa (7710 Granite Loop Road, Teton Village, WY 83025,
www.snakeriverlodge.com
, 855.342.4712) located 300 feet from the Jackson Hole Mountain Aerial Tram is a classic ski-in, ski-out luxury accommodation resort.  The facility boasts the most impressive spa in all of Jackson Hole — 17, 000 square foot (5 story spa) with natural light and incredible views of the Jackson Hole Mountain.  It's the perfect setting to enjoy their immaculate hot tubs, steam rooms and saunas before a massage or after a day of skiing.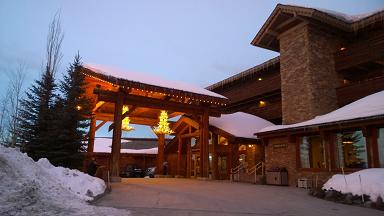 The hotel staff is very professional and knowledgeable with a fully staffed front desk, concierge desk and ski valet.  Everyone will go the extra mile to assist with reservations and transportation to the surrounding amenities and services that Jackson Hole has to offer.
For dining, you have the Fireside Bar that's adjoined to the lobby and provides a comfortable setting for those that want to watch a sporting event with a cold beer or just lounge around and socialize while enjoying Elk Sliders, Portabella Truffle Fries or even a delicious bowl of Smoked Pheasant Soup.  For the resort's signature dining experience, there's Gamefish Restaurant, offering breakfast and dinner overlooking the Snake River Valley.
DINING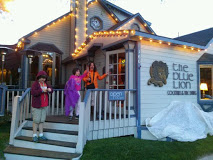 Our favorite restaurant on the trip was the Blue Lion in Jackson.   This intimate establishment was an old house that was converted into this high-end restaurant with great food.  All entrees come with a delicious garden salad and side dish.  The main courses not to miss are the local Elk tenderloin and the incredible rack of lamb. They were the best on this trip.  They have a variety of dishes including delicious seafood such as the green curry shrimp.  The service is top notch and the staff is very hospitable.  Your water glass gets filled very quickly from the bus staff.  Finish off your meal with one of their homemade desserts as your server will bring out a tray to check out. I went for the mud pie and it was fabulous.  You can see more at
    http://bluelionrestaurant.com
Another fabulous restaurant is called the Handle Bar at the Four Seasons Hotel in Teton Village.  Executive Chef Jeffrey Hileman has some creative dishes with many of them coming from his upbringing.  Try the pork and/or elk chili as they are very flavorful along with the tuna tartar for an appetizer.  The baby kale Caesar salad and the Greek hummus salad are also great suggestions.  For the main course, the butter-poached filet mignon melts in your mouth with a demi-wine sauce and fresh veggies. Our other recommendation is the fresh swordfish flown in fresh.  You get a very generous portion so you feel very satisfied.  For dessert, the musts are the butterscotch pudding and the cherry cobbler.  http://www.thehandlebarjh.com/
Hayden's Post at the Snow King Lodge was a very nice place to dine.  We checked out their Sunday jazz and soul supper with a live keyboard player jamming in the back.  They add a Cajun special to the menu to fill the soul phrasing of the night.  Their kale salad was excellent along with their meat or cheese plate selections.  For the main course, we tried the Diver Scallops, which were very good but the dish of the night by far was the Elk tenderloin.   Finish your meal the apple-fig-walnut tart.   http://www.snowking.com/restaurants/haydens_post/
Teton Thai (7342 Granite Loop Road, Teton Village, WY 83025, 307.733.0022,

www.tetonthaivillage.com
) is an authentic Thai food restaurant located at the base of the Jackson Hole Mountain Resort.  Yes, you can get authentic Thai food in Jackson Hole.  All it takes is a Thai family to relocate from Thai Town, Los Angeles with a vision to serve Thai food the way you would get it in a large Thai community.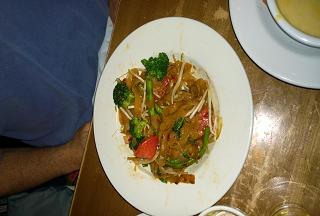 There are a couple of ways to test if a Thai restaurant (outside of Thailand) is legitimate.  One is by looking at the menu for a dish called Pad Kee Mao (rice noodles, cilantro, bean sprouts, bell peppers, tomatoes, onions, basil & a choice of meat, typically pork).  If the dish is actually called Pad Kee Mao instead of an Americanized name like Drunken Noodles or Red Devil Noodles, then you're in the right spot.  Another way is to order a bowl of soup called Tom Yum Gai (lemongrass, fish sauce, garlic, kaffir leaves, galangal, mushrooms, chicken, cilantro, lime & tomatoes), and if it knocks your socks off with a sour, pungent, irresistible kick, then again you are in the right place.
Jackson Hole offers many restaurants with similar cuisine, Elk being a huge hit wherever you go.  It's so nice to be able to have great authentic Thai food in Wyoming.  It's extra special after a long day skiing.  Teton Thai is very popular and can fill up quickly during a rush.  The word is out and the establishment does very well year round.  When visiting Jackson Hole, be sure not to miss out on Teton Thai.
For breakfast, don't miss out on the Spur as they serve a buffet breakfast to get you off to a great start in the morning.  It's located near the base of the ski lifts in Teton Village and is also a fun place in the evening for dinner, drinks and dessert.
SKIING
Our first day on Sunday, we tried out Snow King since we just flew in and were staying right there.  There are 3 lifts but quite a few different runs that provided a great warm-up day for us after renting from their very easy rental department.  Lane was super helpful and we got plenty of runs with no lift lines at all while we heard Jackson Hole was very crowded on the weekend.  They do have some extreme steep terrain especially off the summit lift.  This is a good place for your first day or a weekend to get some skiing without the crowds.  They have Olympic skiers that train there and the variety is from blue, black and double black runs.   http://www.snowkingmountain.com/

Jackson Hole Ski Resort was by far the most difficult mountain we have ever skied.  The vast terrain supplied quite a bit of expert terrain while they did have some blue and double blue runs, this place is for the advanced skier or snowboarder.  The tram takes you to the top of the mountain where you start on a black diamond run or bowl.  If you want something a bit less, take the Gondola up and there are many runs to check out that are not as hard. 
The Casper lift provides blue runs mostly groomed and is the fastest lift.  If you keep heading over to that side of the mountain, you will hit the Apre-Vous lift where you can find a variety of double blue, black and even mogul or double black runs with some trees.  The best runs in my opinion were off the Thunder and Sublet lifts half way up the mountain just down from where you are let off of the Gondola.  There you will find some intermediate-advance runs and trails.  You can always find expert terrain wherever you are from these lifts or higher if you want the challenge.   The picturesque views from the top or near the top are breath-taking.  http://www.jacksonhole.com/ski-snowboard.html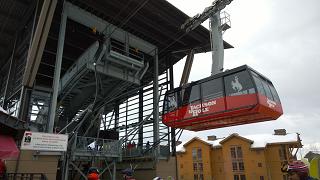 The mountain is open

9am-4pm

and you can get in plenty of skiing so pace yourself.  United and Delta offer non-stop flights from LA so you can take a morning flight and ski half day the same day.  If you are looking for a great place to have lunch, check out the Coulier restaurant at the top of the Gondola.  The views are incredible with their big windows over-looking the mountain and valleys.  Do not and I repeat, do not miss the duck wings. I had never heard of them before coming here but they were better than any chicken wings I have ever had and I am not even a huge duck fan.  The order is huge so you can split it and order a burger or salad for your meal. 
   

Highest Visitation on Record
(Teton  Village, WY, April 7, 2014) – Jackson Hole Mountain Resort (JHMR) is pleased to  report a strong 2013/2014 winter season characterized by some of the best snow totals  and snowpack depths in the resort's nearly fifty years, in addition to another  year of record skier visits.  The season  finished with 500 inches of snow, and 140 inch snow depth  making this the fourth deepest snowpack in the 48 year history of the resort. The  resort's approximately 563,631 skier visits surpass the previous record set  last winter.  The increase in skier  visits of 12% over last year was achieved with visitation increases in every  month of operation. 
This  winter was the 'perfect storm' for JHMR, with a confluence of many factors contributing  to the season. Mother Nature delivered 500 inches of snow, our good fortune of  winning the #1

SKI Magazine

ranking,  plus increased air service from twelve US cities all came together to create a  great experience for skiers and riders this year," stated JHMR President, Jerry  Blann. 
"Receiving the #1 Ranking by

SKI Magazine

this past fall created a  tangible momentum for the season, and the success of this winter is truly a  measure of all the hard work by our whole team," he added.  "We at JHMR feel very fortune to have such  dedicated employees and ownership commitment to preserving the character of  Jackson Hole."
"Furthermore,  the Kemmerer Family has consistently invested in JHMR for the long term," Blann  notes – over the past 18 years the Kemmerer Family has invested an average of  $8 million per year into improvements to the resort.  By comparison over this period, JHMR has  averaged 2.3 times more capital spend per skier visit than all Rocky Mountain  Resorts as a group.

It  is exciting to see everything come together.   I'd add that this year's success is also the result of many years of  hard work and cooperative efforts between the mountain, the Jackson community,  as well as the State of Wyoming. We've evolved to a consistently strong  collaboration between the Wyoming Office of Tourism, Jackson Hole Travel and  Tourism Board, Jackson Hole Chamber, JH Air, Central Reservations, Teton  Village and the business community in general.   Working together makes Jackson Hole a much more attractive destination and led to our joint success this winter," Blann stated.
Looking  ahead, Jackson Hole Mountain Resort will open the Aerial Tram for the summer  season on

Saturday, May 24th

.  The Jackson Hole Mountain Bike Park  accessed by the Teewinot Chairlift is scheduled to open on

June 14th

, followed  by the Bridger Gondola and the Couloir Restaurant on

June 17th

.  The Deck  at the top of the Bridger Gondola will open on

June 22nd

.  A new Aerial  Adventure Course will open for the season mid June.  For complete information on summer dining, events, and activities please visit www.jacksonhole.com.
Don't miss one of the great snowmobiling tours and some take you to the natural hotsprings for a nice ski break to enjoy a fun day.