San Francisco's Top Dining Choices- Some of the best in the Country- August 2014
Dining in San Francisco:

I would rate the dining in SF right up there with the best in the country along with NY, Las Vegas and Hawaii but all of our meals were fresh and excellent.
Yank Sing– Fantastic Dim Sum open only for lunch till 3pm. The servers constantly come around showing you the various dishes to choose from including dumplings (chicken, pork, veggie), chicken, and shrimp shu mai and other specialties. A definitely must to come for lunch between their 2 locations. You can see more on their website here and they are open till 3pm. http://www.yanksing.com/home.php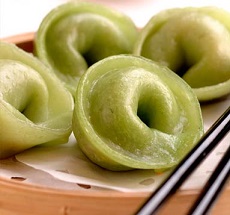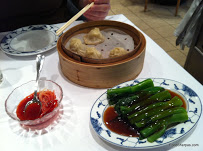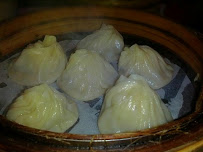 Baker and Banker in Pacific Heights- This intimate location offers some of the finest cuisine around.  Lori, the baker, makes the bread and desserts and knows what she is doing. Jeff, her husband is the main chef who delivers some of SF's best food. The atmosphere is beautiful while the food is fresh and tasty. They have an assortment of salads and starters. We chose the delicious potato soup which was made without cream and the tasty calamari in squid ink.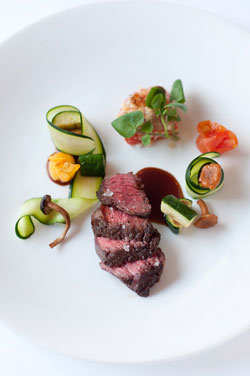 For main courses, we had the special of the day was the tender duck and the King salmon cooked to perfection. One of the best salmon dishes I have ever had. Of course, do not miss dessert with a great selection including the not to miss the warm chocolate chip cookie with salted ice cream and fudge. Have one of their great wines to pair with your meal and you will really enjoy Baker and Banker.  Photos of the inside and one of their great chocolate desserts below.  www.bakerandbanker.com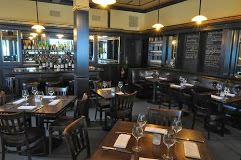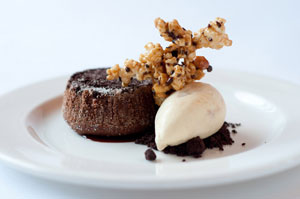 Pailo d'Asti on Sacramento St is not far from Pier 3. What a fabulous restaurant with great food and service. An array of fresh salads, seafood, pizza and pastas as what they are known for. The burrata cheese is a must along with the wood fire pizza to start. For pastas, we had the cannelloni nero with squid with black ink along with their seafood risotto. The food was fabulous and I would highly recommend visiting on your next visit to SF. The staff did a great job during our visit and the atmosphere was very intimate and romantic but also open for groups and families.  Photos below for Pailo.  www.paliodasti.com

R and G Lounge in Chinatown- Well if you love Chinese food and Seafood, this is the place for you. It has won many awards as the top Chinese restaurant and I can see why with this highly successful family operated establishment. If I have one last meal, this is where I want to come. That is how good it is.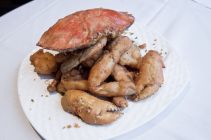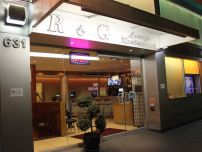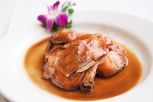 Specialties include crab with black bean sauce and lobster with ginger and scallions-two of the best dishes you will ever have. Other favorites were their noodles with veggies, shrimp and scallops, spicy eggplant and popular Peking duck. This is a great place to come with a group or family to share so you get a taste of the variety of incredible choices. Of course they have all the other famous Chinese dishes from chicken to soups to rice dishes but those were my top selections. www.rnglounge.com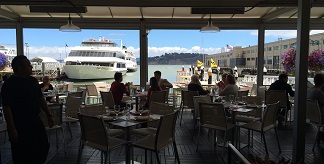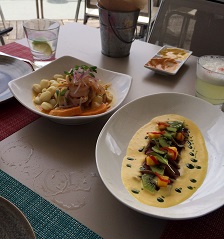 La Mar on 1.5 Pier photos above. This hot Peruvian place right on the water is a great place for lunch or dinner with a large indoor dining room and outside patio overlooking the water. Special dishes include the ceviche (cold seafood marinated in lime and served, some of the best tuna sashimi you will get as it melted in our mouth, empanadas and salads.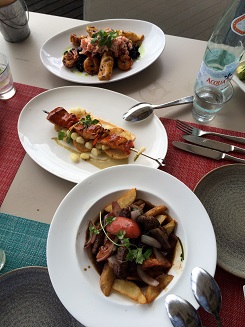 For entrees, try the fresh calamari or any other the other fresh fish items as you cannot go wrong. If it is a nice day or night, definitely sit outside on the patio.   http://www.lamarcebicheria.com/san-francisco/
Piperade near the Embarkedero on Battery St. was a hip, crowded place. We started with the butter lettuce salad and the green bean salad with mission figs and candied walnuts. They have a nice variety of main courses but our favorite was the Alaskan Halibut. Other selections were duck confit, rack of lamb and NY steak to name a few. They have a nice wine list to pair with your meal. This cozy place was very good but reservations are a must as you can see by the crowded photo below. www.piperade.com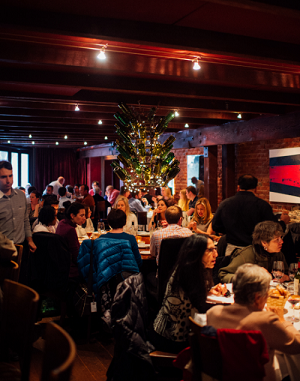 Desco in Oakland was nice stop on our way out to the A's game. Located in downtown, they offer wood fire pizzas, nice salads including the chicken salad, sandwiches/paninis. and a great roasted chicken entree with a reduced wine sauce.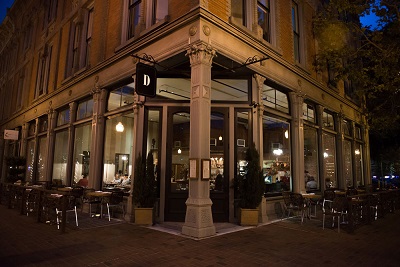 It was located in a nice area of Oakland so make a stop for lunch or dinner at this fine Italian restaurant as you will be very happy. www.descooakland.com
Urban Tavern near Union Square on O'Farrell Street offers a fantastic and popular breakfast. While most guests ate from the buffet, we chose ordering off the menu and enjoyed the egg white frittata, fruit smoothie and eggs over easy with potatoes and toast. It was very crowded so we knew the food would be very good. www.urbantavernsf.com
Scala's Bistro on Powell Street near Union Square was one of the better Italian restaurants you will dine at. Start with their Heirloom Tomato and Watermelon salad that is absolutely delicious as well as the classic Caesar Salad. They have a nice selection of pizzas, pastas and other specialties but we went for the house favorite saffron linguine and clams along with the King Salmon. Both were cooked to perfection and excellent.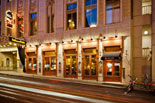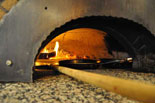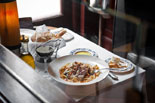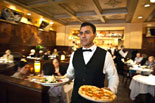 They have an array of steaks, seafood, chicken, pork chops and more as you cannot go wrong. The service was top notch and select one of their great wines to accompany your meal. They provide you with an ipad to look at the various cocktail and wine selections which was very cool. You will love this place for lunch or dinner so make it a plan to visit on your next trip to SF.        www.scalasbistro.com
Forbes Island is such a novelty restaurant, you have to visit. Located right off Pier 39, you need to catch their small ferry boat which takes about 5 minutes to get to this place. It is quite unique and a great place for drinks on their deck and checking out the city and sea lions. The restaurant is downstairs and very intimate and romantic. You will feel the restaurant move a bit since it is on the water.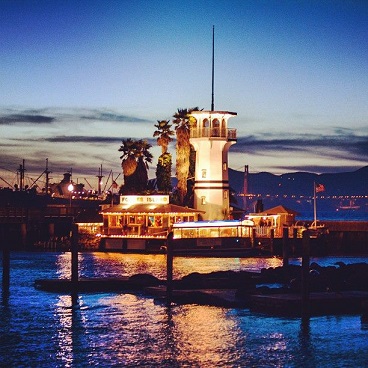 The food is good, not great, but the atmosphere sets it apart. The host/waiter/manager, Casey, is the most welcoming and hospitable person we met and does a fantastic job making sure guests are happy. Forbes started with building floating houses (now called an island) in the 80's and it got quite popular near Sausalido. He used to live in this establishment before converting it to the place it is now.  http://www.forbesisland.com/home.html
The Eagle Cafe at Pier 39 is a wonderful place for breakfast. Try their delicious pancakes, crab omelet or other items to start your day off while overlooking the water. They are also open for lunch and it is very easy to get to located right at the entrance upstairs at Pier 39 before you stroll into the shops, stores and other unique places on this most popular pier. http://www.eaglecafe.com/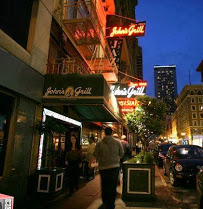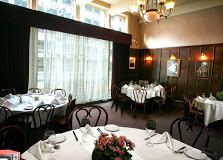 Jon's Grill-Located near Union Square, this place is the oldest steakhouse in the city and we can see why. The manager Shawn was super friendly and our female server was very attentive. The food was just fantastic as we started with the Caesar salad and clam chowder soup. For our main course, we had the filet mignon and specialty of the house­ the lamb chops, both accompanied with a baked potato and veggies. Try a side of creamed spinach or sauteed onions as they go very well as an addition. One of their nice pinot noirs was the perfect compliment to the meat dishes. There are three floors and we enjoyed the music on the second floor where we were seated. If you are looking for you old time steakhouse, this is the place for you and we loved every bite. For dessert, the chocolate mousse and apple tart were the perfect way to end this great dining experience. http://www.johnsgrill.com/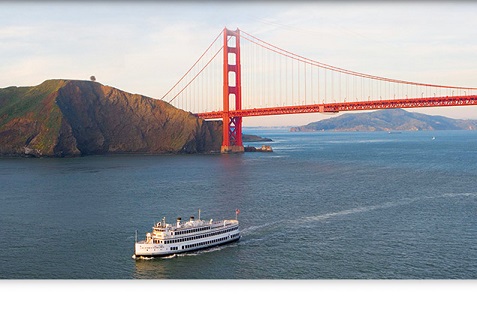 Our last day in town, we had the best weather for the Hornblower cruise we had arranged around the bay. I have been on past Hornblower cruises but this was the best one so far with the view of the city, the relaxed atmosphere with background music by the piano player and the delicious food buffet consisting of eggs, bacon, potatoes, carved turkey and beef, fruits, salads and a great selection of desserts. After dining, it was beautiful to go outside and watch the incredible views during our bay cruise, which is the way to do it if you want to take a cruise and have some great food too. The Hornblower is a perfect way to spend your morning. Cruising in the beautiful San Francisco Bay is breathtaking. The live music made it even more pleasurable. It is a great way to spend an occasion from an anniversary, birthday or memorable date night as they have night dinner cruises as well. The San Francisco skyline combined with the turquoise bay is exquisite. Be sure to book a day or night cruise on the Hornblower: a memory to last a lifetime.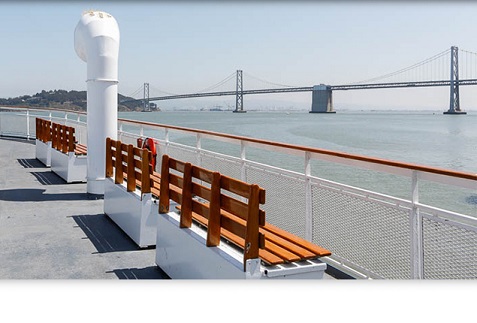 415-438-8300            http://www.hornblower.com/home/sf
Fior d'Italia restaurant located at the adjacent San Remo hotel where we stayed may have had the best Italian cuisine we tasted. I tried the caprese salad to start along with the grilled prawns as an appetizer. Both outstanding choices and for my main course, I had the pasta with frutti de mar or mixed seafood, which was one of the best I have had in a long time. This establishment is truly authentic and the food is absolutely delicious. What a great place to dine weather or not you are staying the the cozy San Remo Hotel.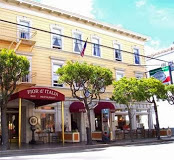 Special thanks to Tom Walton, Laurie Armstrong among others who assisted with our feature.