Flywheel app to request a taxi with your smartphone for airport rides- September 2014
 FLYWHEEL DELIVERS EXCELLENT TAXI SERVICE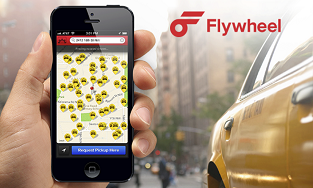 No one is happy to have to be at LAX by 5 in the morning for a long flight, but having a pre-ordered taxi show up perfectly on time to drive me sure makes things a lot better and definitely gets your day off to a good start.  Thanks to Flywheel, this is exactly what happened to me last week for my flight to Atlanta.
Arranging the service was very easy to do, too, even for someone like me who is still far from a technical wizard when it comes to computers and smart phones.  I simply downloaded their application onto my phone and then followed the clear instructions to arrange my pick up days in advance, so that I did not have to worry about a thing.  I noticed that you can also arrange to be picked up right then and there, too, as they have drivers floating around town that will show up in 15 minutes or less whenever I opened the application.  
All in all, Flywheel provided a great and reasonably priced service that I would plan to use in the future.
Flywheel,

the app that lets you request a cab, track its location in real time and

pay

automatically with your smartphone will has announced advance booking of rides to the airport for its Los Angeles customers. Cab rides can now be scheduled to popular nearby airports, including Los Angeles International Airport (LAX) and Long Beach Airport (LEG), and Burbank Bob Hope Airport (BUR) — providing Flywheel customers greater flexibility and peace of mind

.

Keep in mind – this is something you are not currently able to do with Uber or Lyft.
Customers will be able to book advanced booking rides from the following areas: City of Los Angeles, Santa Monica, Culver City, Beverly Hills, West Hollywood, Glendale, Burbank, Playa del Rey, Manhattan Beach and Torrance.
Advance booking was launched in direct response to marketplace demand, as almost three-quarters of advance booked rides for all car services are to the airport, and this new option now allows Flywheel customers to pre-book a ride to the airport, making it easier to manage travel and provide greater peace of mind, particularly during high-demand times of day.