Al A Carte Thai Bistro in LA is a great find with delicious, creative food- October 2014
Of the more recent additions to West LA's trendy new restaurants, is A LA CARTE THAI BISTRO, at 12404 W. Washington Blvd., at Centinela Ave. (Culver City)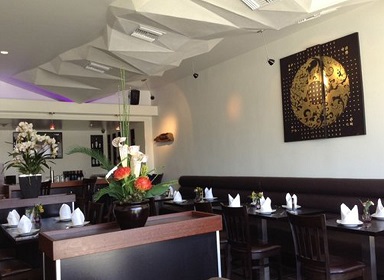 Open since May, 2014, Al a Carte Thai Bistro offers free delivery service (with restrictions) that has helped to build a regular clientele. The owner, named "Boat", was super hospitable and also owns Thai Dishes on Manchester in Westchester, Ca.
Their easy to navigate web site lists all menu items, prices, photos, and contact info making online ordering simple and expedient.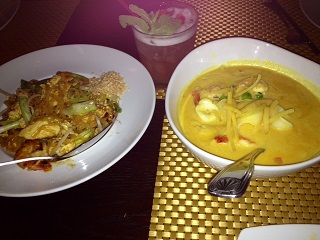 The menu is very extensive, offering the traditional Thai dishes such as Pad Thai Noodles, Mee Krob, Spicy Seafood Soup, and Silver Noodle Salad. Then there are more adventurously named entree's, such as Crying Tiger, Bang Bang Chicken Salad, Pattaya Party (a mixed seafood dish), and Supreme Snap Pea (a unique house specialty of snap pea, coconut, onion, fried tofu and peanut).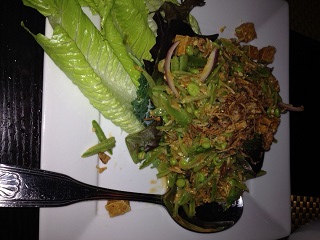 In all honesty, the combination of flavors and texture in the Snap Pea dish is something that you'll crave until you return again.
Our mid-week visit to A La Carte gave us a chance to try an assortment of specialties, including one of the six curry featured dishes. Each can be served with a choice of chicken, tofu, beef, veggie, shrimp, squid, salmon or seafood. We opted for shrimp and squid. It is excellent.
The chicken Satay is certainly recommended: perfectly cooked, moist, flavorful skewers, complimented with peanut sauce and an onion-cucumber medley.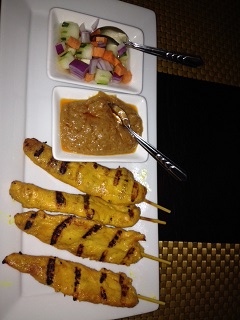 We also sampled the steamed chicken dumplings, with dipping sauce, coconut shrimp, with plum sauce and the always pleasing Pad Thai. The chicken curry with noodles was a bit spicy but so delicious. The flavors are some of the best of any Thai restaurant we have been to ever.
Guests should be pleased to know that there is a nice selection of beer, wines, saki, soju spirit and various teas. You'll also find a variety of lunch specials, and a dessert list.
The coconut ice cream is outstanding, as it is home made. We were treated to the sticky rice desert (sweetened, and with coconut shavings added) with mango.
We were very pleased to see our food come out of the kitchen so quickly. The advantage will be for those with limited time. who choose this as a favorite lunch spot. It is good to know that a fine meal can be served quickly, allowing a no-pressure dining experience. (Other than fast food, not many restaurants can do that.)
A La Carte certainly deserves our top rating, for selection, friendly staff, fast delivery, and of course, superior food quality and flavor.
Make A La Carte Thai Bistro your next dining adventure; whether it be home delivery, lunch or dinner. Open 7 days a week. (Do take a moment to look at their on line menu.)
310) 390-9905 http://www.alacartethaibistro.com