Visiting Sonoma- Wineries, Dining, Lodging- October 2014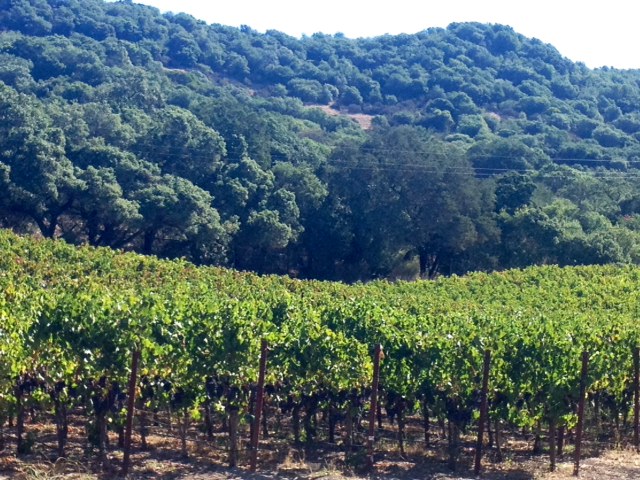 Harvest season in Sonoma is a wonderful time to explore the wine country. Napa gets all the attention but for my money Sonoma is the place to go. The town of Sonoma is charming, with 26 wine tasting rooms and several award winning restaurants along the town square. And not a fast food joint in site. Napa had quite a bit of damage from the 2014 earthquake where Sonoma was spared. The county of Sonoma has 400 wineries, and amazing scenery. So get out an explore.
I spent my first night at El Pueblo Inn. I nice quaint B and B just a ten minute drive from town and half dozen wineries. Their pool and Jacuzzi are open 24 hours, so enjoy a glass of wine with friends at

midnight

. A generous continental breakfast is included. For seasonal room rates and reservations go to www.elpuebloinn.com
My first dinner was at the award winning The Girl and The Fig,
voted
the top restaurant in Sonoma. With a wonderful outdoor patio this farm to table restaurant has been a staple here in town for 17 years. A third of their menu is cheeses. They own their own garden, and cure and smoke all their meats which come from locally owned farms. Begin with a signature drink. I enjoyed the Fig
Royale
, a sparkling wine infused with Fig and Vodka. The menu changes seasonally to fit the garden. I began with the Garden Squash Soup along with a the daily special, Prosciutto with Goat Cheese and Figs. Loved them both. For my entrée I chose Duck Confit, which had been slow roasted for eight hours and was filled with delicate flavors. Two other entrée favorites are the Wild Flounder
Meuniere
, and Steak
Frites
, a 6 ounce prime flat iron steak. They have an extensive wine menu and will pair for you the perfect selection.  I promise you whatever you order you will enjoy. Going there for one meal is not enough. They are also a favorite with locals for breakfast and lunch.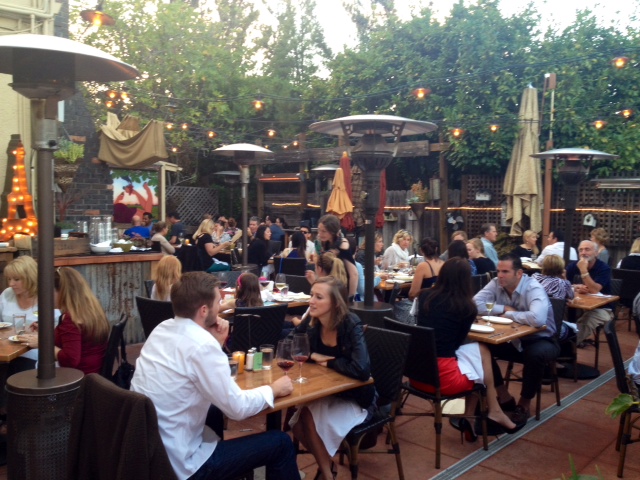 Renee
Rebell
runs a wonderful 2 hour wine and food tasting tour around the
Sonoma
Square. You will visit several wine tasting rooms and stop in different restaurants to sample
Ahi
tacos, cheese, ravioli and other goodies. You will learn a little of
Sonoma
History as you stroll. It was here in the Town Square where in 1846 the California Flag with the Bear was first raised. See the historic Mission dating from 1820's and the Spanish army barracks. Native Americans were here first, and there was even a Russian settlement in
Sonoma
started 1812 with Fort Ross that lasted to the 1840's. The tour is fun, Renee is great, and she has several other tours as well. Contact her at
[email protected]
or call her at
415-250-2273
.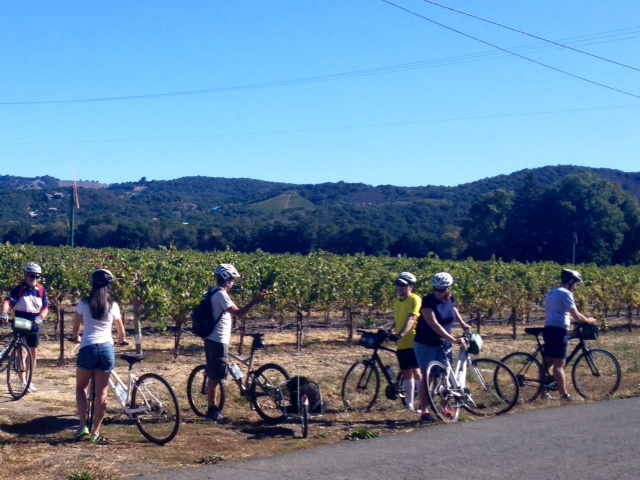 There are several wineries just a ten minute drive from town and the surrounding hotels. A bike winery tour is a fun way to work off the calories you will definitely consume on this trip. I spent my second night at The Renaissance Lodge in
Sonoma
. Here we rented bikes on our own and enjoyed the tree lined bike trails into town, and from there made our way to three wineries.
Sebastiani
 Winery is the closest to town. From there it was 15 minute ride to
Ravenwood
 Winery, for more tasting and purchasing a few bottles. Then on to the oldest
Sonoma
Winery, Buena Vista Winery. Each winery has a nice 30 minute tour which ends in their tasting room where you can sample all their wines and of course buy a few bottles to ship home. Biking was a good workout and afterward a 60 minute massage at our Hotel's
Raindance
Spa was the perfect end to the afternoon. The Lodge pool and Jacuzzi are open to
11pm
. Their rooms are very comfortable and Tim Torres at the front desk is great guy and very helpful with
Sonoma
advice. We had a nice dinner at
Carneros
Bistro and Wine Bar right on the Hotel property.  The Summer Corn Bisque with
Dungeness
crab was perfect. My Entrée was a Grilled Hanger Steak. The waiters at all the
Sonoma
restaurants are great at wine pairing so I enjoyed following their lead wherever I ate. Carneros has a large local wine selection to choose from. The Lodge in Sonoma hosts quite a few wedding and corporate retreats. They have several meeting rooms, and a very nice outdoor area for weddings and events.
www.renaissancehotels.com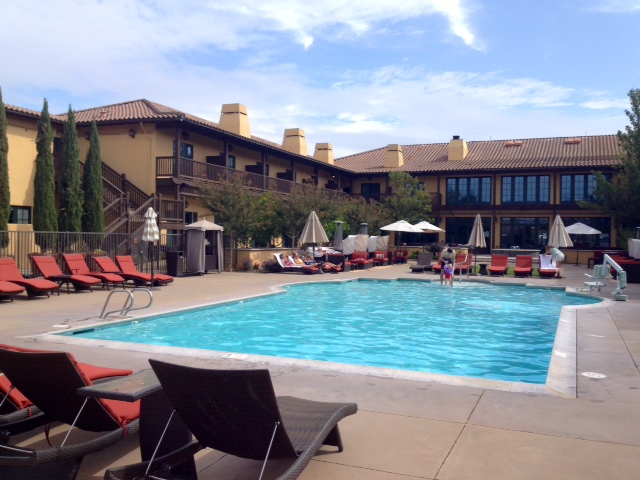 There was a
Sonoma
Harvest Parade
Saturday
night followed by a
Sunday
afternoon celebration in the town square. There are many food booths cooking and grilling to sample here and many return for the Tuesday night farmers market as well. The guys at the Green Grocer tent grilled up the greatest taco ever. A duck
Confit
taco with fresh garden peaches, apples, strawberries, goat cheese, radishes, and more. Had one taco
Sunday
and went back for another at the farmers market Tuesday, it was that special. And I hear their Grass Fed Burger is amazing. Check them out at
www.Greengrocerdirect.com
.
My last Hotel was
Macarthur
Place, known as a historic country inn.
This
property is lined with trees and individual bungalows. The rooms are beautifully appointed and spacious. They put out a nice breakfast spread and I heard great things about their dinner restaurant Saddles. The staff is friendly and can set you up with wine tours, hot air balloon rides and they have bikes to rent as well. They also have meeting rooms and handle many weddings. I didn't make it to their Spa or pool and Jacuzzi, but I heard very good things. This property is a favorite of many
who
return yearly to enjoy and explore wine country.
www.macarthurplace.com
.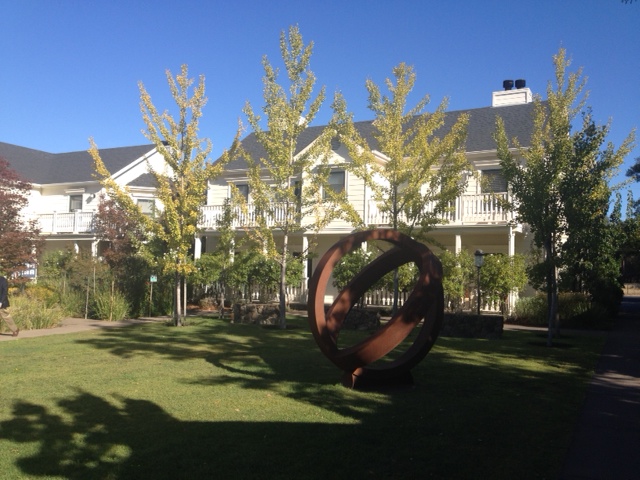 My third night I had dinner at El Dorado Kitchen, located in the El Dorado Hotel. Here I started with the Tuna
Tartare
with Asian pear, avocado mousse, and wonton chips. Also loved the
Dungeness
Crab Cake. For entrees they have a wide selection from King Salmon, Seafood Paella, Braised Lamb or Pork Chops, just to name a few. This is another of
Sonoma's
wonderful farm to table restaurants, great for lunch or Dinner. And need I say they have an extensive wine list.
www.eldoradosonoma.com
My fourth and last night I went for some traditional Italian Tuscan soul food which is rooted in the many Italian immigrants who came to the
SF
Bay area a hundred years ago. Della
Santina's
is family owned and run, and yes they really cook several of Grandma's old world recipes. Pass through their gated entry, down a brick walkway into the warm and inviting courtyard and you will believe you are in Italy. Get ready because this is some of the best Italian food you will ever have. I flipped over the Gnocchi Della
Nonna
, little potato dumplings in a sauce that changes daily, today was a duck based sauce. All the pastas are homemade and just heavenly. Loved a half order of the Cannelloni Florentine, chicken, veal and ricotta filled crepe in a tomato and béchamel sauce. All the different flavors together just melt in your mouth. They have from the rotisserie, Turkey, chicken, duck, and several fresh fish dishes. Whatever you choose will be cooked to perfection.
www.dellasantinas.com
.  Right next door they own
Enoteca
, a wine bar/wine store where you can also order off the same restaurant menu at the bar and watch a ball game on TV.
www.enotecadellasantina.com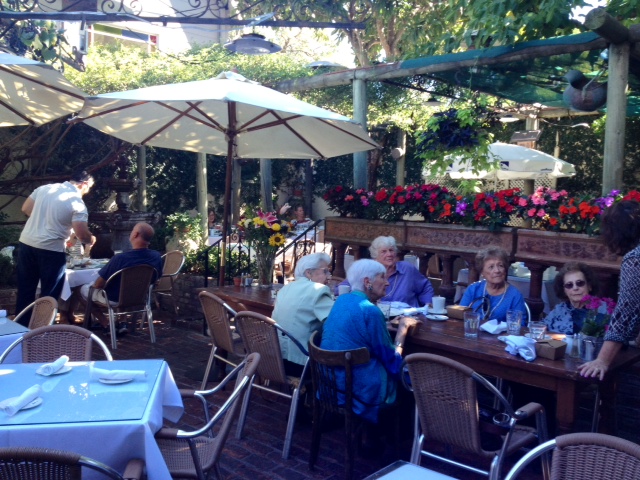 So next time you want to hit wine country for a long weekend
Sonoma
is a great choice. Low key and casual with a warmth all it's own.