Robeks new, delicious Acai Bowl creations till September 27th, 2015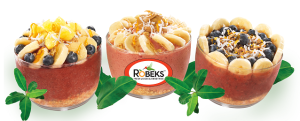 Robeks Introduces Hawaiian Açaí Bowls –   We tried all of them last week and they were absolutely fantastic.
Robeks Fresh Juices and Smoothies, is bringing its customers a taste of tropical paradise with thee new Hawaiian – inspired Açaí Bowls.
They are reinventing the Açaí Bowl by blending açaí with fresh watermelon, topped with a variety of other delicious ingredients. Our Hawaiian Açaí Bowls are refreshing tropical treats.
ALOHA BOWL™, which combines the tropical taste of pure açaí and fresh watermelon. Packed with hearty granola and fruit toppings, such as fresh bananas, blueberries, and diced pineapple. This bowl of bliss is full of aromatic flavor, especially with its sprinkled coconut, and drizzled raw honey over the top. It's a perfect balance of nutrition and paradise, just enough to make you feel refreshed and energized.
The second item offered is the NUTTY HAWAIIAN™, which is blended with rich all-natural peanut butter, giving the taste of the tropics a nutty twist. A paradise favorite, the customers will find superfruit açaí and watermelon brimming with freshness and flavor. The Nutty Hawaiian is topped with granola, fresh banana, a sprinkling of shredded coconut, and a drizzle of raw honey.
The third item offered is SEEDSATIONAL™, which heavily features Mother Nature's own super seeds – chia and flax. Featuring pure açaí and fresh watermelon, the bowl delivers immune-boosting antioxidants that are simply delicious and nutritious. Toppings include granola, banana, fresh blueberries, nourishing bee pollen, and a sprinkling of shredded coconut, all drizzled in raw honey.
The new offerings are available at all Robeks stores are available until until September 27.