Kincaids in Redondo Beach delivers great food, service, views- September 2015 and Kincaids in Oakland- November 2015
Kincaids on the Redondo Beach Pier was quite the experience. The restaurant is absolutely beautiful with its décor and ocean views. The food and service was spectacular. Matt our server was extremely knowledgeable and one of the few servers who NEVER interrupts you in mid speech. 5 stars for that alone.
We started with the crab cakes with 2 different sauces…lemon butter and sweet chili, both delicious along with the delicioussmoked salmon appetizer with a great presentation. It was served with a side of fresh gerkins atop grain mustard. The salmon is mixed with caviar, capers. To be scooped up with hand made potato chips Enjoy some of their specialty cocktails such as the Blueberry crush cocktail is amazing with crushed whole blueberries and Skinny margarita- one of the best I've ever had.
For entrees, go for the Halibut cheeks if they have them in as they are seasonal…excellent but don't order if you're not a fan of cheese with fish as they're crusted with Asiago and panko crumbs. The halibut cheeks are served with thin asparagus stalks with an unbelievable butter sauce and Lobster tail was broiled to perfection, served with drawn butter, steamed asparagus and Yukon mashed potatoes. The Yukon potatoes although probably fattening are worth the splurge, trust me.   Other dishes we saw and took photos of were the salmon and halibut below. 
Although Kincaid's signature desserts are the Key Lime pie and Burnt cream…. You have to try their Pear Bread Pudding….topped with vanilla ice cream and a bourbon sauce…. delivered direct from heaven. This desert is especially good for people who don't want an over indulgent super sweet finish to their dinner. Overall, a fantastic experience and chef Ramon (picture below serving our desserts), who worked at Palamino in Westwood for a long time, is the head chef.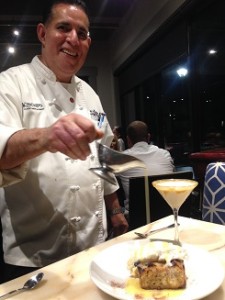 Located at 500 Fishermans Wharf, Redondo, CA 90277 (310) 318-6080
I recently dined at the Kincaids in Oakland right near the water.  What a beautiful view right on the water.  The service and staff were so hospitable and the food was very good.  Don't miss the steamed clams and smoked salmon appetizers.  They have a nice variety of soups and salads along with a nice cocktail/wine list.  Try the blueberry crush martini as it was delicious.  For my entree, I went for the seafood ettoufee, which is their signature shellfish dinner of prawns, scallops and clams on top of cheese grits.  A very nice different option you don't see everyday.

Kincaids in Oakland is located in Jack London Square.

1 Franklin St.  94607

510-835-8600

Hours

Now open earlier for Weekend Brunch!
Sat & Sun 10:30am-2pm

Try our Bloody Mary Bar & Champagne Specials!

Lunch: Daily 11am-3pm
Dinner: Mon-Thurs 3pm-9:30pm, Fri & Sat 3pm-10pm,
Sun 3pm-9pm
Lounge: Sun-Thurs 11am-10pm, Fri-Sat 11am-11pm

Early Dining Menu: Monday-Thurs 3pm-5:30pm

Happy Hour: Mon-Fri 3pm-6pm

NOTE: Happy Hour not available on holidays.

HOLIDAY HOURS:
CHRISTMAS EVE Thurs Dec 24: 11am-9pm
CHRISTMAS DAY Fri Dec 25: Closed
NEW YEAR'S EVE Thurs Dec 31: 11am-10pm
NEW YEAR'S DAY Fri Jan 1:
Brunch 11am-3pm, Dinner 3pm-9pm

Sunset Dining Menu

It Pays to Be Early! Join us for our 3-course Sunset Dining Menu
Mondays & Tuesdays* 3pm 'til close
Click here for menu

*holidays excluded