Friendsgiving Feast at Tart Restaurant – and To-Go
Chef Keith Shutta has created a satisfying fun feast for the Thanksgiving season minus the fuss or time in the kitchen, available at Tart Restaurant and to-go.   The special seasonal dinners are available from November 15th-27th, 12pm-10pm daily.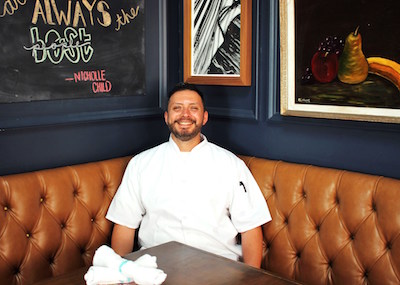 Dedicated, affable Chef Keith Shutta has both a sense of bracing flavors and a deft hand at balancing them. His is a name to remember.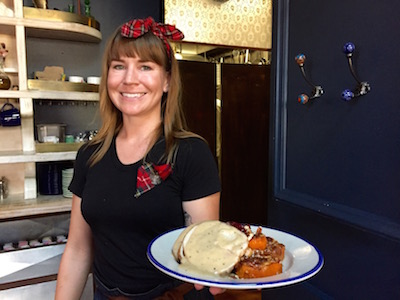 The season before "Thanksgiving" bring up so many more memories. They are well documented in a national article about me, "Have Turkey, Will Travel," about my media appearances up and down the west coast – the highlights usually involving have the resort hotel help assisting me in thawing a fresh turkey the midnight before a day of TV appearances.
So after three exciting weeks on the road and more to prepare for it, Thanksgiving for me was always "over" well before the day, and after 22 years of this, I was excited to learn about Chef Shutta's meal. I understand why they were given the clever names to gain attention, but highly recommend them on their own just for the wonderful food.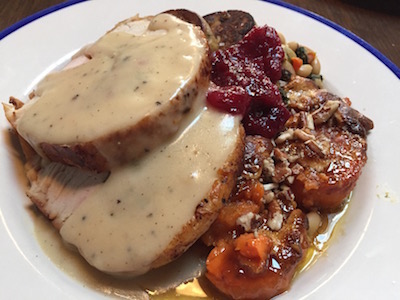 DADDY'S GIRL – For the traditional Thanksgiving taste this entrée includes roasted turkey roulade with gravy cornbread stuffing, candied yams, black-eyed peas, cranberry sauce and TART's famous biscuit
THE ONE WHO DOESN'T EAT MEAT – Veggie and rice stuffed cabbage with herbed liquor sauce and buttered green peas for a light, festive bite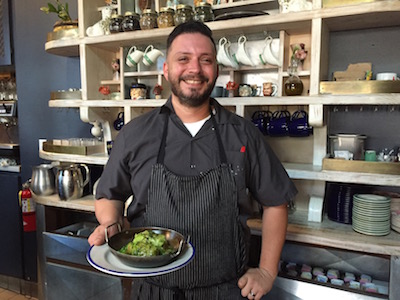 THE ONE WHO DOESN'T SHARE FOOD – A selection of chicken and turkey with all the sides make up this an epic entrée
THE ONE WHO HATES THANKSGIVING– TART burger with blue cheese, bacon, caramelized onions, mustard aioli, fries and a side salad
And for dessert:
 THE ONE WHO USED TO BE FAT – Warm holiday fruit pan purdu with vanilla ice cream and stewed cranberries.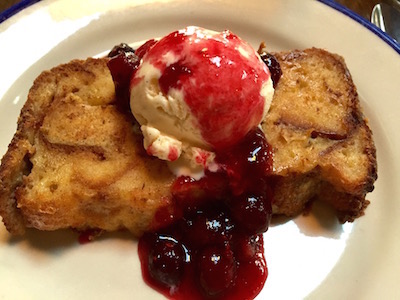 And for those who are watching calories, there are bracing seasonal fruit sorbets like the cherry below.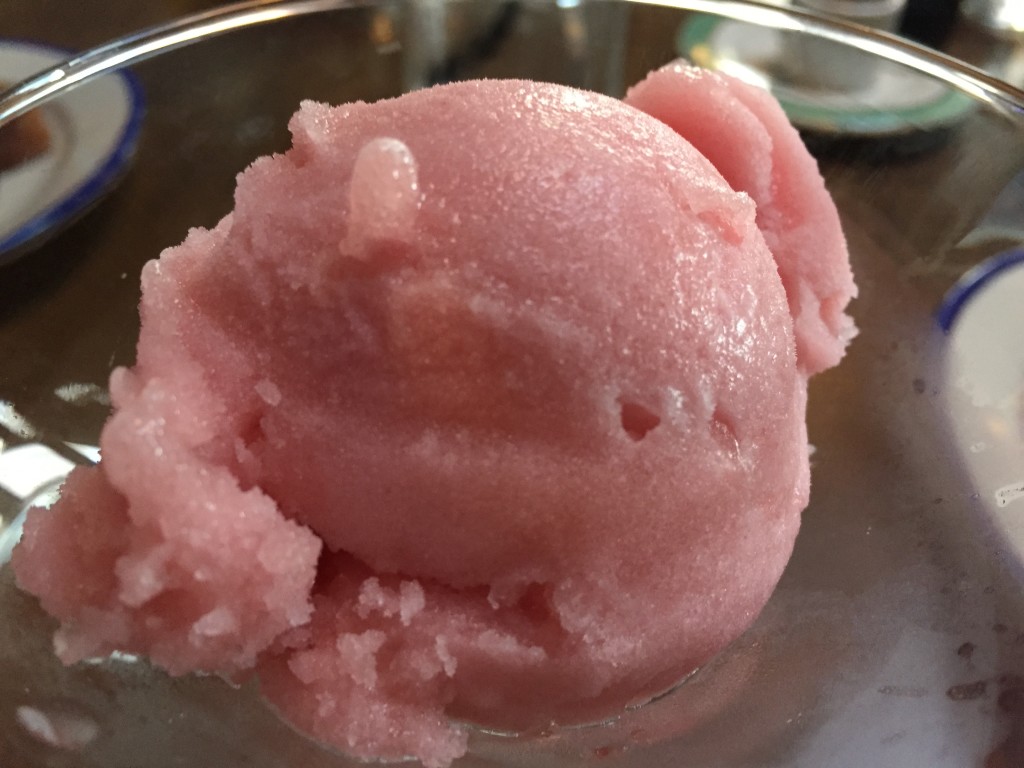 watching versions of the holiday on TV.   While the "Friendsgiving" feast is based on the actual "Friends" Thanksgiving episode, other signature friends Thanksgivings start with the two-part, hilarious and star-studded (Debbie Reynolds, Blythe Danner) "Will & Grace."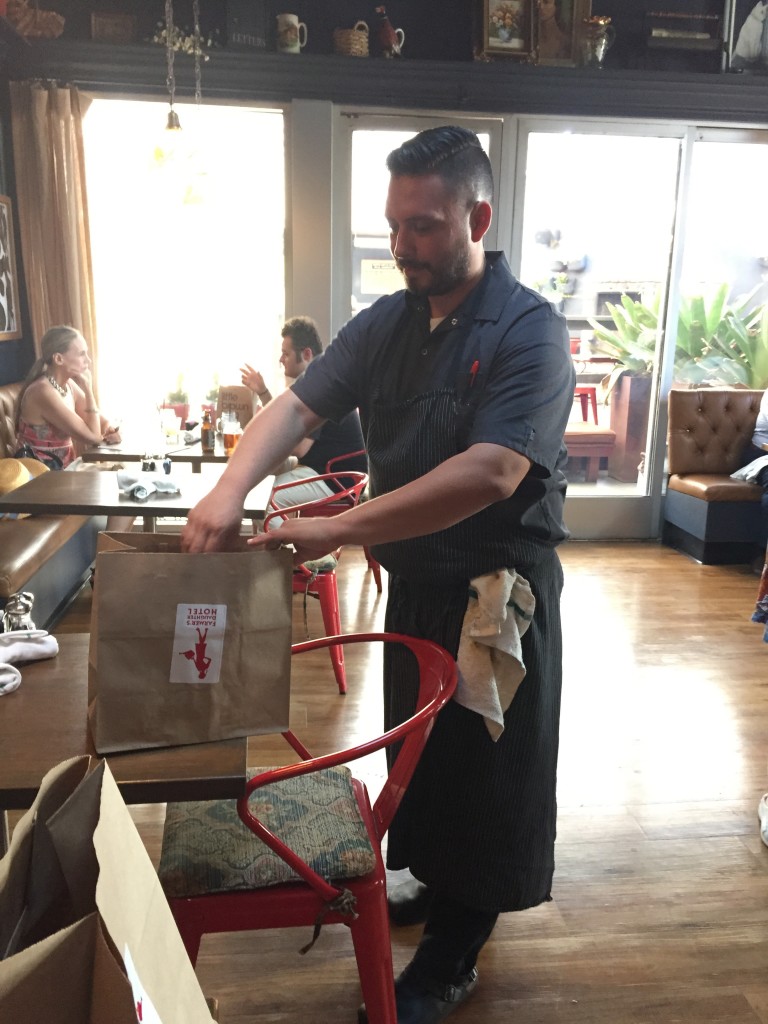 And one my favorite Thanksgiving TV sit-com moments is in "Mad About You." What you hear is the conversation from the mom at the Thanksgiving table, phone in her hand, with your young son. It goes like this:
"You like broccoli.
Yes, you do
Yes, you do."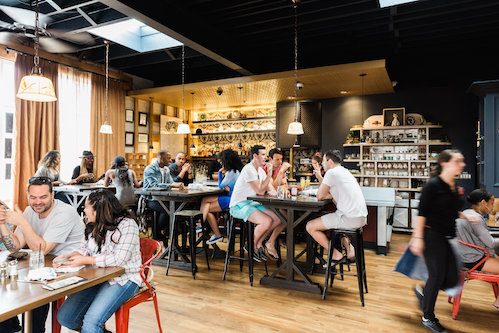 TART restaurant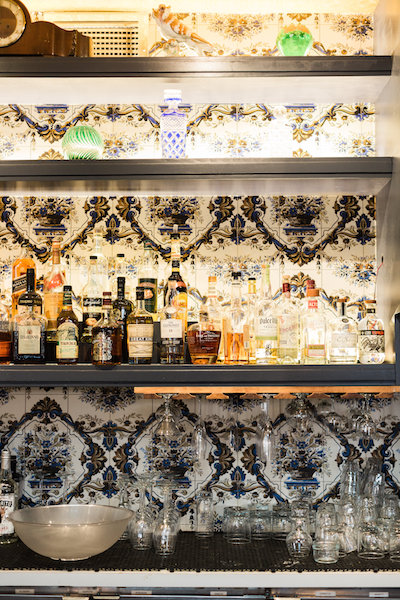 (http://tartrestaurant.com) is nested in a sort of barnyard collage inside the iconic Farmer's Daughter Hotel in the historic Fairfax District in L.A.  The rooms are beautiful, thoughtfully appointed on a world class level. You know immediately when you spot a Nespresso machine in each room, and a cleverly hidden set of electrical to answer all computer needs.  And it is a hop and a skip to CBS Studios and the Original Farmer's Market and The Grove.