Tangaroa Fish Market Restaurant in Culver City offers fresh, delicious seafood- February 2016
Casual Atmosphere with the Freshest Seafood in Town
In Culver City there is a relatively new restaurant with a hip and casual atmosphere that has some of the best seafood we have had in a long time Tangaroa Fish Market is a must for anyone who is a seafood lover.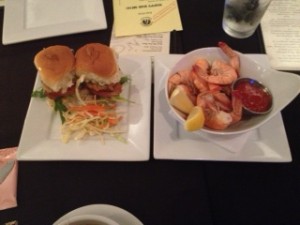 We got the night started with a few things off the happy hour menu. The ½ lb peel and eat shrimp were really good. They were served warm with a nice side of tangy cocktail sauce. The crab cake sliders were as good as any crab cakes we have ever tasted. That is saying a lot because we are all very picky when it comes to crab cakes. I consider myself a crab cake connoisseur. Each crab cake slider came on a delicious fresh bun with a slice of avocado on it. We were blown away. The fish tacos with New Zealand snapper were excellent and the lobster pasta was very tasty as well.
For our main courses, we split a few things. The New Zealand Salmon was amazing. It was served on a cilantro rice cake with sautéed arugula, edamame, cherry tomatoes topped with pickled mustard seeds. Very few restaurants have New Zealand salmon. You can truly taste the difference. The quality is amazing. The owner (Mark) of the restaurant is from New Zealand and several of the items including the fish flown are from New Zealand. Mark came over and greeted us and was extremely personable and very hospitable.
We also had the live, main lobster. It was poached in a court bouillon, served with sides of sweet corn edamame salad, rosemary potatoes and drawn butter (with shared plates, if you want to share). We loved the lobster. All the side dishes were really good too.  The Cioppino fish stew hit the spot and was tasty.
The service was great. Our waitress was attentive and extremely friendly. The parking was easy. There was plenty of parking on the street. We highly recommend this restaurant. It is hard to find a great seafood place that is not next to the beach or over-priced but Tangaroa is a must visit.    We ended the night with a delicious dessert. We had the Berry Cobbler on vanilla ice cream with a cinnamon crumble topping. It was the perfect way to top off a great meal.         Written by Richard Holtz and photos by Mitchell Scott.