Phorage LA Vietnamese Cuisine offers fresh local sourced food in its casual setting- April 2016
Phorage LA serves up fresh sourced Vietnamese cuisine with some creative dishes at affordable prices. Located in a mini mall on Overland in LA, this casual restaurant got crowded during our visit as it seems like a popular place.
Some specialties are their famous PHO, a Vietnamese specialty soup with chicken and sides you can add in such as bean sprouts, basil and jalepenos. Don't miss one of their broken rice plates with chicken, beef or shrimp. The rice is a bit smaller and crunchy but has a nice taste.
The Vermicelli (cold rice noodle salads) and Banh Mi (Vietnamese sandwich) are available with chicken, beef or vegetarian. The bok choy with garlic and mushrooms were delicious. I am not a pork fan but tried and loved the pork sandwich.   They have a back room big table for private parties with an awesome coca cola bottle lights right next to the kitchen. 
You can order online and they also offer catering. Jeremy, the owner/manager, does it all from cooking, serving and accommodating guests. Try it out if you like this kind of food as you will enjoy your meal.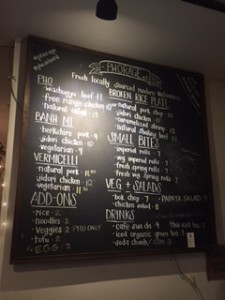 Hours of Operation
Monday – Saturday 11:00am – 10:00pm
Sunday Hours 11am – 8pm
More at http://phoragela.com/