The Albright Restaurant features some of the best fresh seafood in LA on the Santa Monica Pier- April 2016
The Albright Seafood Restaurant on the Santa Monica Pier
Wow- First time ever eating & visiting here after being on the Santa Monica Pier so many times in the past  The shellfish and fresh seafood were outstanding.  It has the feel like San Francisco Fisherman's Wharf sitting on the patio enjoying some great clam chowder in the bread bowl which was delicious.
Some of the specialties we tried included:
The clam chowder bread bowl!  Super Tasty.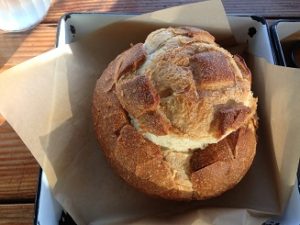 The Ahi Poke Cup contained ahi tuna over rice. This dish had the perfect combination of flavors from avocado sesame oil, red onion scallions and chili garlic sauce.   The fried calamari was fantastic.   The shrimp salad was another nice starter.
The corn on the cob was a favorite amongst the kids.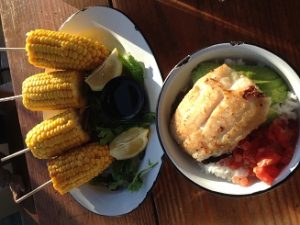 The halibut was perfectly moist and cooked with a combination of flavorful rice.
The oysters were delicious.. They were a treat and a luxury and came with champagne sauce side and spice relish.  There a few types to choose from: Fanny bay, kumamoto and grilled oysters depending on your taste buds. We would recommend trying any of the oysters that they prepare a variety of ways including grilled. This was the perfect setting to have them: right on the Pier. The shrimp salad is a must! The fish was fresh and tasteful.  The dressing was the perfect combination of zest. It was the perfect mix in the salad being light and tasty. Some of our favorite dishes not to miss were the steamed mussels and seafood paella which were all incredible.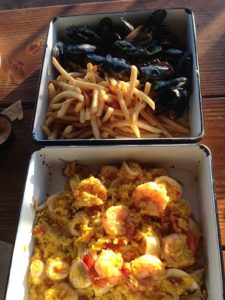 The manager Brandon goes out of his way to check on every table to make sure all is going great or to fix anything.  I don't know any other managers that do that during the course of the evening.   Some of the better fresh fish we have had in LA and we will be going back.  What a great setting on the SM Pier as we caught the sunset.  Casual dress but great food.  Down to earth and overall FANTASTIC.
Overall, the Restaurant is a real treat.  It is located right on the Santa Monica Pier.
Coming out to Santa Monica is beautiful especially being on the Pier: it is a fun and upbeat atmosphere that is steps away from the Pacific ocean and sand. The atmosphere is comfortable and clean.
The service was excellent and very professional.
It is perfect for a family, date night or any get together with friends
Written by Lisa Rosas and Todd Elliot