New Orleans Top Dining, Jazz Club Choices – May 2016
Here are our top dining choices as there were many great options The first night, I tried a casual place called Eat Nola. The food was very fresh and healthy. This place is not fancy located not far from Bourbon Street. They offer down home cooking with salads, gumbos and fish with an assortment of local popular side dishes. At Eat New Orleans, they make local dishes with farm-fresh ingredients, serving the best versions of the family favorites we grew up eating.  They use local seafood and seasonal produce whenever possible to help support the fishing and farming ways of life that are integral to Louisiana culture. The work of local artists is featured on the walls.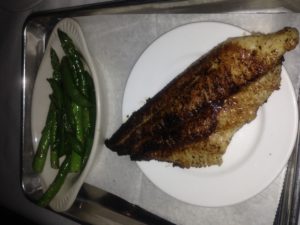 More at http://eatnola.com/
In the mood for fish, try Pesche as this seafood place was absolutely wonderful.  My server Heather was incredible and on top of everything.  There are so many great options. Start with one of their raw bar items including crab, shrimp or their seafood platter.
Try the ground shrimp with noodles on the small plates section. Other nice starters include their fresh salad, gumbo, yellowtail collar or shrimp bisque. For entrees, the grilled drum whitefish was cooked to perfection and topped with crawfish etoufee.
They also had some other fresh seafood items like catfish, tuna and shrimp. The atmosphere was trendy and welcoming with tables and booths. This place is a definite must visit. http://www.pecherestaurant.com/
Desire Oyster Bar and Restaurant 
To make sure we didn't eat to fast,  we started with the steamed crawfish, which I had to personally peel and open so that took some time but well worth it.  The seafood gumbo was superb for a starter along with their signature salad.  For the main course,  we tried the salmon accompanied by asparagus and redfish (even though it is a flaky white fish from the gulf).  The pie and ice cream for dessert was a nice finish.
Situated along world-famous Bourbon Street, Desire Oyster Bar offers diners one of the most authentic dining experiences in New Orleans.  An iconic, Broadway style marquis sign lights up the entrance welcoming visitors and locals alike to grab a seat at the bar or a table and enjoy one of the signature delicacies of the Big Easy like never before.
From the quintessential New Orleans 'characters' who shuck the famous chargrilled, on the half shell and more—to an extensive new menu that includes classics like the famous "Creole Trio"—jambalaya, red beans and rice, and gumbo—Desire Oyster Bar is the perfect setting to enjoy a great meal in the center of all the action of the French Quarter.
Under the direction of Executive Chef Corey Jacobs, the expanded menu features favorite standbys like Desire's Shrimp & Grits, BBQ Shrimp, award winning Gumbo and a wide variety of Po' boys.
New menu selections include Crawfish and Fried Green Tomato Benedict with Crawfish Hollandaise for breakfast, a Crawfish Cheesecake with Red Pepper Aioli for an anytime appetizer, Blackened Catfish Lafitte as a 'Fresh Catch' entrée for lunch or dinner, and much more!
http://www.sonesta.com/royalneworleans/?fa=restaurant5.home
After dinner, we had the pleasure to check out Irvin Mayfield's Jazz Playhouse and the one and only Irvin made a rare appearance. What a treat and fantastic live jazz music venue to check out on your next visit.
It's Playtime. Grammy and Billboard Award-winning Jazz trumpeter Irvin Mayfield and Royal Sonesta New Orleans proudly presents the Jazz Playhouse. The best jazz club in town showcases New Orleans' greatest Jazz talents and serves your favorite cocktails and appetizers in a luxurious and intimate venue on the lobby level of the Royal Sonesta New Orleans. Shows begin at 8 p.m.
http://www.sonesta.com/royalneworleans/?fa=restaurant2.home
Dooky Chaserestaurant is a must especially on the way to jazzfest for lunch.  You can order off the menu as we tried the bbq shrimp entrée and had to also try the buffet.  The buffet was plentiful and it started to get crowded so it was wise to arrive about 11:30am.  The buffet consists of salad, gumbo, jambalaya, pasta with shrimp, fried catfish and fried chicken.  This place is not to miss as it is very historical and we got to meet Mrs Chase, who was cutting potatoes in the back.  I noticed they also had a location at the airport when I was flying out.  Dooky Chase is a must visit.  The Menu – Dooky Chase's Restaurant
Dooky's offers a delicious lunch buffet that changes daily. You can always find New Orleans' staples such as red beans and rice and hot sausage on the buffet. On Fridays we offer shrimp and lima beans instead of the red beans. You may also order Creole favorites such as Gumbo, Poor Boys, Shrimp Clemenceau, and Stuffed Shrimp.
Friday NightsOn Friday Nights Mrs. Chase prepares a special menu for her customers.
Please browse the sample menus for an idea of the Creole Cuisine offered. You may also request our "regular" menu for those Dooky Chase favorites like Fried Chicken, Shrimp Clemenceau, Chicken Creole, and Stuffed Shrimp. http://www.dookychaserestaurant.com
Our favorite restaurant overall was The Superior Seafood Company.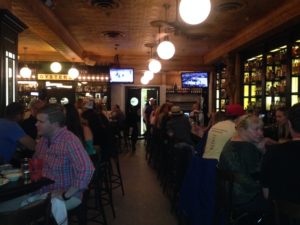 That is no disrespect to any of other places as I mentioned we didn't have one bad meal.  Start with how well run it is by GM John Michael.   He is all over taking care of customers and putting out any fires if there are any.   The service is top notch in this popular uptown dining Experience and which is even more amazing hearing they did close to 800 covers the night we were there.    If at all possible, request Jarred as your server, who doubles as sommelier.   You will receive some of the best service you will ever have while enjoying the show as seen in theses pics as he has mastered carrying out drinks including up to two martini glasses in the palm of one hand and three at a time if that many were ordered.  He has never dropped a drink!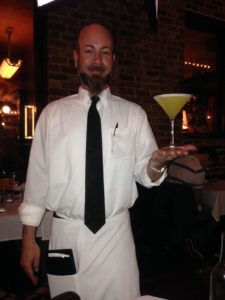 Now to food. The ahi poke mixed with some avocado/wasabi meshed together makes the perfect starter along with the best seafood gumbo we had in the whole city.  The sauteed shrimp was just amazing.  The winning entrée was the pecan crusted gulf fish served.  They offered many great fresh seafood options so you really cannot go wrong.  Enjoy some of their fabulous side dishes and do not miss dessert.
About Superior Seafood | Superior Seafood and Oyster Bar in New Orleans
Superior Seafood & Oyster Bar is located in the heart of Uptown New Orleans on the corner of St. Charles and Napoleon Avenues. The building sits on the famous corner where Mardi Gras parades, beginning their Uptown route, make the turn onto St. Charles Avenue. With both porch and patio seating, the restaurant offers impressive views of the passing streetcars and beautiful scenery that makes New Orleans one of the greatest cities in the world.
Their abundant menus boast our inspired take on Louisiana Classics. The menus consist of staple items mixed with seasonal items as they become available. The result: an interesting and dynamic menu full of the freshest ingredients with something for everyone. In-house printing of the menu on a weekly basis allows us to incorporate the freshest seafood products available.
Their full-service oyster bar is the only oyster bar on St. Charles Avenue. The exquisite marble bar provides a front row view of fresh oysters being shucked and served to your liking. The always fresh oyster selection from various local regions and the full bar, make the oyster bar a highlight of the restaurant. Whether craving oysters, a full meal or just a drink, the oyster bar provides guests with a memorable, entertaining experience.
Arnaulds located in the heart of the French Quarter on Bourbon Street has a fine dining room which is upscale or the more casual jazz bistro with live music nightly with the same menu offered.  The popular shrimp remoulade and one if their nice salads is a great way to start. This French establishment is the best place to get a great piece of meat even though you cannot go wrong with their seafood
One must no matter if you haven't tried them before is the fried frog legs-better than any fried chicken you will ever have.  The pomme fritte are a treat (puffed up fried potatoes that melt in your mouth. The fresh fish was fantastic grilled and served with sauteed spinach.
The dessert is worth the show you will get to see. The French coffee made with an orange, china min, close and brandy lit on fire matches with either the yummy strawberry dessert or bananas foster also prepared and flabeed in front of you.  This is old style you rarely get to experience so mark this down as a not to miss.   This is classic creole French cuisine like no other.
Fine Dining New Orleans | Arnaud's Restaurant
https://www.arnaudsrestaurant.com/
The Bourbon House  was unbelievable and a DD Brennens establishment along with Tableau both in the French Quarter as we had the pleasure to visit the 2 days after jazzfest.  We had such great dining experiences at these two places that we put them both at the top of our ranking choices as musts to eat.  The Bourbon House service was extraordinary as we were constantly catered to while enjoying some local favorite dishes such as the bbq shrimp, … and unique cream of garlic soup.
For entrees, we had the gulf tuna and fried catfish which were delectable.   We had an assortment of desserts which was overkill but worth it  the tiramisu cheesecake and pecan pie were our faves.   Our servers Felicia and Conner did a fantastic job as did the hospitable manager Chris.  The team of chefs are very creative and know their stuff.
Tableau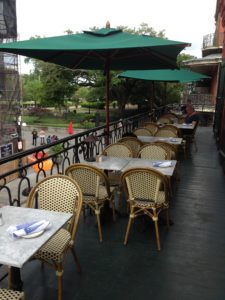 This restaurant has a unique setting on St Peters street while you can dine in the upstairs balcony overlooking Jackson Square.  The French onion soup is about the best I have ever had. They have a combo appetizer plate we suggest with shrimp over a fried tomato, crab claws and crabmeat over a tomato.
For the main dishes, the blackened redfish was great but the dish not to miss is the duck leg confit. The best duck we have ever had over dirty rice and confit sauce. So tender and just falling apart.   The restaurant resembles a big mansion where you can relax upstairs and watch a sports game on the big screen  tv on a comfy couch while having a drink   They also have a fine dining room downstairs.  Our server Chris did a nice job.  Finish with the chocolate bread pudding-also the best we had in town.