Visiting Nashville- Lodging at the Union Station Hotel, Fine Dining, Attractions, Live Music- May 2016
The Union Station Hotel in Nashville was an authentic stay.  It used to be the main train station hub and was converted about 30 yrs ago.  The lobby still features the big clock and theme of the train station.  The board  behind the front desk shows fares and routes to go along with the theme.  The staff were very friendly and accommodating while the room was modern and beautiful. I was pleasantly surprised from how old the actual hotel was from the outside. Other amenities included the fitness center, valet parking and a free business center.  The location is prime and not far from many tourist destinations.  Famous Broadway street is not far away to walk.  This legendary hotel is centrally located in downtown Nashville, adjacent to the Frist Center for the Visual Arts, and very near many of Nashville's top attractions, including the Ryman Auditorium, Bridgestone Area and The Parthenon at Centennial Park.
The restaurant Prime 108 serves breakfast, lunch and dinner. I tried the egg white frittata and Greek yogurt bowl one morning and thoroughly enjoyed one delicious dinner another night. Do not miss the bbq shrimp to start with the tastiest sauce.  Next was the macho salad with greens, too toes, dates, avocado, walnuts and goat cheese in a mustard vinaigrette dressing.  For the main course, the lamb chops were out of this world, juicy and tender.  Enhance the meal with a glass of wine or cocktail.  The décor was intimate and on the darker side while my server Amanda was welcoming and on top of it.   We definitely suggest to stay and eat at the Union Station Hotel on your next trip to Nashville.
Address:
1001 Broadway, Nashville, TN 37203
Our Restaurant Picks in the city:
Cochon Butcher was a casual,friendly eatery in German town offering a variety of meats for sandwiches. The more popular items were pork choices.  I went for the smoked turkey sandwich with avocado on rye bread and it was superb.  Also enjoyed the side of Cole slaw and homemade potato chips.  Kristi, the manager, was very friendly and helpful.
More at http://www.cochonbutcher.com/nashville
5th and Taylor was the most beautiful inside atmosphere with some great food too.  High ceilings and candles lit throughout, this romantic spot is a great dateline or with friends/co-workers.  Start with the ahi poke and top pick crab salad.  The entrees were the best dishes.  The fresh halibut was golden crusted on top but super moist inside.
The other main were the beef cheeks that fell apart when trying to eat them as they were so tender.  The service was fantastic enhance your meal with one of their signature cocktails or some wine from their extensive list. http://www.5thandtaylor.com/#about
Martins bbq was incredible.  You could tell by the long line almost out the front door for lunch. Serving a wide variety of baby back and spare pork ribs, chicken , turkey, brisket.  Most people come for one of the pork choices and they carve a whole hog in front of you if you are there at the right time.  Many great sides from baked beans, Mac and cheese, potato salad, Cole slaw and hush puppies.
They serve a variety of sauces to try so if you are looking for bbq, this is the place. http://www.martinsbbqjoint.com/belmont-nashville
Adeles in the Gulch offers some great dining in a unique setting.  This big open area establishment used to be a tire shop and converted into a fine dining restaurant overlooking downtown with a big patio and indoor seating with the same view.  Some of the food to try includes the pizzete with garlic-anchovy confit to split and not to miss chopped kale salad that was delicious.
For main courses, there is a wide variety of meats to fish.  We tried the swordfish, which was a thick cut and nice mixture of flavors along with the lamb top lean round, that was tender and on top of a pesto like couscous.   Super tasty.  Enjoy one of their signature cocktails like the I-65 rum drink or signature milk punch made from pineapple soaked in vodka.
End with the banana chocolate chip bread pudding and you will feel great.  The atmosphere was very casual and our server Sabrina and the manager Nancy were hospitable and fantastic.  The owner/chef Jonathan Waxman has restaurants around the country too.
More at http://adelesnashville.com/
Josephine Restaurant has a menu that changes daily.  Small plates to share are the famous pretzel with mustard among many other choices like the miso carrots and for sure brussel sprouts fried with dried cherries, peanut and orange.
For entrees, some unique items were the rabbit dumpling and beef cheeks.  We tried the moist scallops over black eyed peas and the perfectly cooked swordfish with asparagus.   2 winners there.  Order the strawberry rhubarb dessert to share and it takes 30 min to cook.  Our server Pete was very knowledgeable and experiences while the manager Karen did a great job during the night.    More at http://www.josephineon12th.com/
Farmhouse–  This had to be my favorite place all together. The freshness and unique items and preparations were just so creative by owner/chef Trey Cioccia.  Who would ever think of a pastrami pop-tart with cabbage, onions and little cheese.  Unbelievable in the cooked puff pastry. Others not to miss were the catfish sandwich and homemade German style spaetzel with onions.  The chicken wings were cooked perfectly as a starter and a must order for dinner is the shrimp with grits.  The ingredients are super fresh and the service was amazing by Marty, the waiter.  I highly recommend this place on your next visit to Nashville and you will not be disappointed.  Trey is one of a kind and one of the nicest people I met to go along with his fantastic cooking.
Chef Trey Cioccia's fondness for humble Southern ingredients comes directly from his roots in nearby Mt. Juliet where he was born and raised. Surrounded by family with a passion for farming, Chef Trey was most influenced by his grandfather, who was devoted to maintaining the family's 100-acre farm. From an early age, he developed a deep connection to food, the land and farming. Today, as owner and chef at The Farm House in downtown Nashville, Chef Trey celebrates the lessons learned on his grandparents' farm, combining seasonally-fresh food and gracious service to create a memorable dining experience. He enjoys great working relationships with the farmers who supply his restaurant with an ever-changing basket from each harvest, and he cooks everything with love and passion: from beautifully-composed salads, vegetable farm plates and entrées featuring lusciously-cut meats to the beloved pork belly pop-tart and house-made sausage, sliced and cooked to order at Sunday brunch.
The Farm House
210 Almond Street
Nashville, TN 37201
615.522.06    More at http://thefarmhousetn.com/
Some attractions with visiting:  The goo goo dessert shop (photo below) and do NOT miss the pecan pie. I call this an attraction as it is a must visit one block off famous Broadway Street where all the live music happens.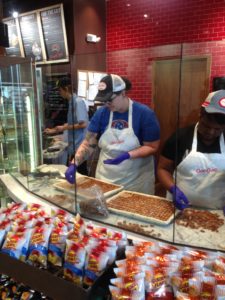 BB Kings off 2nd St and Broadway has some great live country/blues bands.  Check out a show at the popular Ryman Auditorium, visit the Country Music Hall of Fame, Musicians Hall of Fame and Johnny Cash Bike rentals and tours at Green Fleet Bikes (Bikes are great to get around. I did have a brake issue and had to return the bike to get one that worked and their attitude wasn't good.  I would say they need better customer service especially when something goes wrong with their bikes).  Try the Redneck a Comedy Bus Tour which will leave you laughing in stitches.  More on the following link as they travel around the city pointing out highlights while making it fun with lots of jokes.    http://www.theredneckbus.com/