Dining at the Crab Catcher, Kayaking at Bike and Kayak both in La Jolla, Ca. July 2016
Crab Catcher
858-454- 9587 dining@crabcatcher.com
1298 Prospect Street  La Jolla, CA 92037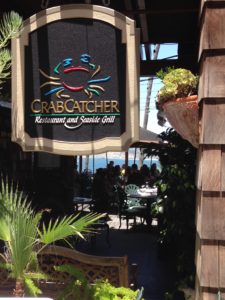 http://www.crabcatcher.com/
Elegance by the Sea…is how I would describe Crab Catcher of La Jolla, Ca. Situated right on the bluff, overlooking the La Jolla Bay and the Pacific Ocean, this fine jewel of Southern California is a multi-level seafood haven, designed to appeal to all senses. From the front street (Prospect St.), it appears very quaint and boutique-like. However once you enter you soon realize there is much more than meets the eye. Either a convenient elevator or stairs lead you down to the lower level, which has many different settings, depending on what occasion and the size of your group. I opted for the oceanfront patio with the view of the bay…perfect for a Saturday afternoon lunch.
The staff was very cordial and accommodating…as they lead me through some samplings of their menu and made sure we had everything we needed at various stages of the meal. For starters, the menu offers many mouthwatering options such as the Chili Garlic Shrimp and the Crab Cakes. Ohh, the crab cakes….an absolutely delicious blend of Jumbo lump crabmeat served with roasted tomato, corn and fennel relish, wholegrain mustard remoulade. These were paired with a bottle of chilled sparkling water and cocktails of your choice. The Watermelon Martini went very well with this portion of the experience.
For the main course, we took the recommendation by our waitress, Jamie, to share the Chef's Seafood Platter for two. And…let me just tell you, if spending a little more than usual to have an amazing seafood experience is something you are on board with….then this is the jackpot. The Chef's Seafood Platter comes with 1.5 lbs. Live Maine Lobster, 1.5lbs Bering Sea Red King Crab Legs, and 4 Grilled Prawns. A nice Chardonnay goes well with this selection (ask the staff for the latest recommendations). I wish I had room in my stomach to sample their delectable desserts, which included such classics as tiramisu, crème brule, chocolate torte, key lime pie, and 3 flavors of gelato to choose from.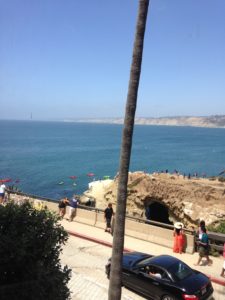 If you're planning on spending the day in La Jolla, there are shops and attractions, such as the La Jolla Caves within walking distance of the restaurant. Parking can be tricky, however there is plenty of public parking garages nearby. So dress comfortable, bring your appetite, and enjoy the best of what Southern California has to offer by basking in VIP treatment and service while spoiling your palette with the very best seafood dishes that money can buy.
Bike and Kayak
We recently visited Bike and Kayak Tours in La Jolla and it was fantastic. We went for the kayaking in the caves on this trip. The staff was very professional and helpful. They were very organized the moment you walk in to assist with setting you up and checking you in.
From there, you collect your life jacket and head to the beach to pick up your paddle and kayak. After a discussion with your tour guides about your tour and all the rules, you head out into the ocean over the waves so be prepared to get wet. You can choose a single or double kayak. The pace was very good to get a workout and the instruction was excellent. We got near the famous caves but the waves were too big so we couldn't go in. You could see them and it was still fun. Since we didn't make it in, they provide free passes to visit the store which has a long downhill stairwell into the caves to check it out as they charge to get in otherwise.
It was so great, we have already planned to come back to visit their other location in Coronado early next month to try some biking and kayaking there. Highly recommend this company!
https://bikeandkayaktours.com/
Written by Kelly Cowan and Todd Elliot