Salt and Stray popular Ice Cream shop is a big hit- December 2016
Salt and Stray is the new hot spot ice cream shop on Abbot Kinney in Venice. They are located at 1357 Abbot Kinney Blvd., Venice, CA – (310) 310-8429 This place was packed with a line out the door last weekend on a cold afternoon. I cannot imagine it in the summer. They source local ingredients and have very unique flavors. It may take a bit of time to get through the line due to guests trying different flavors. The staff is so friendly and welcoming. The manager Derek was so helpful and knowledgeable.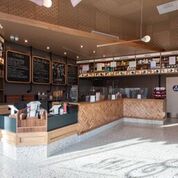 It is very difficult to choose only 1-2 flavors for a cone or cup. So they offer a flight of 4 different scoops in separate bowls on a tray. There are no toppings because all the flavors are blended with a variety of creative mixing that you will not see anywhere else. The ice cream is absolutely delicious. My favorites were the regular cookie dough, peppermint cocoa, silencio black tea & coconut Stracciatella, and honeyed buttered tarts but you really cannot go wrong unless you don't like a certain ingredient. I was not adventurous to go for the black olive brittle and goat cheese flavor as I don't like olives.
ABOUT SALT & STRAW:
Salt & Straw Ice Cream is a chef-driven ice cream kitchen with scoop shops in Portland and Los Angeles that partners with local artisans, producers and farmers to serve unusually creative and absolutely delicious ice cream. Each ice cream is handmade in small batches using only all natural cream from local farms in each city. Flavors showcase the best local, organic and sustainable ingredients from Oregon and Southern California farmers and artisans as well as imported flavors from small hand-picked farms from around the world. The company started in Portland, OR serving eight flavors from an ice cream cart in May of 2011 and now has three scoop shops in Portland and four in LA. Scoops of handmade, small batch ice creams, sundaes, milkshakes and floats as well as pints to go are available at each with an ice cream sommelier of sorts who will gladly take you through a tasting of all the flavors. Favorites, seasonal, design your own variety packs and pint club memberships are available for online purchase and can be shipped anywhere in the United States. Salt & Straw's ice cream cart is available for catering parties and events. In April of 2016, Salt & Straw opened Wiz Bang Bar at Pine Street Market, a soft serve dessert bar featuring fresh spins on the childhood swirl, sundaes, novelties, and more. Find more information at www.saltandstraw.com or call 971-271-8168. Follow us on Facebook at Salt and Straw Ice Cream, Twitter and Instagram: @SaltandStraw.
Limited specialty flavors till December 29th- Salt & Straw, the iconic family-run ice cream purveyor known for its artisanal, chef-driven approach to an American classic, is now scooping flavors from its Holiday Classics series until December 29th. Churned locally in small batches and conceived of by Co-Founder/Head Ice Cream Maker Tyler Malek, the five-flavor lineup – which includes Gingerbread Cookie Dough, Honeyed Butter Tarts, and Fennel Five Spiced Eggnog – celebrates the season's most comforting flavors with seriously delicious (and festive) treats. Flavors will be available by the scoop and pint at the Larchmont Village, Abbot Kinney, Studio City, and Arts District locations all month. For more information, visit saltandstraw.com/flavors/#la.
L-R: Gingerbread Cookie Dough; Apple Brandy & Pecan Pie; Peppermint Cocoa                             Photo Credits-   Wonho Frank Lee

More info at www.saltandstraw.com