Mammoth Mountain Skiing, Lodging at the Westin, Dining Tips- February 2017
Visiting Mammoth for a ski trip, here are some great recommendations.  For pure convenience, great service and wonderful food, The Westin Hotel is the place to stay.  Just a short Village gondola trip across the street and you are at Canyon Lodge and the Canyon express chair lift.  The room was wonderful, spacious and comfortable. They have a nice workout room, heated swimming pool and 2 jacuzzi spas.
This mountain retreat sits amidst all the fun outdoor activities that make Mammoth Mountain a spectacular year-round destination. Their convenient resort location puts you within steps of the village at Mammoth – offering great shopping, nightlife and more. With one of the longest ski seasons in California, The Westin Mammoth Ski Resort is a great place to fill your snow sports craving. Skiing, snowboarding, snowmobiling and so much more are just a gondola ride away.
Every season brings new opportunities to explore Mammoth, California. Discover Mammoth Mountain in the summer and enjoy hiking, fishing, mountain biking and more.  After a full day of exploring, relax in their spacious room featuring a fireplace and kitchenette.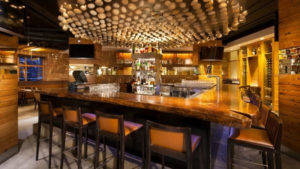 The WhiteBark restaurant was excellent.  Dined there on a Monday which is half price sushi at the bars.  Try the calamari appetizer and the sushi which was very fresh.
For entrees, the filet and duck were fantastic.  They also serve breakfast with a wide variety of items including omelets, pancakes, cereals and more.  One other great feature is the complimentary shuttle service tat will pick up/drop of at the airport or take you most anywhere in town.
Skiing/Snowboarding Mammoth Mountain
The main reason to come to Mammoth in the winter is the enormous mountain with great terrain and options for every kind of skier or snowboarder.  Many high speed chairs and the gondola taking you to the top of the mountain.  Some of the more popular chairs are 3 and 5 taking you to some advanced runs.  Chair 23 will also take you to the top for expert runs including some bowls.   I found some of the better snow and spots off the sides of both ends (chair 12 which takes you to 13 and 14 off the backside) and the other side were eagle express and chair 9 which goes to more advanced runs.
There are plenty of intermediate and groomers all over the place so you are pretty much covered.  Best advice is to come midweek and avoid Saturdays and holidays if you can as the lines and crowds can be extreme. The mountain has received a huge amount of snowfall this winter from when I was there at the start of February with 356" so far and another storm coming in soon. January was the their snowiest month on record with 246".
More at https://www.mammothmountain.com/
MAMMOTH MOUNTAIN FACT SHEET
LOCATION Central California, USA
Eastern Sierra Nevada Mountain Range
MAMMOTH Average Snowfall: Over 400 inches (33 feet)
MOUNTAIN Average Sunny Days: 300
STATISTICS Length of Season: November 13, 2014 – Typically June
Vertical Rise: 3,100 feet/945m
Elevation: Base: 7,953 feet/2,424m Summit: 11,053 feet/3,369m
Skiable Acreage: 3,500+ acres/1,416+ hectares
Snowmaking: 700 acres, covering 48 trails – 33% of mountain
Number of Lifts: 28 – 2 high-speed detachable Six-packs, 11 Quads (10 high-speed
detachable), 6 Triples, 3 Doubles, 3 Gondolas and 3 Surface lifts
Number of Trails: 150 named trails
Uphill Capacity: 59,000 rides per hour
Longest Run: 3 miles
Terrain: 15% expert, 20% advanced, 40% intermediate, 25% beginner
FACILITIES 4 day lodges, 10 sport shops, 12 rental/repair shops, 2 on-hill snack bars, 4 food
courts/cafeterias, ski and snowboard school, race department, lockers, slopeside hotel and
condominium accommodations, 5 restaurants, 7 bars, child care
WINTER SEASON Opening Day: November 13, 2014, operating hours from 8:30am-4pm daily
SNOWPHONE 888.SNOWRPT (888.766.9778)
INFORMATION 800.MAMMOTH (800.626.6684)
Web site: www.MammothMountain.com   E-Mail: 800mammoth@mammoth-mtn.com
SKI AND SNOWBOARD On Mountain rental and demo shops offer name brand skis, snowboards and boots as well
RENTAL AND REPAIR as the latest in competition demos. Repair shops offer special tuning packages with overnight
service. Guests can reserve their rental equipment online at MammothMountain.com and can
easily exchange equipment at any of the 12 on-mountain locations.
SKI AND SNOWBOARD Top-rated Mammoth Ski and Snowboard School offers skiing, snowboarding, telemark
SCHOOL lessons and special clinics. Packages include private or group lessons, early bird lessons, first
time beginner packages and advanced level classes. Mammoth has three learning centers
where instructors specialize in working with kids: Woollywood at Main Lodge, Canyon Kids
at Canyon Lodge and Eagle Lodge Ski and Snowboard School. Mammoth Kids program
features instruction, childcare and combination packages. Special weekend camps for
advanced skiers, park and pipe riders, women and seniors are held throughout the season.
UNBOUND The Unbound Terrain Parks lead the industry in innovation and quality with eleven parks,
three half pipes, two acrobags, 100+ jibs and 50+ jumps on over 100 acres of California's
favorite mountain resort. Using state-of-the-art equipment to provide a progressive
environment for all levels, from beginners to a team of 15 professional athletes, the Unbound
earns consistent ratings among the top parks of the world.
LODGING The Village Lodge features studio to three-bedroom condominiums located in the heart of
The Village at Mammoth next to shopping, dining, mountain access and state-of-the-art
meeting facilities. The Mammoth Mountain Inn is located across the street from the Main
Lodge and offers slopeside accommodations. Juniper Springs Lodge, also slopeside,
located at the base of Eagle Express, features deluxe studio, one and two-bedroom
condominium units. Tamarack Lodge & Resort is a rustic lodge located at Twin Lakes in
the Mammoth Lakes Basin.
CHILD CARE Located in the Mammoth Mountain Inn at Main Lodge and at the Village at Mammoth,
Woolly's Forest Child Care offers daily and weekly programs, including ski/snowboard
lessons and infant and child care for children up to 8.
APRÈS SKI The Village at Mammoth is the place to be after a fun-filled day of skiing or snowboarding.
Activities around town include shopping, dining, cocktails, movie theaters, dancing and more.
TOWN SERVICES Grocery, post office, free in-town shuttle service, churches, camper facilities, spas, athletic
clubs, bars and restaurants, movies, shopping centers, lodging facilities, sport shops, rental
shops and a hospital.
RECREATION Cross-country ski center, scenic gondola rides, snowmobile rentals, tubing, sledding, dog sled
rides, snowshoeing, ice skating.
TRANSPORTATION
CAR Los Angeles – US 395 north to Hwy. 203 – 307 miles
Reno – US 395 south to Hwy. 203 – 168 miles
San Francisco Area – Interstate 80 or 50 to US 395 south, to Hwy 203 – 320 miles
RENTAL CAR Enterprise Rent-A-Car 760.924.1094
Mammoth Car Rental 760.934.8111
AREA SHUTTLE Mammoth Mountain operates a free shuttle that runs throughout the town of Mammoth
Lakes and to Tamarack Lodge, Main Lodge, Canyon Lodge and Juniper Springs/Eagle Lodge
areas during winter months. A map is available online at MammothMountain.com.
AIR Winter flight schedule for the 2012/13 winter season includes nonstop flights on United to
Mammoth Yosemite Airport (MMH) from San Francisco (SFO), San Diego (SAN) and Orange
County (SNA). Alaska Air will offer nonstop flights between Mammoth Yosemite Airport
(MMH) and Los Angeles (LAX) (twice daily). Book now at 800.MAMMOTH or
MammothMountain.com.
Other regional airports include:
Reno International Airport (RNO), 168 miles north
Los Angeles International Airport (LAX), 307 miles south
TICKET OFFICES Located at Main Lodge, Canyon Lodge, Eagle Lodge, Stump Alley Express, and the Mountain
Center. Additional satellite ticket offices are open weekends and holidays.
The town of Mammoth Lakes sits high in the Eastern Sierra Nevada mountains
of California. At its center is Mammoth Mountain Ski Area, consistently listed as
one of North America's fi nest winter/summer recreation areas.
Mammoth Lakes and the Eastern Sierra boasts some of the world's fi nest hiking,
fi shing, mountain biking, bird watching, scenic beauty and national parks.
Mammoth has an impressive snowfall record averaging over 400 inches annually
as well as Alpine skiing, snowboarding and Nordic skiing for all ability levels. Mix
in our 300 days of sunshine a year, and you have a great blend of powder skiing
with bluebird days.
Mammoth Lakes has 4,600 rental units, offering its guests a wide variety of
lodging choices from the cozy atmosphere of a family operated hotel, inn or bed
& breakfast, to the pampering services and amenities of a full-service resort.
Mammoth Lakes offers more than 60 restaurants in a wide range of inventive
and traditional dining choices. Live music, from rock and reggae to folk, jazz and
blues, is featured at pubs and dining establishments throughout town.
Mammoth Lakes also boasts a full year-round calendar of events and festivals
that showcase the unique character that makes Mammoth Lakes special.
SUMMER ACTIVITIES
• Make Mammoth Lakes your home base as you explore the Ancient Bristlecone
Pine Forest (oldest trees in the world), Yosemite National Park, Mono Lake,
Bodie State Historic Park (the official ghost town of California), Devils Postpile
National Monument, Reds Meadow, and Rainbow Falls.
• Hiking in Mammoth Lakes is extraordinary, with over 17 lakes within a
20-minute drive.
• Biking in Mammoth Lakes is a thrill with over 70 miles of single-track mountain
biking and 20 miles of paved bike trail for your enjoyment.
• Fishing is world-class in our trout-stocked lakes, rivers and creeks.
• Take an overnight horseback riding trip to Yosemite National Park.
• Other activities include helicopter tours, golf, rock climbing, boating, motocross
and ATV trail rides, youth camps, running camps, kayaking and canoeing.
WINTER ACTIVITIES
• Two resorts, Mammoth Mountain and June Mountain, offer 4,000 acres of terrain
for beginner, intermediate and advanced skiers and snowboarders.
• Mammoth Lakes averages over 400 inches of powder annually, while still enjoying
300 days of sunshine a year.
• 150 miles of groomed cross country skiing and snowshoeing trails.
• 100 miles of snowmobiling trails.
• Other activities include snowcat tours, scenic gondola rides, snowmobile tours.
Mammoth also owns June Mountain about a 25 minute ride where you can have the whole mountain to yourself much of the time.  There are some black runs but this mountain has so many groomers and beginner/intermediate runs, it is a great place to come when Mammoth is crowded.  It is also beautiful and family oriented.   If you book a group lesson during the week, there is a good chance it will turn into a private or semi private lesson since not many people come here.   More at https://www.junemountain.com/
My dining recommendations:
My favorite place was the Brasserie at the Rock'n Bowl.  This place is so unique where you get gourmet French cuisine from well known chef Frederick.  He also greets and welcomes all customers during dinner.  Start with some great soup (French Onion is always on the menu) but I went for the potato leak soup of the day,  which was tasty.  The Caesar salad was also a nice starter.
For your entree, they had a nice variety with the swordfish special but by far the choice are the elk medallions-so tender. Our server Paul did a great job and suggested the Russian River Pinot Noir that went perfectly with the elk.  Save room for their delicious desserts such as the apple tart or the grand Mar whipped mousse.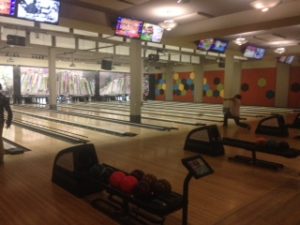 What makes this place very special is they have an awesome bowling alley, arcade and game choices right downstairs.  Yes they are affiliated an you will never ave better food in your life at any bowling alley.  After you digest, bowl a game or two with the fun atmosphere and old time music playing.   http://www.mammothrocknbowl.com/
One other incredible option for fine dining was The Lakefront at Tamarak, a short ride from town.  This cozy establishment has only 10 tables so go early or make a reservation before you visit.  I started with the carrot curry soup and grilled asparagus appetizer.
They had a nice selection of entrees but the loop de mer whole fish was my choice and I was very satisfied. Accompany your meal with one o their signature cocktails or glasses of wine.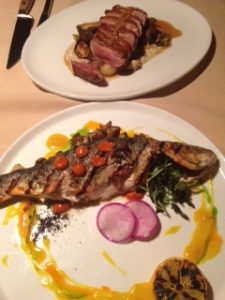 The service was excellent and take your dessert and after dinner drink to the fireplace lounge in the adjacent room.  More at http://www.lakefrontmammoth.com/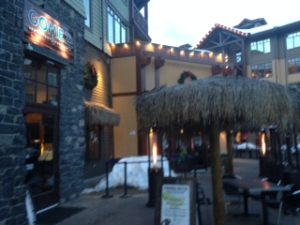 In the mood for Mexican food, head to Gomezs in the village across the street from the Westin.  The manager Ana, was very hospitable and welcoming.  Don't miss the homemade guacamole or chicken tortilla soup to start.  The Yucca seared rare ahi tuna salad was fantastic and the shrimp fajitas with rice, black beans and tortillas was hard to beat.   http://www.gomezs.com/
The best breakfast was also in the village called the Old New York Bagel and Deli.   They also serve lunch as this is a must stop. The bagels are fresh so try one with cream cheese and lox.
They also have pancakes, French toast, oatmeal and my favorite, the Jewish matzah brei with eggs.  The manager Antoine did a great job helping with customers and there us no other lave like it around.  More at http://www.oldnewyork.com/
If you are in need of information, lodging or dining tips, check out Tourism Mammoth for activities and info for all times of the year. Lara, who is in charge of PR was incredible and super helpful  http://www.visitmammoth.com/