Snow Valley Ski Resort great local place near Los Angeles- February 2017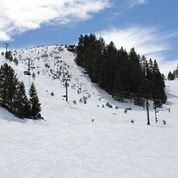 Snow Valley Ski Resort is a great place to visit on your next local trip near Los Angeles. Only a bit over 90 minutes driving, Snow Valley offers some great skiing, variety and fantastic kid's classes. The kids loved the lessons so much, they didn't want to leave. They were different ages and put into classes by age and level. A great job by Chris who had the older class and Stacey with the younger age. I skied by a few times and they were doing a great organized job with all the little ones. A full day lesson gives kids a great way to learn and expand with breaks and a lunch in between.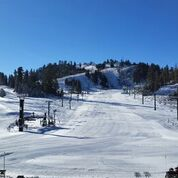 While they were in class, I got to ski around the mountain finding great terrain, variety, groomed runs and beautiful views. Don't miss the backside which is open when they have enough snow. Try their adjacent sledding open every day (the chair is open on the weekend so you don't have to walk up but it is exciting and fun. I highly recommend a day trip from LA to Snow Valley. Most of the time, the road is fine without having to use chains. The rep Bonnie at guest services was very welcoming and helpful too.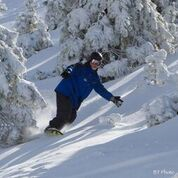 Some facts below about the resort.
New for Winter 2016-17 at Southern California's Snow Valley Mountain Resort
Southern California's only new lift for winter 2016-17
New – Snow Valley Mountain Resort's new 300-foot moving carpet lift, So Cal's only new lift, increases  its Children's Learning Center Terrain by 200%
Ø  A new 300-foot moving carpet lift in the Children's Learning Center at Snow Valley is the region's only new lift for winter 2016-17. It expands Snow Valley's learning-only terrain by 40,000 square feet, a 200% increase. This will substantially boost the number of runs new skiers and snowboarders can take during their lessons, more quickly preparing them to load regular chairlifts and mix with experienced skiers and snowboarders. It will also allow Snow Valley to provide more lessons in the Children's Learning Center. This will result in reduced demand for regular lifts.
"Snow Valley's new moving carpet will make learning easier and more fun," says Snow Valley Vice President and General Manager, Kevin A. Somes.  "Aspiring skiers and snowboarders will comfortably move up the hill like magic. So they look forward to their next ride and are likely to stick with the sport. Mixing with experienced skiers and snowboarders on traditional lifts and runs can be very intimidating for new participants."
 New – Snow Valley Mountain Resort's Expanded "Targeted Snowmaking" Caps Off $1Million Investment
  For winter 2016-17, Snow Valley Mountain Resort has increased its "targeted snowmaking" operations by  50 percent, adding several portable snow guns, all of which will be strategically relocated throughout the snowmaking night to deliver the best snow coverage on the most popular runs and terrain park features. Now, Southern California's most experienced, expert snowmakers will be working with an expanded arsenal of portable, fully automated and computer-controlled SMI Super Polecats with SmartSnow™.  These guns will also produce more snow from less water and power, as each SMI Super Polecat has its own weather station for accurate measurement of conditions and remote-controlled microprocessor with customizable software to relay weather data to Snow Valley's main pumphouse control room, which will then send the correct volume of water to each snow gun. At a total cost of $1 Million, these new snowmaking enhancements for winter 2016-17 leverage Snow Valley's winter 2015-16 investment in a reengineered water-storage infrastructure and a new mile-long pipeline that maximizes water availability when temperature and humidity levels are optimal for snowmaking. Snow Valley and the National Ski Areas Association continue to seek innovative ways of reducing the ski area's carbon footprint while covering the slopes with even more snow.
 New – Snow Valley Mountain Resort Rental Shop to Offer Brand New Gear & 20% Faster Rental Process
Ø  100s of brand new Head skis, snowboards, boots and helmets for adults and kids, including Rocka snowboards and BOA snowboard boots will be available to Snow Valley guests. Head is the chosen brand endorsed by many Olympic champions, and these new, lightweight, shaped skis and snowboards will allow skiers and riders to initiate their turns more easily and with greater confidence. And skiers and snowboarders will spend 20% less time renting gear at Snow Valley than in years past -and more time on the mountain- thanks to Snow Valley's new Head BYS rental system, which systematizes and streamlines the rental process faster than ever.
About Snow Valley: Snow Valley, located in the San Bernardino Mountains in Running Springs, CA, 20 miles from San Bernardino and is one of the largest resorts in the San Bernardino National Forest. With a fantastic Snow Sports School, Snow Play (sledding), a wide variety of lifts and terrain over 240 acres plus other services, Snow Valley offers a great resort experience close to home. Night skiing is offered on Fridays and Saturdays, including during holiday periods. Snow Valley offers 1,041 feet of vertical drop, with its summit at 7,841 feet and its base at  6,800 feet.  Its longest run is one mile. For more information and visuals, see  http://www.snow-valley.com/ and http://www.snow-valley.com/explore_sv/photo_gallery.html.