Classic Jazz Vocalist Sylvia Brooks Headlines Catalina Jazz Club, one 7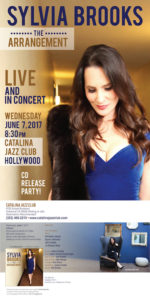 Versatile jazz vocalist Sylvia Brooks reveals a vivid array of new emotional hues on her about to be released third CD, The Arrangement.  From Jazz Noir to Technicolor, the music remains intimate collaboration with the talents of brilliant Los Angeles arrangers. In celebration of the release, Brooks along with her arrangers will perform in concert at Catalina Jazz Club in Hollywood on Wednesday, June 7 at 8:30 p.m.
Jazz vocalist Brooks introduced a sensuous jazz-noir sound in her first two critically acclaimed albums. With her third CD, The Arrangement, she steps out of the mist and fog into the sunlight, where she reveals herself as a singer at home in just about any narrative.
Brooks chose to connect with a superlative collection of arrangers for her third CD starting with arranger/composer/saxophone Kim Richmond, who also collaborated on her first two album; Venezuelan-born pianist Otmaro Ruiz (Dianne Reeves); pianist Jeff Colella (Lou Rawls); French-born pianist Christian Jacob (Tierney Sutton, Betty Buckley); and pianist Quinn Johnson (Steve Tyrell, Diana Ross).
"I wanted to explore different musical styles," she says. "I love Latin influenced music, big band swing, and rich ballads. I want to explore the whole spectrum musically."
Brooks'  sumptuous velvet-rich voice and emotionally incisive phrasing works complements her choice a dazzling cast of writers to craft bespoke charts tailored stylishly for her voice, while giving them casting carte blanche that led to a "glorious diversity of setting" in her words.
Brooks choose the songs, and gave the arrangers two directives. They had to use a combination of brass and reeds, and they could choose the musicians they felt would best serve the direction of the piece, "so it was a real collaboration," Brooks says. "I wanted them to have complete freedom."
The album opens with Ruiz's lush setting for "Perhaps, Perhaps, Perhaps (Quizas, Quizas, Quizas)," an intoxicating piece that connects Brooks to the Cuban music she heard growing up in Miami. He provides Brooks with another sleek and sensuous Latin vehicle on the oft-interpreted standard "Besame Mucho," which she delivers as a passionate fever dream accelerated by a simmer tenor sax solo by the reed master Bob Sheppard.
Brooks takes an unexpected left turn as Johnson's brassy, briskly swinging arrangement transforms Hank Williams' classic country lament "Cold Cold Heart." He also proved to be an ideal songwriting collaborator for Brooks, who contributes original lyrics to three beautifully wrought pieces, starting with their slyly funky anthem about mistaken first impressions "What Was I Thinking (The Mirage)." She teamed with the multi award-winning composer Patrick Williams on "Maybe I'm A Fool," a lovely portrait of romantic self-doubt arranged with rollercoaster energy by Johnson.
Jacob, who wrote the widely hailed score for Clint Eastwood's 2016 film Sully, collaborated with Brooks on one of the album's most arrestingly beautiful pieces, "Sweet Surrender," an intimate piano and voice duet with a graceful melody that needs no embellishments.
Another standout track is Jacob's quietly dramatic setting of Lennon and McCartney's "Eleanor Rigby," a rendition as effective and unforgettable as a jazz vehicle (listen to the deft interplay of Jacob's Fender Rhodes chords and Larry Koonse's guitar) that one can only marvel at her ingenuity.
Brooks puts her personal stamp on "Guess Who I Saw Today," the forlorn narrative indelibly linked to the legendary Nancy Wilson. She closes the album with an unforgettable version of "Angel Eyes," a haunting Richmond arrangement that links back to Brooks earlier jazz-noir albums.