Actors and Others for Animals Hosts Fritz Coleman and His Comedy, July 23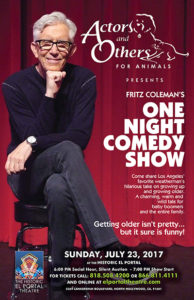 In support of its spay/neuter and veterinary medical programs,  Actors and Others for Animals, one of the oldest animal welfare organizations in Los Angeles, will host Fritz Coleman and his Comedy Show at the historic El Portal Theatre, 5269 Lankershim Blvd., North Hollywood, CA 91601 on Sunday, July 23th.
Fritz Coleman, award-winning and beloved weatherman on NBC4 since1982, is also a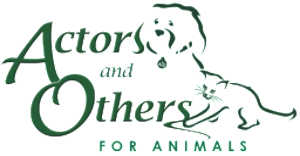 long time stand-up comic who devotes much of his free time to entertaining at charitable events.  He has won a number of awards for his dedication to community service. He has supported Actors and Others for Animals for many years, and will be doing so again when he performs his comedy act at the El Portal Theatre on Sunday evening, July 23, 2017.  Tickets are $50, $35 and $25 and are available directly from the Historic El Portal Theatre in North Hollywood.
"My friend, Fritz Coleman, turns life and aging into a laugh out loud evening of clean fun for the entire family," says JoAnne Worley, president of Actors and Others for Animals. "If you haven't had the pleasure of watching a true Los Angeles icon, please come and join us for a glass of wine, a silent auction and a night of laughter to help the animals."
Founded in 1971 by the late actor Richard Basehart, his wife Diana and others in the entertainment community, Actors and Others for Animals has a core mission to eliminate pet overpopulation, and ensure good care and protection for pet companions. All proceeds from fundraising efforts provide spay, neuter and veterinary assistance for the animals that share the lives of low or fixed income pet guardians. For more information, visit www.actorsandothers.com.