Big Bear Summer Vacation Apples Bed and Breakfast, dining, attractions- July 2017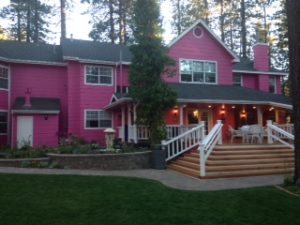 Visiting Big Bear Lake in the Summer, I have some great recommendations for you. I recently took a family trip with my 2 little daughters the week of 4th of July and it was fantastic. Let's start with Apples Bed and Breakfast. Wow, what a place and remodel by the new owners. They painted in a nice pinkish bright tone and opened up the backyard if you want to call it that. It is huge, beautiful and full of green grass, a stream, outdoor dining for breakfast and décor.
The staff was super pleasant and the breakfast was delicious. The place was quite when we where there but are often busy with Church retreats, scrapbookers, quilters, tole painters, couples, families, anniversaries/weddings & meeting/conference rooms. This place is a must stay on your next trip to Big Bear.
More at www.applesbedandbreakfast.com
After arriving, we did a quick jump in the lake to cool off before checking in and changing. Then we headed to the very popular Peppercorn Grill. We got there right when they opened but by 7pm when we were leaving, they were packed with about a 2 hour wait. The food was good but I think they may have been short staffed as it took a while for our order.
Still a nice dining experience but make reservations beforehand if you don't want to wait. More at http://www.peppercorngrille.com/
It was back to Apples to settle down and get ready for the next day (the Big 4th of July festivities by the Rotary Club out by the lake). They put on a great event with bbq and family friendly kids activities before night came and the incredible fireworks show after 9pm for almost 30 minutes. This is a must visit for the future and you can find more info at www.bigbear.com or Eventbrite Search: 2017-Rotary-Club or check back next year and search 2018.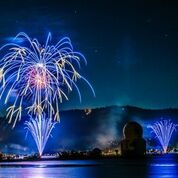 After breakfast the next morning, we went to the Alpine and Water slide amusement location also filled with minature golf and go carts. You can spend all day there and what a variety of fun. More at http://alpineslidebigbear.com
It was time for lunch so we headed not far away to Dynasty, the only Chinese restaurant in town. The food was excellent and overall staff was top notch including the owner Barry. He is a great people person and has had his restaurant in Big Bear for a long time and moved it to the new location not that long ago.
Water Lily Shrimp | Peking Duck | Kung Pao Delight | Minced Chicken in Lettuce | Set & Pugent Scallops | Sweet & Sour Pork | Orange Peel Chicken to name a few popular dishes. http://www.bigbeardynasty.com/
After lunch we visited Baldwin Lake Stables about a 30 minute drive but well worth it. They offer horseback riding and pony rides (which we did since my daughters are young). The highlight was the petting zoo as you pet and share time with many different animals from goats, pigs, turkeys, rabbits to name many of them. http://www.baldwinlakestables.com/about.html
On our way back, we decided to try the Big Bear Speedway, a step up and faster than the go karts at Apline Slides. Big Bear Speedway delivers a real racing experience with full-featured
SODI RT8 Karts, which look like miniature Formula 1 racecars.  Choose either a single kart double training kart with two steering wheels for double riders. Compete against the clock on a Grand Prix style course. Fun for all ages 4 and up! http://bigbearspeedway.com/
We checked into the Shore Acres Lodge by Big Bear Vacations. It was a very nice cabin with a nice view of the lake when you step outside. Very comfortable with a kitchen and specious for us. Great location about a mile from downtown Big Bear. https://www.shoreacreslodge.com/
It was time for dinner so we went for the casual and unique Wyatt's Café & Saloon. The country feel and music make it very relaxed as you order and the food is brought out to you. Music and dancing happens during the night later after dinner. A fun place with down to earth people. Certified Angus 1/2 lb. Burgers| Slow-Smoked Pulled Pork | Street Tacos | Jumbo Wings with a Variety of Homemade Sauces | Southwest Cobb Salad | Marinated Grilled Chicken Sauces | Handmade Desserts | Kids Menu http://bigbearevents.com/wyatts/
Our last stop was checking out Charlie Brown, the musical, at the Performing Arts Center by CATS. http://www.bigbearcoolcabins.com/big-bear-events/special-events/cats-presents-youre-good-man-charlie-brown#.WXLwSlFJn3g
We kept going the next day to visit with canoeing and the Tarzat boat at Captain John's Fawn Harbor and Marina Paddle around the north shore via canoe. Take a ride around the lake via canoe or kayak before checking out the adventurous tarzan ship. More at http://fawnharbor.com/
So next up was Scenic Sky Chair at Snow Summit –During the summer months Snow Summit transforms into a summer wonderland of hiking, biking and sightseeing. Let the scenic sky chair take you to the top of snow summit for breathtaking views and enjoy lunch at big bear's most scenic BBQ. http://fawnharbor.com/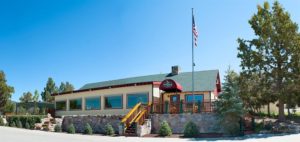 For dinner, we went to the Pines Lakefront restaurant (pictured above)  and our top choice for dining. The meal was fabulous with great seafood and steak while we listened to some beautiful Thursday night jazz including hospitable owner John playing clarinet with the group.
The staff, service and overall vibe was wonderful. If you have one place to go, this is it.  The view of the lake isn't too shabby either as they are the only restaurant with a view of the lake.
Certified Black Angus Prime Rib | We Smoke Our Own Fish & Game | Alaskan King Crab | Rib Eye Cut to Order | Kobe Burger | New Zealand Rack of Lamb | Vegetarian and Gluten-Free Options | Fine Wines | Liqueurs | Cocktails Overall, a 10. http://www.bigbearlake.net/the-pines-lakefront
Our last day, we started with Amangelas bagel shop and had a delicious breakfast with their signature bagels, lox and cream cheese.
From there, we visited the intimate yet exciting Big Bear Zoo located right near the Big Bear chairlifts which were closed until ski season. We saw some great animals including of course, a big black bear among many others.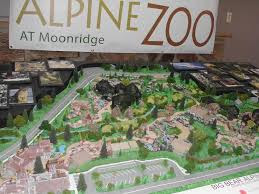 Before heading back to LA, we stopped in Maggios for a fulfilling lunch of pizza, pasta and salad. We were totally satisfied by time we left and everything was excellent. Try the gluten free pizza as it was one of the better ones I have ever tried. The ravioli and other dishes were huge and tasty. The homey feeling with long time workers and a friendly staff makes this place a must visit.
Pizza | Pasta | Sub Sandwiches | Calzones | Appetizers | Salads | Mexican Spaghetti | Lasagna | Beer | Wine https://www.maggiospizza.com/
We would like to give a big thank you and shout out to Dan McKernan at Big Bear Guide for assisting and giving some great suggestions for our feature. Check out his guide at http://www.bigbearguide.com/