Traveling to Sedona, Arizona- Affordable Lodging at the Star Motel, Dining Tips, Sedona's New Day Spa- August 2017
Lodging:
The Star Motel in Sedona beat our expectations with its convenient location, clean rooms and friendly staff.    It was one of the nicest motels I have ever stayed at while it was situated right in the heart of uptown Sedona walking distance to many shops, restaurants and galleries.  The motel may be humble compared to the neighboring high-priced luxury resorts, but having fewer rooms allows the friendly staff to truly get to know all of their guests. In doing so, they are able to help each one get the most out of their time in Sedona.  Don't let the Motel name fool you as you will be pleasantly surprised with the place and it's situated area.
http://www.starmotelsedona.com/
Dining: 
For breakfast and lunch:
Cafe Jose located in a shopping mall about 5 minutes driving from uptown Sedona.  It was very reasonably priced and they had a nice selection of egg scrambles, pancakes,  oatmeal, yogurt with fruit and a muffin to name a few items.   We came one day for lunch and had the veggie burger and the turkey club.   They have won many dining awards for their casual atmosphere, friendly staff and affordable prices.
http://www.sedonacafejose.com/
The Chocolatree:

This was an amazing all vegan restaurant serving breakfast and lunch.  They source 100% Organic or Wildcrafted produce. All of our seeds, nuts, veggies, spices, sea veggies everything!  Try one of their healthy sandwiches, salads or bowls.
 
Check out their fresh juices, energy shots or smoothies.  The food is delicious and not too sweet. https://chocolatree.com/
Dinner:
Soundbites Grill: Looking for a great place to have dinner and experience a fantastic view and great music?  This is the only place to do so.   We started with the Caesar Salad (Southwest style) and the clam and shrimp chowder- both tasty.   They also had a lobster special menu so we had to try that for one of our main courses along with the lamb osso buco adding 4 grilled shrimp. We enjoyed looking at the sunset over the mountains turn into night with the moon creeping up over the mountains.  Just incredible.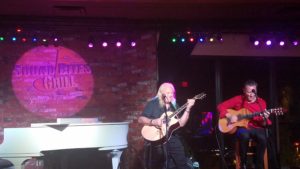 The guitar, piano and music by Robin Miller and then his son Eric Miller joining for the last set topped off the night.   If you are coming midweek, the music goes till 9pm but a bit later on the weekend.  Many great musicians and bands come through here and their sound system in wonderful along with the staff and service.
SaltRock Restaurant in the Amara Resort and Spa-
What an amazing dinner and atmosphere as you overlook the mountains while dining on the patio.  Some of the dishes not to miss are the grilled baby octopus, the soft shell crab and sautéed shrimp. We only had room for one entrée after the delicious appetizers so we chose the fresh salmon with coucous and side dishes of corn and wild mushrooms.   Just amazing.  Enjoy one of their specialty cocktails the bartenders love to create there or a glass of wine to enhance your meal.
http://www.amararesort.com/sedona/saltrock
Sedona's New Day Spa
You cannot go wrong with any of their specialties.  The 2 most popular are the The Prickly Pear Pomegranate treatment  (The healing lotions used at Sedona's New Day Spa provide anti-inflammatory and anti-aging actions to promote healing. )  and the Turquoise Sage Mountain Arnica treatement (Experience a rejuvenating, customized full body massage with a unique blend of Turquoise Sage Arnica body butter and oils; offering relief from inflammation, muscular aches and pains; and promoting relaxation).   Both start with a relaxing exfoliation  that made my skin smooth and healthy..  Lastly with the healing lotions still covering my body,  I was wrapped in a cocoon and was given a facial massage that was also very calming. The facial at Sedona's New Day Spa was not only soothing and relaxing, but made my skin look amazing and hydrated.  Their products are amazing and we got some to take with us.  Pevonia Botanica is an elite, natural skincare brand offered by prestigious spas world wide. Pevonia maintains a harmonious balance with nature by offering pure, cruelty free formulations within eco-packaging. All treatments include a skin analysis and are customized to your specific needs by our Skin-Care Specialists.
For manicures and pedicures,   Stacy did  a great job in the private flower garden.  The special treatment and friendly staff you get here is the best.  You get pampered and will want to come back to try other services.
The owner Jill is so hospitable and we can see why this place was voted best day spa for 9 yrs in a row.   http://www.sedonanewdayspa.com/