Pageant of the Masters 2021 Festival of the Arts- Preview July 2021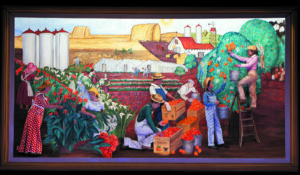 Calendar Listings:
2021 FESTIVAL OF ARTS FINE ART SHOW & PAGEANT OF THE MASTERS
Festival of Arts Fine Art Show
July 5 – September 3, 2021
Weekdays, 4pm – 11:30pm
Weekends, 10am – 11:30pm
(Early closing August 28 at 1pm)
650 Laguna Canyon Road
Laguna Beach, CA 92651
www.LagunaFestivalofArts.org
(949) 494-1145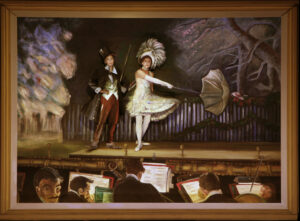 Reconnect with the arts this summer at the Festival of Arts! Set in a beautiful open-air gallery, this highly acclaimed juried fine art show features the work of over 100 award-winning Orange County artists. From paintings, glass, ceramics, photography and more, the Festival showcases a variety of mediums and artwork styles for avid collectors and festivalgoers to browse and purchase directly from the artists. In addition to the artwork on display, visitors can enjoy art demonstrations, live music performances on select days, opportunities to meet the artists and more.
Open daily July 5 – September 3, weekdays from 4pm to 11:30pm and weekends 10am to 11:30pm. General Admission: Weekdays $10, Weekends $15; Students & Seniors: Weekdays $7, Weekends $11; Children 6-12: $5; Free Admission for Children 5 and under, Military, and Laguna Beach Residents.
Pageant of the Masters "Made in America: Trailblazing Artists and Their Stories"
July 7 – September 3, 2021
Shows Nightly at 8:30pm
650 Laguna Canyon Road
Laguna Beach, CA 92651
www.PageantTickets.com
Tickets start at $30 per person (Includes season pass to the Festival of Arts Fine Art Show)
(949) 497-6582 | (800) 487-3378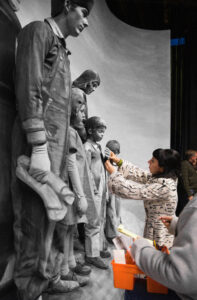 The Pageant of the Masters is arguably one of the most unique productions in the entire world. Each evening during the summer season, classic and contemporary works of art are faithfully re-created with theatrical illusion and real people posing as living pictures. Enjoy art that comes to life under the stars in the Pageant's outdoor amphitheater.
In the 2021 Pageant of the Masters, "Made in America: Trailblazing Artists and Their Stories," audiences will meet the artists who not only made this country their home, but let their creativity be inspired by moments of which this nation was founded on. Through a collection of tributes to artists who made their mark in American Art, a compelling portrait of our artists will come to life with all the theatrical magic that makes the Pageant a one-of-a-kind, must-see summer tradition.The 2021 Pageant of the Masters
ACT ONE
REVOLUTIONARY ARTISTS
Passage of the Delaware                                Thomas Sully                                Oil                                           1819
The Death of General Mercer at the               John Trumbull                              Oil                                           c.1787
Battle of Princeton, January 3, 1777
Declaration of Independence                          John Trumbull                              Oil                                           1818
GEORGE CALEB BINGHAM
Fur Traders Descending the Missouri            George Caleb Bingham                Oil                                           1845
Daniel Boone Escorting Settlers                     George Caleb Bingham                Oil                                           1851-1852
through the Cumberland Gap
KARL BODMER
Bison-Dance of the Mandan Indians               Karl Bodmer                                 Aquatint                                  1842
EDMONIA LEWIS
    Hiawatha's Marriage                                       Edmonia Lewis                             Marble                                    1871
    Hagar                                                              Edmonia Lewis                             Marble                                    1875
    Death of Cleopatra                                         Edmonia Lewis                             Marble                                    1876
WINSLOW HOMER
Breezing Up (A Fair Wind)                              Winslow Homer                            Oil                                           1873-1876
DANIEL CHESTER FRENCH
Standing Lincoln                                             Daniel Chester French                 Bronze                                    1909-1912
Lincoln Memorial                                            Daniel Chester French                 Marble                                    1916-1922
MARY CASSATT AND THE COLUMBIAN EXPOSITION
Columbian World Exposition Poster                Bergemann                                   Lithographic Poster                 1893
Woman's Building Poster                                Madeleine Lemaire                       Lithographic Poster                 1893
Modern Woman [with color detail]                  Mary Cassatt                                Mural                                      1893
FREDERIC REMINGTON
Comin' Through the Rye                                 Frederic Remington                     Bronze                                    1902
THE ROOTS OF AMERICAN MUSIC
The Power of Music                                        William Sidney Mount                   Oil                                           1847
The Ragtime Dance (Scott Joplin)                  Stark Music Co.                            Print                                        1902
The Vaudeville Act                                          Everet­t Shinn                               Oil                                           1902-1903
The Hot Five                                                   Susan Dysinger                            Aquatint                                  1997
Duke Ellington Memorial                                 Robert Graham                             Bronze                                    1997
    George Gershwin in an Imaginary Concert Hall    David Alfaro Siqueiros                  Oil                                           1936
Statue of Liberty                                             Frédéric Auguste Bartholdi           Copper                                   1886
ACT TWO
THE ROAD WEST
One Man Caravan                                          Dorothea Lange                           Photograph                             1938
(Family on the Road, Midwest)
    California                                                        Maxine Albro                                Mural                                      1934
NORMAN ROCKWELL: AMERICANS AT WORK
Construction Crew                                          Norman Rockwell                         The Saturday Evening Post    1954
Happy Birthday, Miss Jones                           Norman Rockwell                         The Saturday Evening Post    1956
The Window Washer                                      Norman Rockwell                         The Saturday Evening Post    1960
JO AND EDWARD HOPPPER
Office at Night                                                 Edward Hopper                            Oil                                           1940
Nighthawks                                                     Edward Hopper                            Oil                                           1942
DUANE HANSON
Lunchbreak                                                     Duane Hanson                             Mixed Media                           1989
Self-Portrait with Model                                   Duane Hanson                             Mixed Media                           1979
LUIS JIMÉNEZ
End of the Trail (with Electric Sunset)             Luis Jiménez                                Acrylic Resin, Fiberglass         1971
Vaquero                                                          Luis Jiménez                                Acrylic Resin, Fiberglass         1980-1990
JOHN NIETO
Three Buffalo Dancers                                    John Nieto                                    Acrylic                                     2016
Two Fancy Dancers/Hoop Dancer                  John Nieto                                    Acrylic                                     c. 1990
Fancy Dancer with Flag                                  John Nieto                                    Acrylic                                     c. 1990
MATTHEW ROLSTON'S ART PEOPLE
    Da Vinci, The Last Supper                              Matthew Rolston                          Mixed Media                           2016
    (Saint James the Less)
    Da Vinci, The Last Supper                              Matthew Rolston                          Mixed Media                           2016
    (Saint Simon the Zealot)
The Last Supper                                             Leonardo da Vinci                        Tempera                                 1495-1498
Program Subject to Change /  Revised June 15, 2021
SOCIAL MEDIA HANDLES & HASHTAGS
| | | |
| --- | --- | --- |
| | @FestivalPageant | www.facebook.com/festivalpageant |
| | @FestivalPageant | www.instagram.com/festivalpageant |
| | @FestivalPageant | www.twitter.com/festivalpageant |
| | @FestivalPageant | www.youtube.com/festivalpageant |
Suggested Hashtags
#FestivalPageant                #LagunaFestivalofArts           #PageantoftheMasters