Carlsbad, Calif. is a close getaway from LA or San Diego-Lodging, Dining, Activities- November 2021
Just a hop, skip and jump from Los Angeles is the town of Carlsbad just being a 90 minute drive. It's known for Tamarack Surf Beach and secluded South Carlsbad State Beach. The Legoland California theme park is a wonderful family destination. The Flower Fields is a spring seasonal attraction, with acres of flowers. There are a variety of attractions, activities, dining and great places to stay.  Also located just 25-minutes north of San Diego, Carlsbad showcases an approachable elegance unique to the Southern California shoreline. Carlsbad offers the charm of a European town with the conveniences of a large city. The town's dramatic beauty is complemented by a distinct variety of year-round signature
events, as well as boundless ocean experiences along seven miles of golden coast, beautiful flower
gardens, a range of accommodations, world-class shopping experiences, local breweries, golf, and
unique destinations, such as LEGOLAND® California and SEA LIFE Aquarium. Carlsbad is also home to varied hotels and resorts including the Omni La Costa Resort, Park Hyatt Aviara, Sheraton, Cassara, and the newly opened Springhill Suites. Visit the official website www.visitcarlsbad.com , for complete destination information.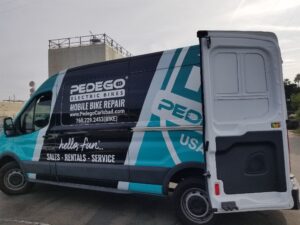 We took ebikes from the hotel to the Aquafarm by Pedego Electric Bikes. It was fun and wish we would have gone longer.
ABOUT: Carlsbad Aquafarm is Southern California's only shellfish farm & has been growing Pacific
oysters since 1990. We are committed to pursuing a balance between producing seafood of
unsurpassed quality and conserving our ocean's resources. To meet growing demand in the
industry, Carlsbad Aquafarm also imports shellfish from select grow areas outside of our Carlsbad
farming operation. Instagram: https://www.instagram.com/thecarlsbadaquafarm 
We then walked across the street to Tamarack beach for lunch on the beach with Beach Genie. I took a run on the beach and we played some paddle ball that Beach Genie provided and then enjoyed the sandwich and drinks by Pronto's Market.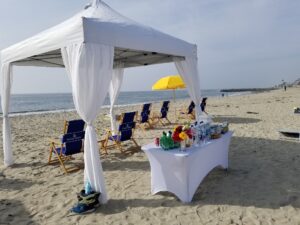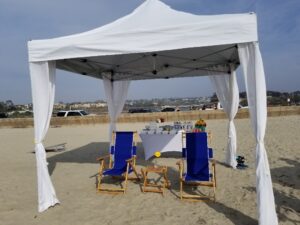 ABOUT: Beach Genie is a luxury beach concierge service focused on a sustainable beach
day experience, providing high end equipment sourced within the USA whenever possible,
supporting small businesses, and delivering products that will be reused hundreds of times.
Lunch: Pronto's Gourmet Market
Location: Tamarack Beach in between lifeguard towers 32 and 33
Address: Carlsbad Blvd & Tamarack Ave, Carlsbad
Next stop after lunch was the fabulous Omni La Costa Resort & Spa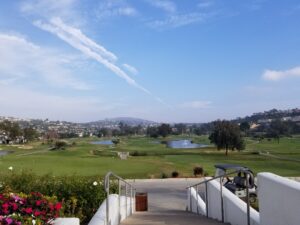 This was more of a nice tour of their golf experience robot, spa, grounds and quick bite/smores at the firepit outside their restaurant. It was very enjoyable and relaxing.
ABOUT: From an award-winning resort spa to eight sparkling pools and two championship golf
courses, Omni La Costa Resort & Spa provides a refreshing retreat any time of year. Located just
north of San Diego in Carlsbad, the resort is within easy reach of beaches and popular tourist
attractions. Guests can unwind and recharge with a host of thoughtful amenities and services for
a special California adventure. Or, immerse themselves in the La Costa lifestyle with a year-round
membership to The Club at La Costa to enjoy amenities like golf, tennis courts and spa access.
It was back to the hotel for a quick shower/change. We then had a drink and some small bites at Campfire 2725 State St, Carlsbad, CA 92008
We enjoyed checking out the Carlsbad Village heading to a few places including Le Papagayo for a bite & live music.
It was back to the Springfield for a good night's sleep and enjoy the day activities before driving home the next day.
We started with kayaking at California Watersports

We Enjoyed a daycation at Park Hyatt Aviara hotel as a guest of ResortPass. What a beautiful resort as we took advantage of the setting, waterslides and pools. We enjoyed the adult infinity pool and jacuzzi spa.
ResortPass is the leading day guest booking platform providing hotels and resorts a full-service
solution to monetize their under-utilized amenities and boost ancillary revenue. The unique
platform offers leisure and business amenities, experiences, and spaces on the ResortPass
platform for on-demand booking by local and visiting guests on select days. ResortPass also
provides a white-label product for hotels to give overnight guests an easy way to book non-room
amenities, activities, and events online, a powerful solution to further optimize revenue and
enhance the guest experience
 We spent one night at the Springfield Suites by Marriott. The hotel is located one block from the ocean and one block from Carlsbad Village in downtown Carlsbad. Restaurants, bars, boutiques and art can be found minutes away from the hotel. The hotel offers an gym, outdoor pool, and a beautiful roof top terrace with ocean views. The rooms are spacious with comfortable beds and a sitting area. They serve a contemporary breakfast with eggs, variety of breads, cereal, yogurt and beverages. They even have a little business center, free Wi-Fi,  television and a parking garage.
ABOUT: SpringHill Suites San Diego Carlsbad is 'an oceanfront, all-suite hotel that seamlessly
blends design and functionality. Located in Carlsbad Village, the hotel offers expansive suites and
a vibrant lobby with flexible spaces perfect for working, meeting or relaxing
Written & Photos by Todd Elliot & Jeff Zimerman