Talia di Napoli authentic Italian Pizza flash frozen, Valentines heart shaped- December 2020
Article by Jeff Zimerman
The first-ever, authentic Neapolitan heart-shaped Pizza shipped directly from Naples, Italy to the US – Talia di Napoli (heart-shaped pizza will be available for purchase in Jan. 2021). Whether it's for a romantic dinner at home or a seasonal gift for loved ones, Talia pizza is an excellent choice for good. The heart-shaped Pizza is a limited edition pizza Talia created to celebrate the special day.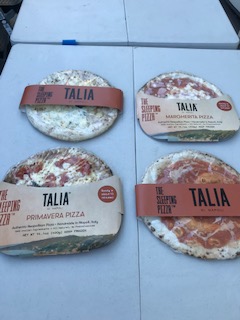 Even though they are frozen (flash style like fish are sometimes packages to keep all the freshness), you can still taste the authentic, moist cheese flavor with the wood burned Italian crust.  We have tried a few varieties including their gluten free and we highly recommend them.
Why is Talia pizza a perfect gift (or food choice) for Valentine's Day?
What's better than a heart-shaped gift to express your love?
Talia creates a fine dining experience at home. Just simply set up the table, pair Talia pizza with your favorite wine, or make some pasta to create a romantic all-Italian dinner. You can even add your own toppings to customize the pizza – the perfect way to make your valentine fall in love with your cooking!
Talia pizzas give the lovebirds the convenience to fully enjoy authentic Italian flavors without traveling abroad. We bring the authentic Neapolitan pizza directly to your table.
Talia sources the best ingredients. Talia uses top-quality local ingredients to ensure the premium taste and flavor of the pizzas. All ingredients, including cheese, tomatoes, and even water, are all-natural ingredients from Southern Italy with no preservatives, no additives, and no GMOs. We also offer gluten-free options for consumers.
Talia pizzas are comparable to freshly made pizzas in restaurants because all pizzas are flash-frozen and put to "sleep" using a state-of-the-art, patented cryogenic chamber within seconds of coming out of the oven and can "wake up" flavorful in your home.
         Website & social media