Palm Springs Dining at Thai Smile, Biking, Hiking, Boomers attractions- Feb 2022
Thai Smile restaurant is located in the heart of downtown Palm Springs and was truly exquisite. We went on a Tuesday evening, it was very crowded and popular. Our server Terri  was very hospitable and has been working there over thirty years.  The food was absolutely devine, and we highly recommend Thai Smile Restaurant on your next Palm Springs visit. We started with two soups, Wonton soup and Tom Yum Kal soup. For the entrees we ordered Pad Thai, Spicy Scallops and Shrimp, Veggie Trio and Spicy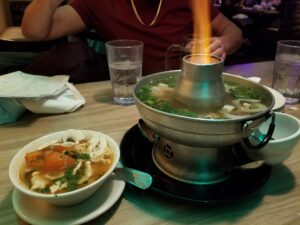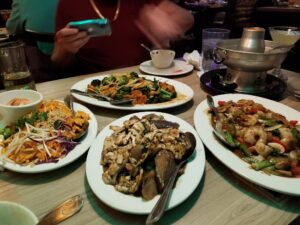 End your meal with the Coconut Pineapple ice cream and you will be fully satisfied. Enhance your meal with one of their specialty cocktails and you will be in for a treat with one of the best Thai cuisine meals you will find anywhere. Www.thaismileps.com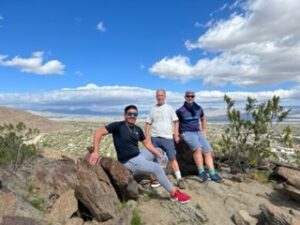 Check out the downtown area before or after you meal to walk around near the Art Museum. They have some nice art work and a huge Marilyn Monroe statue to take pics. Behind the art museum is an intense, steep hike that takes you up to see the city but ensure you have water, good shoes and are fit.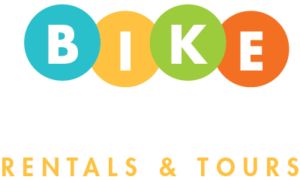 Need to get around.  Rent a bike from Bike Palm Springs Rentals & Tours.  https://www.bikepsrentals.com/

If you are in the mood for some adventure especially with any family or kids, check out Boomers in Cathedral City adjacent to Palm Springs. They open at 2pm and have a wide range of attractions from the super fun go carts, mini golf, water bumper cars, outside rock climbing wall and baseball batting cages & indoor arcade.
https://www.boomerspalmsprings.com/
Assisted writing and photos by Jeff Zimerman and Gabriel Carim