South Coast Winery Resort & Spa Luxury Accommodations, Dining, Music Concerts- June 2022
Plan your next wine country getaway to South Coast Winery
Resort & Spa, an unforgettable Temecula lodging experience that allows guests direct access to vineyards from their patio. We highly recommend staying in their luxury accommodations located on 63 acres of vineyards.  The resort is surrounded by their private vineyards which they turn into various wines, where you can try in their tasting room or at their restaurant.
South Coast Resort is located in the middle of wine country and offers an array of amenities from their saltwater pool, fitness center, villas where you have your own entry, and a great staff to help you out. South Coast Resort rooms come with a gas fireplace, high definition television, Wi-Fi and an outdoor patio. The spacious bathroom comes with dual shower heads and deep soaking tubs. Their villas and suites encompass between 490 to 1,150 square feet.  Relaxing and super comfortable.
South Coast Winery Resort & Spa is one of the top Temecula Wine Country hotels for a relaxing vacation, wine tasting tour, elegant event and acclaimed dining experience.
Sweet Dreams in the Vineyards
The accommodations at South Coast Winery Resort & Spa are pleasantly tucked away in the vineyards. Lounge on the terrace of your private villa or hotel tower suite, surrounded by rolling vineyards for a unique winery getaway experience.
---
Meet in Wine Country
South Coast Winery Resort & Spa is home to more than 40,000 square feet of meeting space and a variety of indoor and outdoor event venues. Full catering service is available.
---
Plan the Wedding of Your Dreams
Can you think of a more picturesque backdrop to your big day that rolling vineyards illuminated by the California sunshine? Enjoy picture-perfect weather year-round while we take care of everything from the bridal shower to the wedding reception to maybe even the honeymoon.
---
Tasting Experience Hours & Gift Shop:
Sunday – Thursday | 11:00am – 5:00pm
Friday & Saturday | 11:00am – 6:00pm
---
The Vineyard Rose Restaurant:
Outdoor Dining
Brunch | 8:00am – 3:00pm | Daily
Dinner | 5:30pm-9:00pm | Daily
For reservations, please call 855.318.1718
In-Room Dining
Brunch | 8:00am – 3:00pm
Dinner | 5:30pm – 8:00pm (Last Order)
---
GrapeSeed Spa:
Open Daily | 8:00am – 5:00pm
Dining:
We dined at the Vineyard Rose Restaurant for one breakfast (1st photo below) and one dinner (2nd photo below) We ate in the beautiful outdoor patio, surrounded with wonderful views. The Florentine Omelet was made to perfection with spinach, cheese, mushrooms and country potatoes.. We also had the bagel with smoke salmon, cream cheese, onions and capers.
Our server for dinner was Justin, he was professional and friendly, as well as giving us great suggestions.. We started with two dishes; the Calamari Fries and the roasted cauliflower and tempura asparagus . For the main course we ordered the Salmon entrée, which was served with nori rice, edamame, baby bok choy and soy caramel sauce.  We also ordered the Striped Sea Bass with fingerling potatoes and string beans.. Try one of their fabulous wines, right from their own vineyards to accompany your meal. The crème brulee dessert was a nice way to finish off a great meal. Sitting outside we were surrounded with beautiful vineyard views
while also listening to the wonderful sounds of the frogs from the pond below.  You can also dine inside which is housed in an elegant, Tuscan-inspired dining room. If it's a nice day or night we highly recommend sitting outside.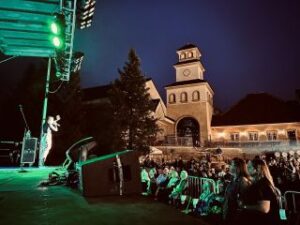 RHYTHM ON THE VINE® CONCERT SERIES PRESENTS SIX JAZZ
PERFORMANCES AT SOUTH COAST WINERY RESORT &  SPA
New Sunday Jazz Line-up Offers Concerts Scheduled from July 10 to September 25
TEMECULA, Calif. – South Coast Winery Resort & Spa's annual Rhythm on the Vine® jazz concert series returns this summer offering jazz lovers memorable Sunday evening entertainment. Produced in partnership with Michael Paulo and Apaulo Productions, the series showcases popular jazz performers known for their jiving, riffing and sharing the pleasure of this much-loved music genre to avid listeners. Performances will take place in either the scenic Vintner's Garden or the resort's Grand Ballroom.
Rhythm on the Vine® Jazz Concert Performances Line-up
Doors open at 6 p.m.; meet and greet if purchased, from 6 to 6:45 p.m.; show starts at 7 p.m.
 Sunday, July 10 – Jeff Kashiwa and Tracy Carter in Vintner's Garden. Kashiwa plays
soprano, alto and tenor saxophone with jazz fusion band The Rippingtons and is one of
three with the Sax Pack. He composes, records, produces and teaches. Carter is a talented
producer, songwriter keyboardist, music director, vocalist, percussionist and
philanthropist. Both Kashiwa and Carter have recorded several albums.
 Sunday, July 24 – Darryl Williams, Jazmine Ghent and Gregg Karukas in The Grand
Ballroom. These three bring tons of talent to the concert scene. Williams is a chart-
topping Billboard recording artist and bassist producer. Ghent is a #1 Billboard artist and
is known for her dynamic smooth jazz saxophone prowess. Grammy-winner Karukas is a
smooth jazz pianist who co-founded the fusion band The Rippingtons and has produced,
arranged and co-written albums.
 Sunday, August 7 – Paul Brown, Darren Rahn and Greg Manning – who collectively
have more than 100 number one hits – in Vintner's Garden Guitarist, producer and
engineer Brown is an award-winning artist known for his hooky blend of instrumental
jazz, R&B and blues and has produced more than 70 number one hit songs. Rahn's
commitment to musical authenticity over the past 18 years has resulted in multiple
Grammy nominations and #1 Billboard singles as a solo artist/saxophonist, producer and
mix engineer. Manning shines as a popular composer, producer and keyboardist,
specializing in smooth jazz with several #1 Billboard hits in smooth jazz to his name.
 Sunday, August 21 – Brian Simpson and Jackiem Joyner in Vintner's Garden. Playing
the piano as he performs smooth, contemporary and crossover jazz, Simpson is also a
composer who has released many albums and chart-topping hit songs. Joyner is an
awarded saxophonist, flutist and fan-favorite smooth jazz musician.
 Sunday, September 11 – Michael Paulo, Blake Aaron & Tateng Katindig in Vintner's
Garden. This trio all have a passion for smooth jazz. Paulo is a fine saxophonist who
plays in the pop/jazz crossover fields playing "music for your soul." Aaron is a composer
and musician who has been called "a genius on the guitar." With a love for smooth jazz,
pianist Katindig plays straight ahead jazz and blues.
 Sunday, September 25 – Steve Oliver and Michael Lington in Vintner's Garden.
Guitarist Oliver and saxophonist Lington are two smooth jazz artists who have
successfully collaborated in past performances. Their vibrant musical styles have earned
them multiple hit singles and Billboard hits, and Oliver is featured in Acoustic Alchemy
line-ups.
Ticket prices are $65 for general admission, chair seating only; $85 for preferred seating,
includes a table and is situated behind VIP seating; $150 for VIP Tickets, which are close to the stage and include a table. Tickets can be purchased here:
https://www.southcoastwinery.com/concerts.
Where: South Coast Winery Resort & Spa
34843 Rancho California Road
Temecula, California 92591
844.428.6292
www.southcoastwinery.com
SOUTH COAST WINERY RESORT & SPA'S RHYTHM ON THE VINE® CONCERT
SERIES WELCOMES SIX UPCOMING PERFORMANCES
TEMECULA, Calif. (May 23, 2022) – Award winning South Coast Winery Resort & Spa's Rhythm on the Vine® Concert Series presents the upcoming schedule of rock – and other music genre – concerts to be performed at the resort from the last week of July until the first week of October. The six concerts are proudly hosted by the resort in South Coast Winery's outdoor courtyard. Headliners include much-loved, award-winning singers and instrumentalists from Los Angeles and beyond.
Upcoming Rhythm on the Vine® Concert Series Line-up:
 Thursday, July 28 – Men at Work. A popular four-man Australian rock band, Men at
Work is known for breakthrough hits such as "Down Under" and "It's a Mistake." Front
man and founding member Colin Hay performs on lead vocals and the guitar. Previously,
they performed on a concert tour with Rick Springfield and John Waite.
Doors open at 5 p.m.; concert begins at 6:30 p.m.
 Thursday, September 1 – Beth Hart. Talented Los Angeles native Beth Hart rose to
fame with the release of "LA Song" from her second album in 1999. Her singing genres
include blues, rock, jazz, fusion and soul, and she has toured across 11 countries
including performing at the Royal Albert Hall in London.
Doors open at 5 p.m.; concert begins at 6:30 p.m
 Friday, September 2 – 98 Degrees. 98 Degrees is a four-man American pop and R&B
band formed in Los Angeles by member Jeff Timmons. They catapulted to fame with
"Invisible Man," which was on the Billboard Hot 100. Known worldwide, other hits
include "Give Me Just One Night" and "Because of You."
Doors open at 6 p.m.; concert begins at 7:30 p.m
 Friday, September 23 – Los Lobos. A six-man band from East Los Angeles, Los Lobos
is influenced by an eclectic list of music genres and styles, including rock and roll, Tex-
Mex, country, zydeco, folk, R&B, blues, brown-eyed soul, Chicano rock and roll and
cowpunk. They originally rose to fame with their rendition of Ritchie Valens' "La
Bamba," which topped the charts in the U.S., U.K and other countries.
Doors open at 6 p.m.; concert begins at 7:30 p.m.
 Thursday, October 6 – The Wallflowers. An American rock band that has won two
Grammy awards, The Wallflowers is a solo project of Los Angeles native, singer-
songwriter and multi-instrumentalist Jakob Dylan, and its highest-selling album is
"Bringing Down the House."
Doors open at 5 p.m.; concert begins at 6:30 p.m.
 Friday, October 7 – Yächtley Crëw. Six-man Yächtley Crëw based in Los Angeles is
known as "the Titans of soft rock" or yacht rock, which is soft rock music from the 70s
and early 80s. They recently released "Sex on the Beach," and this appearance in
Temecula is part of a 25-city California tour.
Doors open at 6 p.m.; concert begins at 7:30
South Coast Resort & Spa in Temecula wine country is located about 65 miles north of San Diego and 90 miles southeast of Los Angeles.
Written & Photos by Todd Elliot & Jeff Zimerman