Visiting San Diego- Where to stay and dine- October 2022
The Town and Country Resort is quite the place. Located in Mission Valley this huge resort encompasses a spacious ground including its own convention center, restaurants and comfortable rooms. The view and spacious area in the room made the visit very pleaurable. The property is very large but take walk to explore all the options.
Had dinner at the Lapper which was very good including the Ahi salad.  Definitely with the visit and located in hotel circle. There's a big swimming pool and fitness center that you can use during your stay. Other dining options are the market that's open kind of all day for her to go items and the final dining Arlow Restaurant open Wednesday through Sunday. https://www.towncountry.com/
The Sophia Hotel located in downtown San Diego in the gaslamp district is perfectly and conveniently situated to all the restaurants, bars & other attractions. This upscale hotel offers spacious and comfortable rooms with a fitness center & spa.  The rooms are very clean and well-maintained.
They also have bikes for you to use during your stay. I highly recommend your stay here as you can walk pretty much to many things downtown. https://thesofiahotel.com/
Roy's. Located on Harbor Drive next to the Marriott near the water, Roy's continues to prove why it's one of the top seafood restaurants around. Started by Roy Yamaguchi in Hawaii, he sold this rise to another owner but the menu and food quality stays the same. Try one of their outstanding appetizers such as the big eye ahi poke with avocado or there Hawaiian roll with yellowtail , spicy tuna and salmon.
The Maui Wowie salad with shrimp, tomatoes, mix green and avocado is a staple. There are many great entrée dishes but do not miss the butter fish black cod in a miso sauce as that is their signature dish. The shellfish sampler with lobster, shrimp, scallops serve with mashed potatoes and baby bok choy was fabulous.
Enhance your meal with one of their great cocktails and do not miss the incredible chocolate souffle for dessert.  https://www.roysrestaurant.com/locations/ca/waterfront
Daily News Cafe -Located in Carlsbad is a great stop for breakfast or lunch and some tasty pastries or order one of the great salads or sandwiches they have.
The split pea soup was fantastic and get the chicken breast salad with strawberries feta and blueberries as it was divine. https://www.carlsbad-village.com/go/daily-news-cafe
Cafe 21–  This Middle Eastern restaurant is located in downtown San Diego and offers some very unique dishes and drink concoctions that you won't see anywhere else. I want side of the restaurant they have a area where they have brought in merchandise from the middle East turkey that they sell. The manager Patrick was very hospitable.
I tried three dishes which were all outstanding including the spinach/feta omelet with pesto, shrimp corn cake and a cilantro sauce that was fantastic & the fried rice with lamb and cheese with a yogurt dill sauce.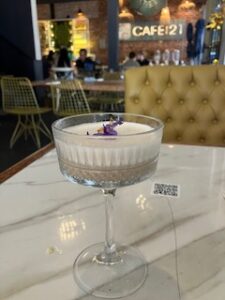 Try one of their specialty drinks to enhance your meal. https://www.cafe-21.com/
Richard Walkers Pancake House (above)– This place exemplifies the name and is located in downtown San Diego gaslamp district. Besides an array of all types of pancakes crepes and waffles, they have assortment of omelets and egg dishes. You can even get a combination of eggs or an omelet with pancakes and that's the way to go. I went for the spinach, feta & sherries mushroom sauce omelet with a side of hash browns and their tasty pancakes.  Come early or during the week or expect a big weight if you go on the weekends as it's very popular. https://www.richardwalkers.com/