Lahaina, Maui- Lodging at the Luna House, Great Dining Options, Trilogy Excursions- November 2022
Dining in Maui
First stop was to Down the Hatch right on front street and a great place to go for a casual yet delicious meal. You stand in line at the top of the stairs and order and then take a seat anywhere in their outside patio. It's got a fun sports bar feel as they have a bunch of big screen TVs set up but don't let that dictate the quality of the food. I ordered from Alex as he was very thorough and then he checked on us later.
He had some great suggestions from starting with the loki shrimp which could've been my favorite dish. It comes in a martini glass and wok fried but it's just super tasty. The fresh mahi mahi fish is very good as was the seared ahi tuna. Overall a great meal and try one of their signature cocktails to enhance your meal.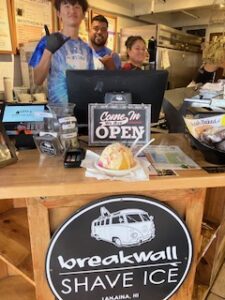 After the meal, we went next door to the shaved ice part of their location and a very creative and delicious way to finish off your experience. They have an array of flavors including some sugar-free flavors.  You can top it off with some condensed milk which makes it the dessert creamier. More at https://www.dthmaui.com/down-the-hatch
For dinner that evening, we returned to Mala Ocean Tavern restaurant as it's been four years since we were there and it is owned by the same people as Down the Hatch now.  This place is very special as they have a nice indoor seating and outdoor patio that overlooks the ocean. You can hear the waves which make it a very nice atmosphere to dine.
For appetizers, start with their manila clams & Greek salad.  They have a nice selection of other choices including entrée dishes but we went with the seared ahi tuna served with yukon mashed potatoes and green beans that melt in our mouth.
The other entrée I highly recommend are the large sea scallops, which were some of the best we ever had with delectable risotto & a delicious sauce.  Enhance your meal with one glass of wine, guava cider or one of their specialty cocktails. They have a few choices for dessert but we went with the taste of Hawaii which was a sample of desserts including banana bread, ube sweet potato ice cream, fruit crumble & coconut haipu.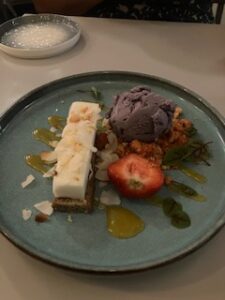 The general manager, Lisa, is very hospitable and friendly as was the whole wait staff.  Overall just a fantastic dining experience and we will for sure be back & highly recommend a visit on your next time to Maui. More at https://malatavern.com/
The Lahaina Fish Company was a hot spot in the heart of Front Street with a welcoming entrance and beautiful dining room atmosphere. They have an upstairs and downstairs that overlooks the ocean & the staff is super welcoming.
The manager, Charlotte and our waiter Jared, were very accommodating and knowledgeable. They have assortment of appetizers,  soup & salads. Try one of those signature cocktails or customize your own to start.   They have some great seafood options with various preparations.  We decided on the Opa that was grilled to perfection as well as the lulu platter which came with shrimp, calamari & mahi-mahi in a shiitake oyster sauce with garlic and mushrooms.
It was super flavorful with brown rice, onions and coconut hi poo to complete the dish. The entrees came with an assortment of sides and veggies to enhance the meal and a nice selection of desserts as well.  More at www.lahainafishco.com
Frida's Mexican Beach House on front Street was outstanding & right near the top of our favorite places we've visited and dined at.  The owner Mark Ellman has kept this establishment after selling Hono and Mala Ocean Tavern.
The atmosphere is very fun especially if you come in when they have live music (you can check their schedule but they had an awesome duo playing on the Tuesday night we were there). It is a beautiful vibe and right near the beach to hear the waves crashing into the rocks. We started with the grilled panella cheese served with tortillas, plantains and pico de gallo.
The highlight were the two entrées which were the fresh catch of the day, the mahi-mahi -cooked to perfection with sliced avocado, rice and black beans as well as butterfly tiger shrimp with a tasty tomatillo sauce served with rice, beans and tortillas. They specialize in tequila and mescal for drinks but have an assortment of other alcohol such as beer, wine and some tasty dessert drinks. Overall with the live music and great food, this was our favorite dinner.  More at  https://www.fridasmaui.com/
Longhis was located in downtown Lahaina for many years and recently had the opportunity to move to Kaanapali at the Marriott Ocean Club.  Great food and service. Sandwiches, salads, fish and more.
Here is their story and more info on the link below.
When Bob Longhi opened Longhi's at 888 Front Street in Lahaina, Maui in 1976 he created an establishment that had all the elements of his favorite restaurants – great food, service and ambiance. The quality, consistency, and excellence that Bob Longhi strived for can be found at all of Longhiʻs restaurants. After over 45 years in business, and expanding to the beautiful island of O'ahu, it is not surprising that Longhi's is one of the most popular and acclaimed restaurants in Hawai'i. Longhi's Lahaina, our original location, closed in early 2019 after over 4 decades in business. We are back on the Westside of Maui with our latest restaurant in The Maui Marriott Ocean Club on Kā'anapali beach. We also have our enchanting location on O'ahu at The Marriott Beach Club in Ko Olina. Join us at either location for amazing food while enjoying an incredible Hawaiian sunset. We are open Breakfast, Lunch and Dinner. The Longhi name will continuing its tradition of serving the islands this unique culinary experience for years to come, we look forward to serving you.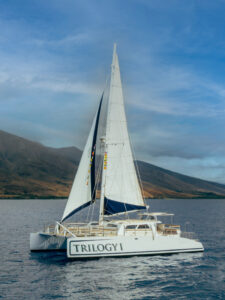 The top attraction was the snorkel sail from the Lahaina Harbor to Lanai island by Trilogy Excursions– They are the only company licensed to do trips to Lanai Island.. Trilogy is a family run business and has been around for 50 years now. They offer many excursions from snorkeling to sailing to dinner cruises as well as private charters. I've been on other boat and sailing trips in Maui but this one was the best one I have experienced.  The trip was top notch starting with Captain "Turtle".  He likes to go by that name and it's very engaging and funny.  The rest of the staff were just awesome and always checking if you need anything with a friendly manner.  They start you off with juice and coffee along with a tasty cinnamon roll & fruit as soon as you get on. This company does it right and I can see why they are so popular and successful.  They have two morning tours to Lanai Island and I went for the 10 AM as the other was much earlier.  The boat ride was approximately an hour and a half ride.  There's always a chance to see dolphins & whales but good fun is promised. Before leaving the boat, the staff will walk around and supply a turkey wrap sandwich for you while explaining all the rules/info.
Once over at the island the boat docks and you walk to the beach about 10 minutes away from here great afternoon. Start with a nature walk to the top of the point to see the beautiful views all around and back to Maui.  After that, It was time to jump in and snorkel in the warm, clear ocean water with beautiful fish of various colors and more.  I had a hard time leaving as it was so nice but the time came to head back to the barbecue area where they supplied a nice lunch with a salad, chicken & Chinese style noodles with vegetables. You can ask for veggie options beforehand if desired.   The boats are usually full every day so make your reservations early. On the way back, we sailed and cruised in near the Lahaina Harbor for about 45 minutes while you relax at your seat or on the deck.
I took a nap on the front netting area where it's comfortable to sit and lay down as it was so relaxing. I definitely recommend this company and trip as it's worth every penny. More at https://sailtrilogy.com
Lodging at the beautiful Lahaina Luna House with the same owner "Sherry" of the Old Lahaina House is about three blocks away from Front Street & super convenient. The house is full of a variety of rooms including a full kitchen and separate entrances that are lock coded with your own entrance.  The staff will help you anytime you need if you just text them and there's free Wi-Fi and shared space throughout.  Definitely a great and very convenient place to stay in Lahaina.
You can rent the whole house or individual rooms and it's a great place to stay if you want to be in Lahaina right near all the shops and restaurants.  Best way to get ahold of them and find out more is going to http://www.oldlahaina.com/   or call 808-667-4663       Many photos below of the house.