Ocean Prime as our Top Restaurant choice in Beverly Hills- August 2023
Situated in the heart of Beverly Hills, Ocean Prime offers an exceptional dining experience that stands out even in the culinary tapestry of Los Angeles. The establishment exudes sophistication, from its thoughtfully designed décor to the attentive and professional staff that ensures every guest feels valued.
Upon entering, guests have the option to dine in the elegantly appointed interior or enjoy the ambiance of the outdoor covered patio, which is comfortably equipped with booths and heat lamps for those cooler Beverly Hills evenings.  Our server Clark and the manager Yurii were super professional and most accommodating during our great dining experience.

The menu is a testament to culinary craftsmanship.  Their bread including pretzel rolls are fantastic and enhance your meal with one of their signature cocktails, like the refreshing pineapple picante or the subtly sweet rum infused with peaches.
For starters, the tuna tartare is a must-try, masterfully combined with crispy wontons, creamy avocado, fresh ginger, and black sesame seeds. Equally commendable is the jumbo shrimp sauté, which is enhanced by a perfectly balanced Tabasco cream sauce. The sushi offerings are expansive, but a standout is the Ocean Roll. This dish marries the rich flavors of tuna, salmon, and Hamachi with the creamy texture of avocado and a subtle heat from chili garlic oil, topped with a hint of tabasco for an innovative twist.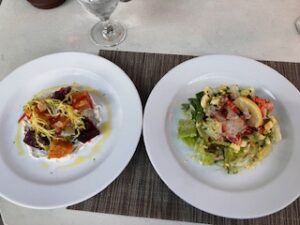 For those inclined towards salads, the beet salad showcases a delightful pairing of fresh beets with a delicate goat cheese mousse. The shellfish cobb salad, loaded with shrimp, lobster, and a medley of fresh vegetables, is both flavorful and filling, accentuated by a gourmet dressing.
While Ocean Prime offers a range of meats from succulent steaks to tender chicken, its heart lies in its seafood offerings. The Chilean Seabass, accompanied by broccolini, onions, and a smooth potato purée, is a testament to this and comes highly recommended. Side dishes to accompany your meal include sauteed mushrooms, brussels sprouts and their (twice baked potato not to miss pictured above on the right).
To conclude, the 10-layer carrot cake offers a fitting end to an outstanding dining experience, leaving guests with a lingering taste of excellence.
The restaurant has a great indoor dining area with an open kitchen so you can decide to sit there or where we sat in their most beautiful outside covered patio.
More at https://www.ocean-prime.com/locations-menus/beverly-hills/
Photos and co-written by Jim Vatcher