Chaya Venice Restaurant and Lively Bar in LA – Febrary 8th, 2003
If you're looking for a great place to go for food, drinks, and atmosphere then Chaya Venice is the place. Located in the heart of Venice, California this lively restaurant and sushi bar delivers on all fronts.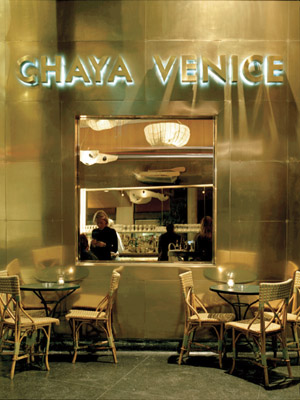 The menu has a wide variety of creative and Innovative Asian inspired dishes that are certain to please anyone's palate. There is something for everyone here at Chaya. There are pastas, paella, amazing seafood, sushi, steaks and vegetarian plates. You can even get a cheeseburger if your heart desires.
Start with a tantalizing hot or cold appetizer such as tuna tartar with avocado and herb crouton or the seared yellow fin tuna with mixed greens. You can also get something very unique like duck confit and fuji apple salad with goat cheese or a lobster enchilada with cilantro cream sauce.
Entrees include the delicious paella with mixed seafood and half of Maine lobster, the sautéed sea scallops wrapped in sliced New York steak, or pan fried medallions of Maine lobster with white truffle puree accompanied by steamed beans and eryngii mushrooms. There are a wide variety of wines to perfectly accompany your meal. Ask the knowledgeable servers for suggestions.
A must when coming to Chaya is to have the sushi. Do not leave this restaurant without ordering some yellowtail sushi or a seafood roll. The yellowtail dissolves in your mouth and has you closing your eyes to savor every ounce of it. The seafood roll has yellowtail, tuna, spicy mayonnaise, arare (which gives the roll a unique crunchy texture), avocado, cucumber and onion. You'll want to order another one when you're done and it will have you searching through the menu to find other delectable sushi rolls or specials.
Is there any room left for dessert? Try the Banana, Banana, Banana Tart, which has banana ice cream, berries and a frozen chocolate banana.
Chaya has a very lively atmosphere. It is a great place to come to have a drink, sit at the sushi bar, or enjoy a long dinner talking with friends and meeting people. People are friendly here and outgoing. It's not a place for a quiet romantic dinner; it's loud, it has a heartbeat, and more than anything it has great food which tops it all off for a very memorable evening.
Chaya is located at 110 Navy St. in Venice, California. (310) 396-1179. Lunch is served Mon.- Fri. from 11:30-2:30. Dinner starts at 6 p.m. and sushi happy hour is from 5 p.m – 7 p.m. www.thechaya.com