Mastro's Steakhouse in Beverly Hills is a must for Steaks & Seafood – September 3rd, 2002
If you are in the mood for Prime Steaks, Great Seafood, Nice Atmosphere, and Fabulous Presentation, Mastro's is the place to go.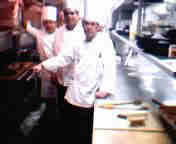 Executive Chef Taylor Boudreaux (Pictured in Front in the kitchen preparing steaks) and his staff present Top Quality Food. We have visited quite a few other steakhouses, but this was about the best steak i have ever had.
Appetizers and Salads range from a great selection of Caviar, assorted seafood such as Oysters on the Half Shell, Shrimp or Lobster Cocktail, Bluefin Tuna, and delicious Caesar/Chopped/and Spinach Salads. Special Tomato Salads are sometimes on the menu. If you want everyone gazing at your table, make sure to order the "Seafood Tower" served over Dry Ice. This Spectacular Creation is huge and comes loaded with all types of Cold Seafood from Shrimp/Lobster/& Crab.
The Top Quality Steaks/Chops are served on 400 degree plates and melt in your mouth. The menu has all type of meat dishes from many different steaks to Veal to Lamb. The rare find dish here is the "Bone In" Filet, Rib Eye, and New York Strip. Keeping the Bone makes the meat more tender and mouth-watering with each bite you take. You can also order any steak without the bone too.
If you are looking for some Fresh Seafood, you are also at the right place. Imagine a "Bone In" Ahi Tuna Filet or Farm Raised Salmon besides the Catch of the Day. If you want to Splurge, Crab Legs, Lobster Tails, and Live Maine Lobsters are available. Many different potatoes from French Fries, Mashed, Baked, Lyonnaise, Sauteed Au Gratin, or our suggestion- the Double Baked are recommended with your entree. Other great veggies such as Creamed Spinach or Corn; Sauteed Mushrooms, Peas & Carrots; Steamed Broccoli or Asparagus are some highly suggested ways to go also.
Mastro's has a Great Wine List, Martini Menu and Full Bar. Don't miss the Chocolate Eclipse Martini for dessert. Speaking of such, Mastro's has a full separate dessert kithen featuring some fabulous ways to end your meal. Carrot & Chocolate Cake, Banana Creme Brulee, and a nice selection of Ice Creams and Sorbets are the best ones to choose from.
Mastro's is located at 246 N. Canon Drive in Beverly Hills. You can visit their own website at www.mastrossteakhouse.com and call (310)888-8782 for reservations and a most memorable dining experience with great decor, lighting, atmosphere and live music with a multi-talented musician playing piano and other instruments during the night. You will not be disappointed!