Nick's Fishmarket on the island of Oahu, Hawaii -September 15th, 2002
When visiting the island of Oahu in Hawaii there is one restaurant which is an absolute must for dining in before departing from your hawaiian vacation. The restaurant is called NICK'S Fishmarket.
Nick's is the original fine dining establishments on the island and it's no secret why it's been a landmark for well over 30 years.
Located in the heart of Waikiki beach, Nick's has on "old school" feel to it. Large comfortable booths and chairs, servers dressed formally in suits, soft lighting, relaxing music being played live in the lounge area and piped softly throughout the restaurant give Nick's a very intimate setting. But don't let that "old school" style fool you; the food, the servers and the chef are very contemporary.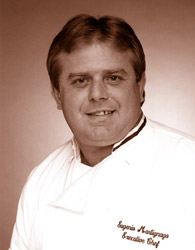 Italian Executive Chef Eugenio Martignago(Pictured Here) uses all that is good in Hawaii; fresh fish, fresh vegetables, fresh fruits and blends them all together masterfully with savory sauces.
For starters the Ahi and Salmon Tartar served with capers, lemon, olive oil, tomatoes, olives and toast point simply melts away in your mouth like cotton candy as does the rest of the delicious fresh Hawaiian Island sashimi. The crab cakes served with oriental cole slaw and spicy roasted red bell pepper sauce along with the Oysters Rockefeller which are baked and topped with fresh seasoned spinach and laced with hollandaise sauce are a true delight. The Ceasar salad for two or more is served table side and is a true spectacle. No attention to detail is left out and takes at least ten minutes to prepare, stir and mix the salad properly. This is a true Ceasar salad, definitely a dying breed.
Entrees include all the local fresh fish like Mahi Mahi, Ahi Steak, and Swordfish served in unique sauces as well as filet mignon, rack of lamb, king crab, lobster and abalone. The abalone is tender and sautéed golden brown and served with lobster risotto; a rare treat. The Hawaiian Opakapaka is a thick white, juicy filet of fish served with sun dried tomato, basil, and garlic sauce. Ask your server for wine suggestions to complement your delicious meal. All servers are well schooled and very knowledgeable about the menu and wine list.
For a real treat to top off your meal, try the flambé' dessert Cherries Jubilee. Prepared at your table, it is a beautiful sight to see the rich blue flames streaming like a waterfall. Like the Ceasar salad, the preparation is detailed and is truly unique to see and experience.
Take your time and indulge in a delicious port wine or cognac. A perfect way to end a perfect meal.
Nick's is the complete dining experience; a comfortable setting, great service and great food. But what sets Nick's apart from the others is the warmth of the people working there. The warmth is never more evident than with General Manager Ben Dowling. His warmth and hospitality reflect on the employees and people around him and give the restaurant a real "family" feel to it. If you"re lucky, you can hear about "backside sliders" and some of his surfing adventures from around the world as he visits most of the tables when he is there! For more information or to make reservations, visit their website at www.nicksfishmarketwaikiki.com and enjoy an awesome dining experience there.