New Japanese/Sushi Hot Spot "KOI" Upscale Dining Experience – August 11th, 2002
New Japanese/Sushi Hot Spot "KOI" Upscale Dining Experience.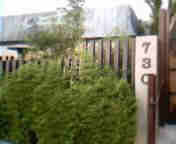 "Koi" is located at 730 N. La Cienega Blvd., L.A., CA 90069 (310)659-9449
Atmosphere: New York lounge style- A Sophisticated, Hot, New, Trendy Hangout. Candlelight and fresh flowers create a romantic ambiance. Fireplaces and waterfalls give a relaxing vibe. An eclectic entrance; a full sushi bar where you can watch them roll the fresh sushi; and an outdoor patio for outdoor dining. Extensive wine and sake list by the bamboo or the bottle plus a full bar with specialty drinks. I would recommend the Ginkobai (plum sake) which is pleasantly sweet.
Service: From our Fabulous Waitress Heather to the Whole Staff, they were all very attentive, polite, and very knowledgeable.
Appetizer Suggestions:
Spicy Seared Albacore with Crispy Onion- delicately prepared with a great taste
Tuna Tartare with Avacado on Crispy Won Tons- delicious as it melts in your mouth with the combination of the fresh avacado. One of the House Specials!
Seared Tuna with Japanese Salsa- A beautiful combination that has a bit of creative spice to it.
Lobster Salad with Truffle Essence- A Gourmet Duo together that fits nicely
Sushi Recommendations: Depends on what you prefer as they are all very fresh.
Creamy Salmon Roll
Toro or Yellowtail and Scallion Roll
Soft Shell Crab or Shrimp Tempura Roll
Eel and Avacado Roll
Specialty Rolls: (These 3 are very popular and extremely unique)
Baked Scallop on California Roll
Baked Crab Roll
Sauteed Shrimp on California Roll
Entree Suggestions and Favorites:
Vegetable or Seafood Tempura(A great selection of veggies or seafood)
Uni(Sea Urchin) Risotto with Scallop and Truffle Vinaigrette- very flavorfull
Jumbo Prawns- Grilled and then Glazed for a nice semi sweet taste
Black Cod with Miso is one of the more ordered dishes
Alaskan King Crab Legs- with a Garlic Butter Glaze for those not on Diets
Grilled Maine Lobster with a Garlic Butter Soy Sauce
Kobe Beef Filet Mignon and Pan Roasted Duck are the two more popular meats
Desserts to Finish off your Meal:
Chocolate Souflee and Chocolate Tiramisu are two fan favorites
The Mochi Doughy Ice Cream is the way to go. Flavors come in Coffee, Mango, Red Bean, Green Tea, Rasberry, Chocolate, and Vanilla.
Overall Outstanding presentation of food. The bar and lounge area gets packed on the weekends so it is advisable to make your reservations early or you will not be able to get in with their strict list They don't allow people in after 10:00- 10:30 unless they are dining. The Overall Opinion is that this Exciting, Trendy Establishment is Great for some Tasty Japanese Food and Sushi if you are in the Mood to Mingle, Impress a Date, Business Associate, or Friend. Your visit will enhance you to tell your friends and employees about your wonderful experience in this electric atmosphere.