"Reign" is at the Top of the Class for Southern Home Cooking in L.A. – August 10th, 2002
This New York homey feeling with high ceilings and an incredible decor also offers some tasty down home cooking food. New Head Chef, Richard Petty, creates dishes in his sleep as he told me. He takes some of his ingenious experience having worked under Wolfgang Puck in the past and turns these dishes into some delicious treats.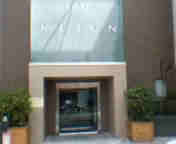 Reign is located at 180 North Robertson just North of Wilshire in Beverly Hills. 310-273-4463 for reservations and they are needed especially on the weekends. The high prestigious clients are majority of Afro- Americans but this place attracts a diverse crowd. The adjacent lounge gets hopping later in the evening and depending on the night, they have D.J.'s and Jazzy/Blues Bands playing. Ex-Owner and professional football wide reciever of Tampa Bay, Keyshawn Johnson, has just sold his share to new owners who are re-energizing the place. Many celebrities and high profile people are often seen eating dinner and hanging out with prominent business meetings taking place. Certain rooms can be rented out for private parties. The establishment is full of beautiful candles and architecture. Co-General Manager Joey De Siervi looks like an Italian New Yorker but this native of L.A. is the most personable host you will ever come across. He is circulating making sure all is going smoothly at every table while keeping things organized at the Big Bar and in the Kitchen.
Some of the popular southern appetizers include Fried Catfish, Calamari, Oysters, Crab Cakes, and Jumbo Black Tiger Prawns. Two of the main specialties are the Baby Back BBQ Ribs and the very unique Fried Green Tomatoes which are a must. All of the dishes arrive with an incredible presentation. You can also start with a selection of Salads such as Mixed Baby Greens with imported Goat Cheese, Arugula Salad with Portabello Mushrooms, The House Salad or Traditional Caesar with garlic foccacia croutons.
My choices for Entrees include the Fried Catfish if you didn't get it as a starter; The Lousiana Jambalaya with Mississippi Shrimp, Chicken and Sausage; Pan Seared Chilean Sea Bass or Halibut with Risotto and a compimentary Saffron Sauce; Southern Country Fried Chicken is a must; Smothered Pork Chops; Beef Short Ribs; and the Colorado Lamb Chops with pepper, risotto cake and carmalized maui onions. Chef Petty also told me that he plans to change and add different dishes as time goes on such as Gumbo, Crawfish and maybe some other Southern Favorites. Don't forget some of the fancy side dishes like the Macaroni and Cheese, Candied Yams, Creamed Sweet Corn, Okra, Black Eyed Peas, and Red Beans and Rice.
Finish your meal off if you have enough room with one of their homemade tasty desserts. They have a full separate kitchen where they prepare all the breads and desserts for the night. Southern Pecan Pie is the first choice. Other great selections are the Peach Cobbler which is their signature dessert and very huge; Banana Cream Pie; Chocolate Mousse Cake for the very rich lovers; Cheesecake and homemade Mango Ice Cream.
Reign" is a place to be seen and a great change to Classy Southern Dining. For more information, visit them on line at www.reignla.net