Traveling to the Beautiful Hawaiian Islands of Oahu and Kauai- December 18th, 2003
Hawaii…trade winds blowing softly during the day; comfortable starry nights; warm crystal blue waters; colorful tropical fish; waterfalls; delicious fresh seafood.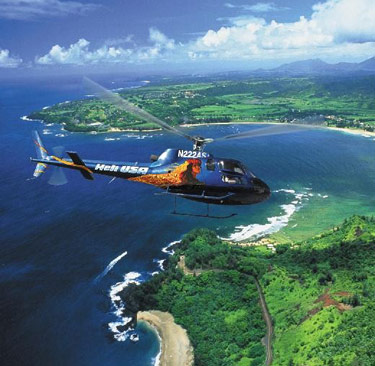 Hawaii…trade winds blowing softly during the day; comfortable starry nights; warm crystal blue waters; colorful tropical fish; waterfalls; delicious fresh seafood…why search half way across the globe for a vacation when this paradise is all right here in our own backyard.
The island of O'ahu is one such paradise. The major city of Oahu is Waikiki which has all the conveniences of a thriving city with fine dining, loads of great shopping, and entertainment with plenty of bars and discos. The fine dining alone is almost worth the trip to Waikiki. Two absolute musts for dining here are Nicks Fish Market Restaurant and Alan Wongs which feature exquisite menus, atmosphere, and service. Roys restaurant is also worth the short drive up the coast. Meals are prepared with the freshest of ingredients and the waitstaff service is incredible along with being extremely helpful and friendly. Quite possibly the best Chinese food you'll ever have is at Dynasty Chinese Restaurant in the heart of Waikiki. Amazing freshly prepared Chinese dishes. Not the kind of dishes with limp vegetables and heavy sauces that so many of us have grown accustomed to. A must visit for Chinese food lovers everywhere.
To work off some of that delicious food on a nice day, take the easy hike up the most recognizable landmark in Waikiki, Diamond Head. At the top of the Diamond Head crater there are breathtaking panoramic views of the surrounding area. The southern coast with it's blue waters and waves, the green mountains that slope toward the ocean, is all contrasted by the skyscrapers of a modern city that line Waikiki beach. This beach, probably the most famous beach in the world, is renown for it's white sand, it's clear blue water, and the long slow rolling waves. These Waves that inspired the sport of surfing by Hawaii's beloved native son and surfing legend Duke Kahanamoku.
Waikiki beach is a great place to lounge in the sun, snorkel, or rent a surfboard and try your luck on one of these famous waves. If you are not the surfer type, there is no better place to watch the surfers while relaxing with a tropical drink than the restaurant, Dukes. Located right on the beach where surfing all began, Dukes is a great place for drinks, lunch dinner, or dessert.
Also in the area is Atlantis Submarines. The Atlantis submarine is the world's largest passenger submarine. Travel to depths of over 100 feet in the clear blue waters of Waikiki beach. See tropical fish of all kinds, sea turtles, a sunken ship, and thriving aquatic reefs. The tour lasts over an hour and is narrated in several different languages of your choice. One can expect a heavy populated Japanese tourist contingency on the sub. There is now a large amount of Japanese living in Waikiki and Honolulu that have migrated over.
Rent a convertible and drive east along the coast. Make sure you stop an Hanauma Bay Beach Park for some snorkeling. Spectacular fish, calm waters, beautiful surroundings, and you are almost certain to swim with a giant sea turtle. Masks, snorkels, and fins are all available for rent on the facility. Another great trip from Waikiki area is the short trip through the gorgeous jagged mountains along the Pali Highway. After an enjoyable drive, relax and take a swim on the white sandy beaches of Kailua Beach Park.
Further on up the east coast from Kailua is the Kualao Ranch. Nestled amongst spectacular mountains, Kualoa Ranch is the place for ATV tours, horseback riding, or even shooting a gun at a shooting range. The ATV tour is a spectacular hour and a half guided tour through the green valleys and tropical forests of Kualoa Ranch. Ride through the pastures and lush trees all with the sparkling blue backdrop of the pacific ocean. Stop along the way for pictures or to pick and enjoy a naturally growing sweet guava. Continue to the North Shore for the world famous big wave spots on the planet; Sunset Beach, Bonzai Pipeline, or Waimea Bay. In the summertime the water is flat as a lake and perfect for snorkeling. In the winter during a storm there can be waves crashing in excess of 30 feet! It's hard to imagine as you snorkel in the placid summer waters, that at some point a month later, a wave as tall as a building would be crashing over you. While there at the North Shore visit Waimea Valley Adventure Park. A relaxing walk through a park filled with birds and lush vegetation leads you to Waimea Falls. Enjoy a refreshing swim in the natural pool of water and shower yourself under twenty feet of falling fresh water.
Before leaving the island of O'ahu make sure you visit Pearl Harbor in Honolulu. The free tour takes you on a short boat ride to the USS Arizona Memorial, one of our battleships which still lays in the spot where it was attacked during that infamous day on Dec. 7, 1941. It is still a powerful reminder on how lucky we are to be a free nation and that we have men and women who are willing to give their lives to protect us and preserve our freedom.
Only a short flight away from the island of O'ahu is the island of Kaua'i. Kaua'i is known for it's incredible lush vegetation, spectacular waterfalls, breathtaking cliffs and coast line, and for being a little more quiet that O'ahu. It doesn't disappoint on any account.
Besides laying on the sandy beaches and relaxing in the soft breezes with a tropical drink, there are a few things you must do when visiting the island of Kaua'i. One of these "musts" is scuba diving with Seasport Divers in Po'ipu. Don't worry if you are not certified or if you have never been scuba diving before. The instructors at Seasport Divers are extremely detailed and thorough in there instruction. They want you to be well schooled and comfortable before you ever touch a fin down in the ocean. First you go through a pool workout in no more than three feet of water to learn the basic skills of scuba diving and get comfortable breathing under water. The instructor is attentive on your every move and makes sure that you get the basic skills right. When you are done with the pool workout you head out on a boat and your adventure begins. You slowly ascend to depths of 20 to 40 feet, once again, the instructor is watching your every move. Once comfortably under the water, you'll see tropical sea creatures of all kinds including turtles and even an octopus if you are lucky. The instructor carries a device underwater which they can write on to educate you on the different names and things you'll see in this underwater world. You do two dives, each lasting about 40 minutes in two different dive spots. Plenty of water and snacks are provided on the boat for eating in-between and after the spectacular dives.
Another "must do" is an island adventure with Outfitters Kauai. Your day starts with the basics of kayaking which is shortly followed by an amazing kayak through the Hule'ia River. These two man kayaks are extremely stable in the water and there is no fear of tipping them, so relax and take in the scenery of the lush vegetation and spectacular green mountains. After a two mile paddle, which is not strenuous unless you try to make it that way, you embark on a walk through the rain forest. Some bug repellent is recommended, but not absolutely critical. After a short walk you come to a small rope swing and a water hole. Everyone gets a chance to swing off the rope and cool off in the water. The next leg of the safari is a covered wagon ride across Kipu Ranch. The 3,000 acre ranch offers spectacular vistas of pastures and mountains. The same pastures and mountains that can be seen in scenes from "Jurassic Park". After a nice lunch by a waterfall which is provided by the tour, the real fun begins. Everyone hikes down to Kipu Falls and gets a chance to swing off a 30 foot rope swing into the deep, refreshing water below. A nice half hour of swimming, jumping, and swinging into the water gets you ready for the hike back to the large powered canoe which takes everyone back up the river to end this incredible adventure. This tour is just truely a lot of fun and adventurous.
They say the island bird of Kaua'i is the helicopter(Pictured Here). There really is no better way to take in the entire beauty of the island of Kaua'i than flying above it in a helicopter. Heli USA out of the Princeville airport is as good as it gets for a magical tour souring above the island. A very smooth ride takes you by towering waterfalls stripping the cliff walls, Waimea Canyon, and the breathtaking Na Pali coast. Everyone wears headphones and is in contact with the pilot for questions and answers. Your amazing adventure in the air is video taped and available for purchase, so no memory of this unforgettable journey is ever forgotten. The Heli USA tour will definitely be one of your top highlights from your stay in Kaua'i.
Coast to Coast Newspaper would like to Thank and Recommend the following:
Nicks Fishmarket Restaurant 808-955-6333 www.nickfishmarketwaikiki.com
Alan Wongs 808-949-2526
Seasport Divers 808-742-9303 www.kauaiscubadiving.com
Outfitters Kauai 808-742-9667 www.outfitterskauai.com
Heli USA 808-826-6591 www.heliusa.com
Atlantis Submarines 1-800-548-6262