Anaheim Ducks fall to the Minnesota Wild 3-2 in an important game with playoff implications (3/09)
In a very important game versus one of the teams the Ducks are chasing a playoff spot with, they came up with a lame duck effort. The Minnesota Wild came out with a 3-2 victory and only Scott Niedermayer's late goal made it that close. Todd Marchant scored the Ducks other goal shorthanded in the second period. Jonas Hiller didn't play bad in goal for Anaheim but some costly mistakes and tough goaltending by goalie Niklas Backstrom spelled defeat for the Ducks. The loss dropped the Ducks even farther behind in the playoff race. The top 8 teams make the playoffs. They are only a few points behind the 8th place spot but they have to pass a few teams including Minnesota. Both goalies pictured below.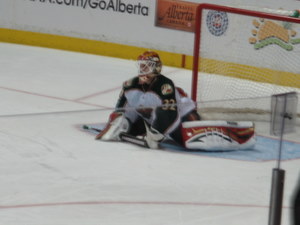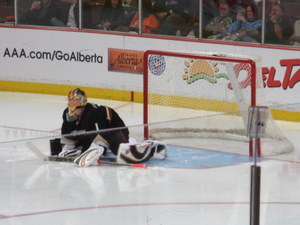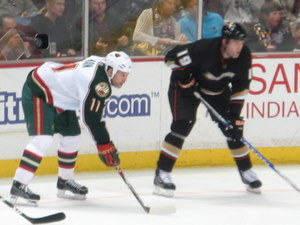 They had better get their act together before it turns out to be an embarrassing season. Only two years ago, they were the Stanley Cup Champions and now they are struggling to make the playoffs. Some recent trades including scorer Chris Kunitz (to Pittsburgh for Ryan Whitney "pictured above" and a future prospect) and great role players Sammy Paulson and Travis Moen were shipped off lately. Others including Chris Pronger (pictured below) were on the trading rumor block but remained. GM Bob Murry was back and forth to try to go with what they have or start to rebuild for the future. Time will tell. The offense needs more depth in scoring behind assistant captain Ryan Getzlaf and forwards Corey Perry, Teemu Selanne and up and coming Bobby Ryan (pictured below on the right).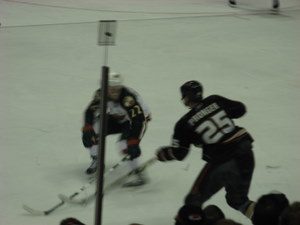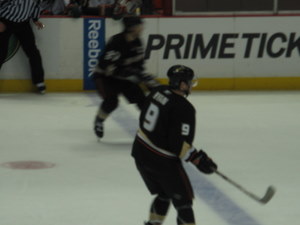 The team lacks the chemistry and confidence it had a couple years ago, as some of the players have gotten older as well. #1 goalie Giguere has had a very average season not getting a lot of help from the inconsistent defense. Head coach Randy Carlyle has switched up lines and tried different combinations but the team has responded with mediocrity. The Ducks brought in defenseman James Wisniewski (pictured below) in the Paulson trade with Chicago.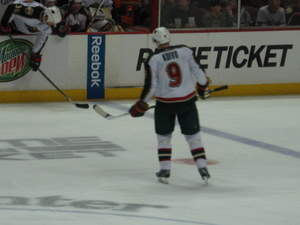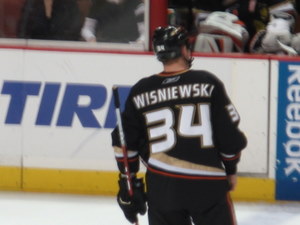 The Wild seemed to control the game and took advantage of some bad mistakes while playing solid defense. Their leading scorer is Mikko Koivu (pictured above) and they have veteran Owen Nolan. Besides that, they are a bunch of no names doing a good job. The head coach is Jacques Lemaire and he has had plenty of experience and success in the past winning the Stanley Cup as head coach of the New Jersey Devils in 1995. His style is unorthodox and defense oriented while creating the neutral zone trap. Stephane Veilleux was the #1 Star of the game with two goals while Andrew Brunette scored the clinching goal in the third period.
It is make it or break it time for Anaheim going down the home stretch. They are only a few points away but have some games vs. teams they are battling with in the near future. More info, schedule and tickets at http://ducks.nhl.com