LA Clippers season is terrible as they lose to the Portland Trailblazers with 2 games left (4/09)
The LA Clippers lost to the Portland Trailblazers in their 3rd to last game of the 2008-2009 season. The team under performed and was hit by many injuries. Key players like Baron Davis, Marcus Camby and Chris Kaman underachieved despite injuries. In what looked like a great transaction acquiring Zach Randolph, he was inconsistent but did pick up a lot of scoring. They got Randolph and guard Marty Collins from the Knicks for Tim Thomas and Cuttino Mobley who had to retire due to some heart health issues. The team basically lacks leadership and chemistry, as they look good on paper when healthy. Rookie Eric Gordon came on strong at the end of the season and the team will have another high draft pick in the lottery so you never know.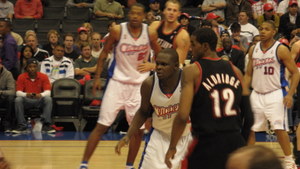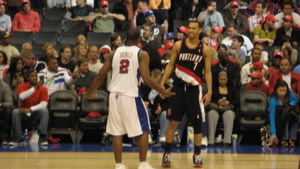 The Portland Trailblazers visited the Staples Center on April 11th after an incredible game the night before vs. the Lakers in Portland. The Blazers ended up beating the Lakers for the second straight game but it took a lot out of them. The Clippers and Blazers were even after the first quarter before Portland went on a huge run and took a 15-point lead to halftime. In the 3rd quarter, the Blazers wind seemed to slow down as the home Clips made a rally. However, the defense and rebounding of underrated Joe Przybilla and some clutch shots in the 4th quarter by outstanding rookie Rudy Fernandez sealed the game for the visitors. LaMarcus Aldridge (a future all star) and Brandon Roy (current all star and one of the leagues best players) scored 21 and 15 points respectfully even though you could tell they were tired. Rookie Greg Oden plays well in spurts while overpowering defenders and is so strong but he needs to improve his footwork, shot and staying out of foul trouble.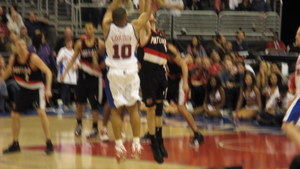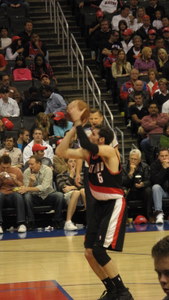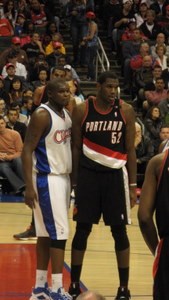 I spoke to Przybilla, Fernandez and Roy after the game. Przybilla told me he does whatever the coach asks and plays hard to win. He is the type of player you want on your team. I had a nice chat with Rudy Fernandez, who has played great this year off the bench. He told me the competition is great in the NBA but the difference between playing here and in Spain is in the US, you play 3-4 times a week with an 82 game schedule. In Spain, it is once a week with a 40 game schedule plus the games are 40 minutes long compared to 48 minutes in the NBA. He told me you have to mentally prepare each night and recover quicker. Roy mentioned he was mentally and physically exhausted from the Lakers game but this game was huge as the Playoffs approach and the Blazers are vying for the best seed as possible and home court in the first round at least.
More at www.nba.com/clippers and www.nba.com/blazers