Skiing/Lodging/Dining in Squaw Valley also visiting & skiing at Alpine Meadows and Homewood (2/11)
Looking for the most convenient, affordable and fun ski trip around, look no farther than Lake Tahoe and primarily Squaw Valley.  We started with the easy flight to Reno on Southwest Airlines for as low as $50 each way LA.   You don't need a car unless you are going to drive around the lake.
We arranged the Reno Tahoe Limousine, which was fantastic. They were early and professional.  The ride was smooth in the luxurious SUV.  The other option is the North Lake Tahoe express but they have set pickup times so unless your flight comes in at the right time, you will have to wait a bit.  www.ltlimo.com 

Skiing: The top place is Squaw Valley, home of the 1960 Winter Olympics.  With a diversity of runs and trails, this resort has it all.  Choose from intermediate runs off the cable car, funitel, and many of their other chairs such as the Gold Coast, Shirley Lake Express, Red Dog and K22.  Pick from so many ways down and end up on the mountain run which is also open at night. If you are looking for more challenging terrain, there are some great bowls and steeper trails on each side of the huge mountain.  The Granite Chief chair had some black and double black diamond runs.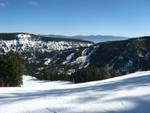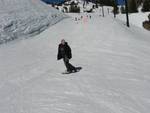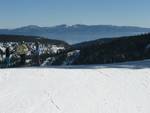 The highlight for me was the dawn patrol program.  This new offer is only on Saturday and Sunday and is an organized tour leaving from the cable car at 7:40am taking you up to the high camp area.  It is best after a snow dump, which is what happened with me luckily.  It is only about $50 extra but includes a buffet breakfast from 8-10am with an omelet station, French toast, potatoes, bacon/sausage, fruit, pasties, coffee and juice.  You get first track at the mountain before it opens at 9am so you can get quite a few great runs in before anyone else is able to get up there.  We went primarily on the Shirley Lake Express after a foot of new snow and it was spectacular.  There were not many guests booked that day so I got to ski with hospitable instructor Paul Kitano, who gave me some great tips.  It was an absolute blast skiing in fresh snow and new tracks each run down.
More at www.squaw.com/dawn-patrol
Overall, Squaw was fantastic and amazing.  All the staff and information were great.  The best was staying at the Village and getting on the cable car or lifts less than 100 feet away depending on what building you are staying in but all very close to each other.  Going out for dinner in this intimate easy to walk Village was another tremendous feature.   More at www.squaw.com
The other two resorts we got to visit for a day were Alpine Meadows and Homewood.  Alpine was only about a 10-15 minute drive and a very nice resort. It  is worth the visit and the staff are extremely friendly.  You get personal attention while having a vast array of terrain.  The resort has a great variety of runs for all types of skiers and is so close to Squaw.  They have a free shuttle bus with two pickup times in the morning and two departing times in the afternoon from Squaw if you don't have your own transportation.  A great alternative to mix it up and see another beautiful place.  www.skialpine.com
Homewood is a little farther away about 25-30 minutes but a free shuttle called Dial a Ride is offered from Squaw.  Homewood is best on a nice day as it has the most beautiful views of the lake while you are skiing on many runs.  Rainbow ridge is a cruiser run and it looks like you are skiing into the lake.  This is more of a family resort with more intermediate runs at a better value than many of the other resorts.  Don't miss the West Shore Café for lunch, après skiing or dinner and we loved our day trip there.  One other advantage is Homewood has less wind than the other resorts so a great option if it is windy in the Squaw area. www.skihomewood.com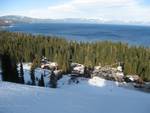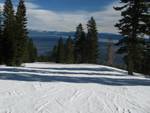 Lodging:
We stayed at the Village at Squaw, which was about 50 feet from the cable car.  The condo was spacious and beautiful which included a full kitchen, multiple TV's and two bedrooms.  There are a variety of rooms to choose from and price depends on what type of room and the time you want to visit.  This was the most convenient place we have ever stayed at for a ski trip.  The Village at Squaw has 5 buildings with their own amenities in each on from Jacuzzis, fitness centers, pool tables and more.  The location is perfect as you are minutes away from the lifts as well as all the restaurants and shops.  We highly recommend this lodging and you can find more about them at www.thevillageatsquaw.com   See photos below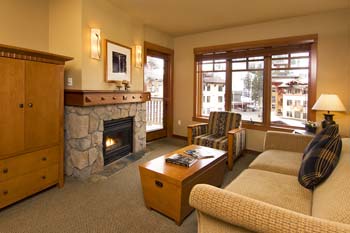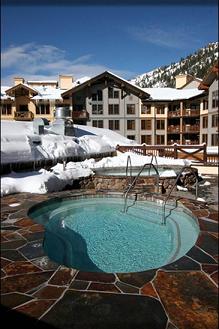 Restaurants:
The village and area has some great choices to dine.  Our favorite was the Six Peaks fine dining at the Resort at Squaw located about 5-10 minutes away driving.  They have a frequent shuttle every 30 minutes to and from the village so it is easy to access. 
Our other suggestions include: Mamasaki, which offered fantastic fresh sushi and other delectable dishes.  The menu was very creative with a wide selection of hand and cut rolls, tempura and hot entrees such as the grilled shrimp. They also offer brown or white rice with the sushi for the health conscious and have a full bar with specialty cocktails and sake.www.mamasake.com
The Plumpjack Restaurant located right next to the cable car offers fine dining and a great atmosphere.  The chef is very creative and there were many items we had never heard of until our server explained them.  There are first and second courses to choose from.   The first courses had salads and appetizer portions of unique dishes.  The entrees were very tasty but not the biggest portion.  The Hawaiian spearfish over black forbidden rice was very nice as were the delicious scallops (the best dish on the menu).  The pork chop was very flavorful and if you are adventurous, try the venison.  www.plumpjackcafe.com
For a more casual experience, check out Fireside Pizza and Pasta.  The down to earth staff and servers make this place a great time while enjoying fantastic food.  Choose from a variety of pizzas or make your own.  They were not greasy at all and the flavors and ingredients were fresh and vibrant.  Mix in one of their salads or pasta dinners as great additions or alternatives.  Enjoy some beer on tap or other drinks to accompany your meal.  You will be fully satisfied after your dining experience here.  The manager Becky was so hospitable and welcoming.   www.firesidepizza.com
Soupa– Located in the village and the best spot to stop for lunch offering a variety of 6-8 fresh, hot soups daily.  Chef Adam creates a great selection that is very hearty to provide you with all the energy to ski in the afternoon.  The sandwiches are delicious as well and do not miss the dessert strudels by the Strudel guy. Phone: (530) 584-6190   The owner Kali also operates a nearby wine bar called Uncorked.  This hotspot especially on the weekend has been going strong for 6 years serving wine and a few cheese and appetizer plates.  Many weekends will feature a wine-maker to showoff his selections but otherwise choose from the extensive wine list and tasting to enjoy during your evening.  www.uncorkedatsquaw.com  
West Shore Cafe'– Located right across the street from the main north Homewood Ski Resort entrance, this is a fabulous place for lunch, après skiing and dinner. It has beautiful lake views and is newly decorated and open.  The upscale restaurant offers some delicious food.  The French onion soup is to die-for.  Other specialties include the steak frites, fish and chips, chicken wings and Chinese chicken salad.  Visit their new website to see photos and a complete menu with additional information at www.westshorecafe.com