Gulbis upsets Fish to claim Farmers Tennis Classic at UCLA in July 2011
The Farmers Classic tennis tournament just concluded at the UCLA tennis center with a big upset. Ernest Gulbis from Latvia, who had lost his last 4 first round matches and has underachieved big time since he turned pro, won his second ATP tournament (first was Del Rey Beach last year).Mardy Fish, the # 1 seed, looked like he had Gulbis just where he wanted him after breaking him in the last game of the first set to win 7-5.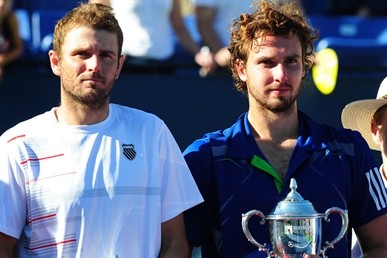 Fish, who always says he loves playing in the heat looked weary and lost the second set.Still tired in the 3rd set, Fish got down 5-1 before scratching back as Gulbis got tight and nervous.Eventually, Gulbis went for some shots and won 6-4 in the 3rd set to win the tourney.The 22 year old has all the talent but even during interviews, he seems like his mind and mental side is somewhere else.After winning in Atlanta last week, Fish was trying for back-to-back wins but fell just short. Instead of going for it while Gulbis was pressing late in the 3rd set, Fish was lobbing the ball just hoping for Gulbis to miss.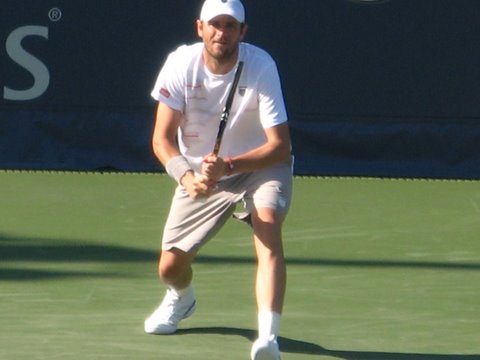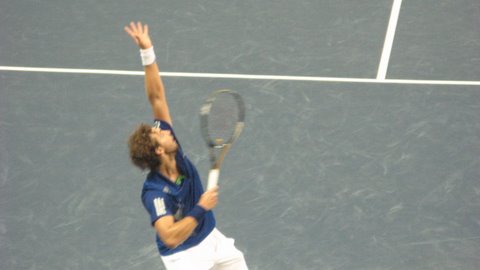 Gulbis impressive run included wins over #5 seed Malisse, Kosakowski, #2 Del Potro as he dominated that 6-2, 6-4 win, Alex Bogomolov Jr. in the semi finals in 3 sets before the final.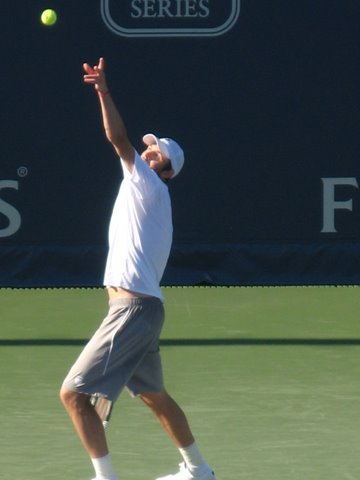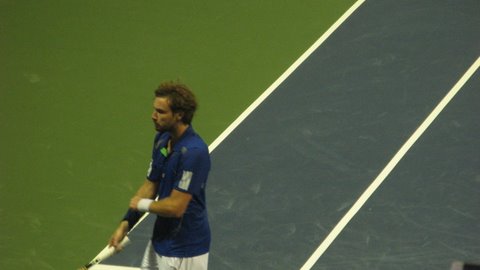 Fish spoke after the final citing a right heal issue while he was visibly hobbling later in the match but was humble during the post match interview saying that didn't affect him.It sure looked like it did a bit and he ended up dropping out of the Legg Mason tournament the next day due to the injury.Fish also said he was physically and mentally drained due to lots of tennis and Gulbis was obviously the fresher one not playing too many matches lately leading up this tournament.Fish said Gulbis is a high-risk player, which can be dangerous for opponents if he is hot.That would explain his inconsistency despite his promising potential so far in his young career.His two-handed backhand is one of the best around and he has top 10 potential Fish said.
Other notables included #3 seed Baghdatis, who was upset by Lu after his first round bye; Fernando Gonzalez, who was trying a comeback after a lengthy injury but also losing his first match to #8 seed Igor Kunitsyn; Steve Johnson (National champion from USC) losing a tough 3 set match to Gilles Muller, 19 yr old Ryan Harrison (the up and coming American) who made the semi-finals barely losing to Fish in the 3 set tie-breaker.Harrison looked great but needs more composure as he loses his temper a bit too much;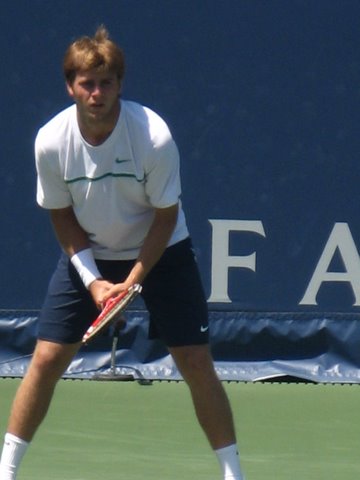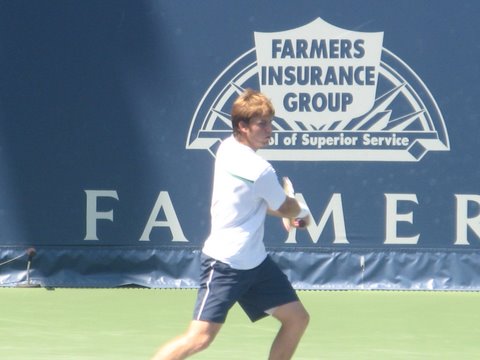 Tommy Haas (also coming back from an injury and who lost his first round match to #7 seed Dimitrov and didn't play well at all.He is 0-4 this year, 33 yrs old and looking slower leading to the end of the road; #4 Thomaz Bellucci, who lost to Bogomolov Jr in the quarter-finals and ranked high from his mostly clay court success; Robbie Ginepri (2005 US Open semi-finalist) coming back from an injury as well and not playing like he used to losing to Lu from Taiwan in the first round; and last but not least, James Blake- after a nice win vs. Berrer, he played Del Potro in a close packed house crowd in the second round on Wednesday night.Del Potro won this tight fought battle in 2 close sets. Blake spoke after the match and thanked the crowd support while he battles back to a higher ranking after dropping out of the top 100.He said he is playing better of late and was very happy with his first round match win and tough loss to Del Potro (pictured below). He will work on more consistency on his groundstrokes to climb back up the rankings. Blake was the last direct acceptance to the tournament while Leyton Hewitt pulled out last minute as he got injured last week in Atlanta's tournament.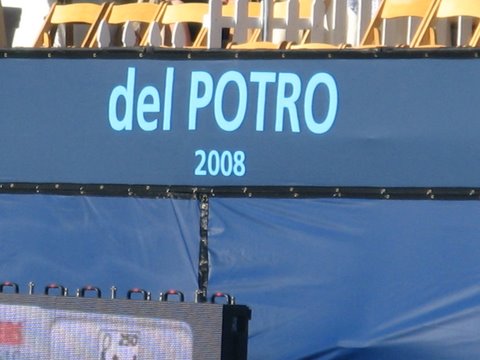 In the doubles final,
Mark Knowles (BAH) / Xavier Malisse (BEL) defeated Somdev Devvarman (IND) / Trent Conrad Huey (PHI)
76 (3) 76 (10) The past champion Bryan Brothers took the week off to get some rest.
More at www.farmersclassic.com