LA Kings defeat the Detroit Red Wings 5-2 as playoffs are approaching (3/12)
 The LA Kings faced the injury-riddled Detroit Red Wings on March 13th at the Staples Center in a crucial game heading towards the playoffs. After losing a late 3rd period one goal lead to the Wings back in Detroit last Friday, Los Angeles seemed focus and ready to get revenge.  They started out with some great rushes at goalie Jimmy Howard (just back from injury) as Jarret Stoll and Jeff Carter (#77) had great chances early but were thwarted by Howard.  Finally Justin Williams who has been hot of late poked in a slap shot by Drew Doughty with an assist from Dustin Brown.  Brown (#23 pictured below) has a nine game point streak tying the longest of his career. Anze Kopitar added a huge shorthanded goal flicking a wrist shot to make it 2-0 after the first period.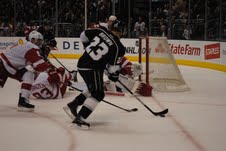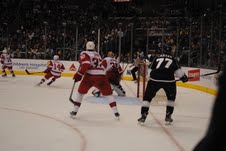 The Wings got one back second period as Jiri Hudler scored an awesome goal stopping a rocket pass from Henrik Zetterberg with his skate and blasting the puck by Kings goalie Jonathan Quick.  Doughty scored on a deflected slap shot for his 9th goal of the season, which gave the team a big lift.  The goal was reviewed as it looked like it caromed off Mike Richards and possibly a high stick but that wasn't the case and the goal stood and it was 3-1 after 2 periods.  The home team got another big goal from highly regarded defenseman Slava Voynov to make it 4-1. Voynov is taking Jack Johnson's place after he was traded to Columbus in the Jeff Carter deal.  Johan Franzen scored his team leading 26th of the season to make it 4-2 but the defense and Quick took over and Jeff Carter scored an empty net to make the final score 5-2.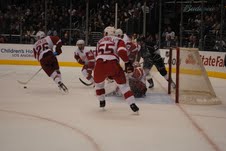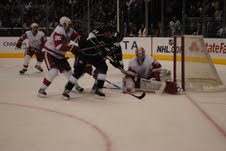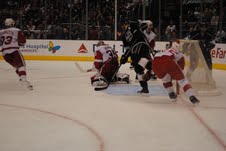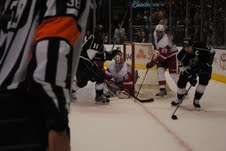 Brown said after the game " that the team just needs to take care of our own games even though they may scoreboard watch as it is such a close race " while Doughty added " It was great to avenge that disappointing loss to Detroit a few days ago but all the team can do now is concentrate on winning and hopefully other teams will lose with just 12 games left before the playoffs."  Dwight King (#74) has been playing on the top line helping adding his size and skill.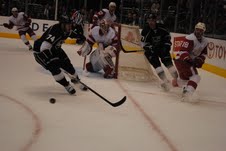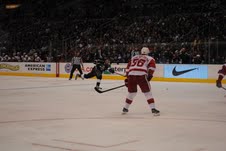 The Red Wings were without Lidstrom, who watched his eighth straight game from the press box because of an injured ankle, Datsyuk, who missed his 10th consecutive game with a knee injury, Todd Bertuzzi, who sat out his fourth game with an undisclosed lower body injury, and defensemen Kindl (upper body injury) and Ericsson (wrist injury).   Coach Mike Babcock said "This will be a good test to see how our team responds as we go to Anaheim and then San Jose next. Our team didn't play hard enough or win the battles tonight."  The Wings are in 4th place in the conference but positioning for home ice and not playing the top teams right away are keys for the playoffs.  This team is dangerous when at full strength so keep an eye out for them as time goes on.
The Kings now have 78 points and are tied with Colorado, Calgary and San Jose for the last playoff spot and one point behind Phoenix.  Many things can change and this will likely go down to the final week and games of the regular season in early April.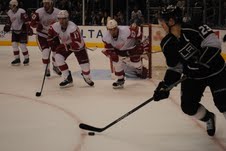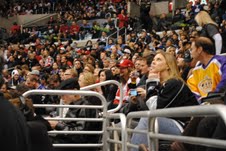 The Kings are counting on Mike Richards to get on track as he hasn't scored a goal in 25 games. Carter's scoring and energy will be a huge lift for the team as he has 7 points in 9 games so far. Some celebs attending the game were Tom Hanks and David Spade rooting for the Kings and Kid Rock with his Detroit Jersey on (pictured above with Spade two seats to his left).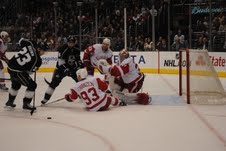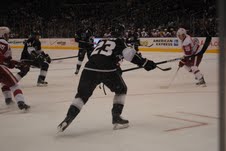 The Kings face the Ducks in their next game on Friday and every game is significant now.  More at www.kings.nhl.com