USA Tennis Davis Cup Team loses to Great Britain in San Diego -January 31st-February 2nd, 2014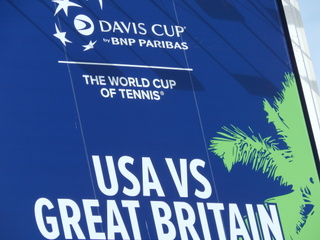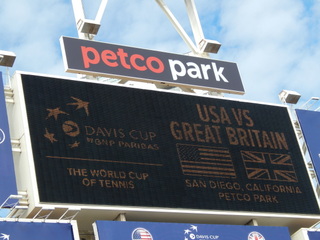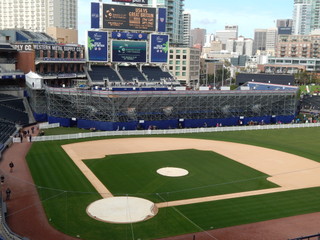 The USA-Great Britain Davis Cup first round took place at Petco Park
-home of the San Diego Padres and a cool setting for a tennis
tournament.  The US team got some bad luck when their top player John Isner had to drop out due to an ankle injury he suffered at the
Australian Open where he had to retire.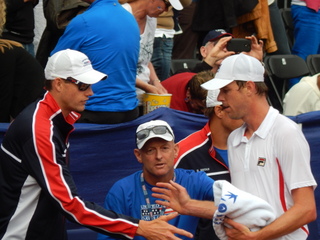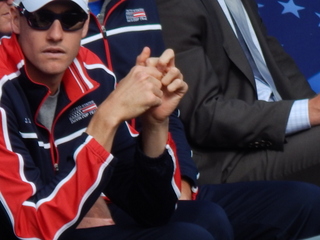 So that made the task that much tougher facing the Brits and Andy Murray, who played the first match vs. substitute Donald Young.  It was never a match as Murray won in 3 easy sets.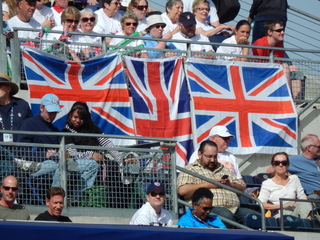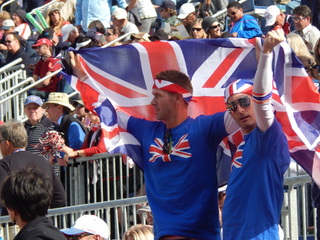 Match #2 pitted James Ward #175 in the world vs. Sam Querrey, our #2 ranked & ex- Top 20 player who has slipped down to in the 60's at this time.  He was still a huge favorite and after winning the first set easily, it looked like it was going to be a runaway.  Ward won the second before Querrdy won the 3rd and was up 4-2 in the 4th set looking to even up the Davis Cup. Then he dropped 10 out of the next
11 games and Ward pulled off the big upset.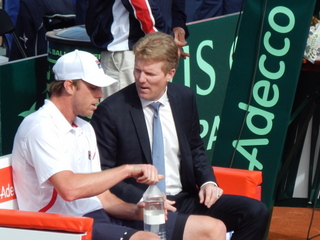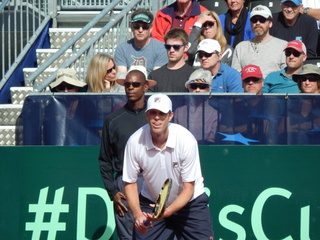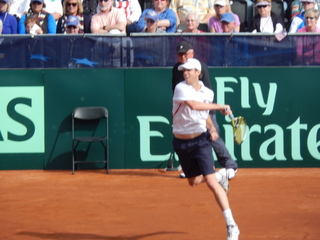 The Bryan Brothers put the US on the board with a 4 set victory while Murray got to rest.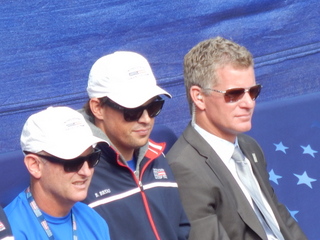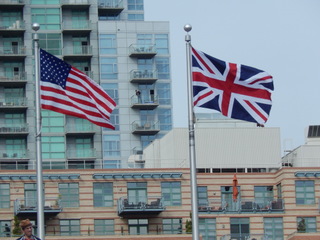 So match # 4 reverse singles had Murray vs. Querrey.  In a close first
set, Murray won in a tiebreaker and then won the second set. Querrey won the 3rd to give the US some hope but lost the 4th set and Great Britain won the tie to advance to the second round for the first time in many years.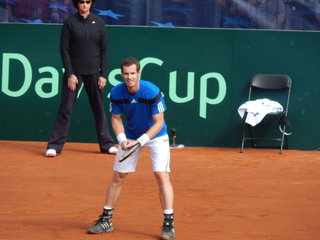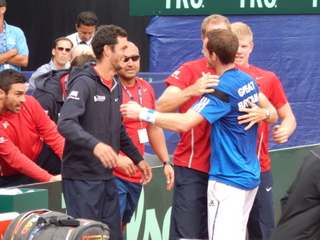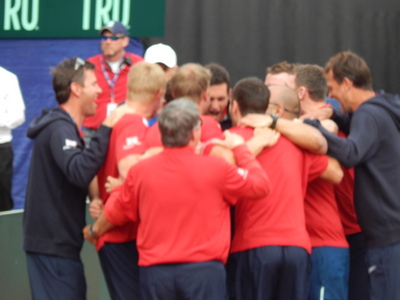 Many questioned the surface choice even before the whole tournament started as the US chose clay, by far their weakest services.  They went on the assumption it was also Murray's weakest surface but I and many others said it from the start that you go with what is best for you especially when you have a strong serving team. Clay slows the ball down so you don't get as many service winners or aces so when the draw was set, Isner and Querrey were expected to play.
Yes Isner beat Federer and Tsonga on clay in the past in the Davis Cup (both on the road) but hard courts would have been the best surface.  Querrey actually beat Murray at the finals of the UCLA Farmer's Insurance tourney a few years ago on the hard surface.  I asked coach Jim Courrier in the post interviews about the service and he said he still liked the clay choice even if he were to do it again in the same circumstances.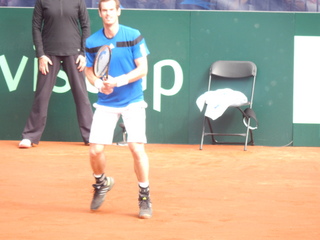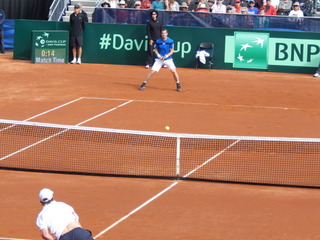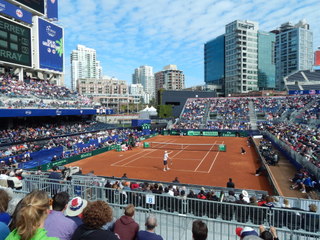 Whose to know what would have happened but I think that Ward beats Querrey on the hard surface which would have changed it all around and worst case, they would have went to a 5th match with Young vs. Ward in my opinion and I would have liked our chances.  All in all, the staff, volunteers and people involved with the whole production of the court and grandstands on the baseball field should
be applauded as it all went well and even Murray had great things to
say afterwards.  More at www.daviscup.com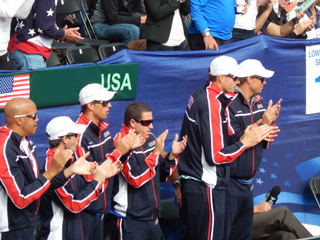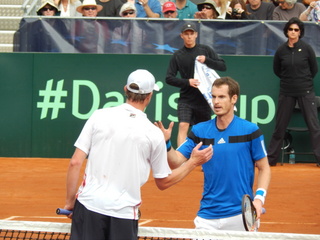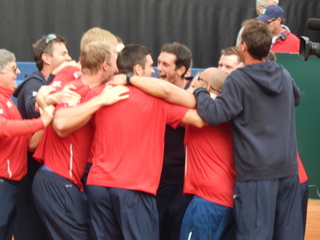 Despite a brave effort from Sam Querrey, No. 6 Andy Murray clinched Great Britain's first Davis Cup Quarterfinals appearance since 1986 on Sunday, beating the 49th-ranked American, 7-6(5), 6-7(3), 6-1, 6-3, on red clay at Petco Park in San Diego.
Great Britain claimed the latest victory in the oldest rivalry in Davis Cup history, defeating the United States for the first time since 1935 and winning on American soil for the first time since 1903. Since Murray won the tie-clinching match in four sets, the fifth, dead singles rubber scheduled to be played between the United States' Donald Young and Great Britain's James Ward was not played.
Great Britain will now play Italy in the Davis Cup quarterfinals in April. The United States will play in September's World Group Playoff against an opponent to be determined.
RESULTS
 DAY/LOCAL MATCH TIME        EVENT             DETAILS/PAIRING
Friday, 11:00 a.m.                               Singles A:              Andy Murray (GBR) d. Donald Young (USA), 6-1, 6-2, 6-3
Singles B:              James Ward (GBR) d. Sam Querrey (USA), 1-6, 7-6(3), 3-6, 6-4, 6-1
Saturday, 12:00 p.m.                          Doubles:                                Bob Bryan/Mike Bryan (USA) d.
Colin Fleming/Dominic Inglot (GBR), 6-2, 6-3, 3-6, 6-1
Sunday, 11:00 a.m.                             Singles C:             Andy Murray (GBR) d. Sam Querrey (USA), 7-6(5), 6-7(3), 6-1, 6-3
Singles D:             Donald Young (USA) v. James Ward (GBR), not played
Attendance for Sunday's singles match in the temporary stadium built in left field of Petco Park was 6,249, bringing the three-day total to 18,796.
DAVIS CUP RESULTS
 Czech Republic beat the Netherlands, 3-2  Japan beat Canada, 4-1  Germany defeated Spain, 4-1   France defeated Australia, 5-0   Italy beat Argentina, 3-1  Kazakhstan beat Belgium, 3-2 Switzerland beat Serbia, 3-2