il Piccolo Verde in Brentwood is newly opened serving fantastic Italian-Healthy Dining, March 2014
              
Il Piccolo in Brentwood is newly opened as of late last year.  The new owner Michael is very hospitable and taking on this great new venture. He is doing a great job as the food and service are fantastic. 
The place is intimate, comfortable and homey and we could see that many customers come in just for our incredible waitress. She is so nice and attentive and made us feel at home.  It's truly a nice compliment to a place when locals come back time after time and genuinely look happy to be there.
The food is great.  You first sit down to their crispy homemade flatbread and tempenade that you have to be careful not to make a meal out of because it is so addictively good. After that we started with fresh burrata over mixed greens with tomatoes.  The burrata is made in house as are most of the items on the menu. This makes everything taste so fresh.  The melanzane, which is baked eggplant with cheese came out hot and savory, and the beet salad with avocado, goat cheese and asparagus was delicious and healthy.  This seems to be the underlining theme of this restaurant; delicious and  healthy.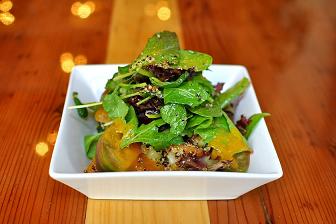 We had several dishes from the Verde Natural Menu which has some of the healthiest dishes you will find in any Italian restaurant…anywhere.  It's so nice to have really healthy choices at a restaurant, especially in this town where so many of us are health conscious. The carrot-cauliflower soup with tarragon came out steaming hot and you could just taste the vitamins going into your system.  We also tried some of the buckwheat risotto and gluten-free fusilli with chicken and veggies.  Healthy choices like these only work if the food tastes great, and it did not disappoint.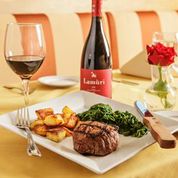 You cannot miss out on one of their pizzas from their wood burning Italian oven.  Try one of the Napoletana or NY styles with a variety of options. We loved the whole wheat crust option with spicy tomato sauce and cheese.  We also had a pizza with mozzarella, burrata and slices of avocado.  We had never had avocado on a pizza and would have never thought of it.  It worked beautifully.  That was a nice little invention from our waitress, (who we can't remember her name)
     
Since they feature Italian dishes, any of their pastas or risotto choices are all cooked to order and al dente, the way it should be.  Il Piccolo offers a wide variety of meats, chicken dishes and seafood items including shrimp diavola, which is out of this world.  The arrabiatta sauce they make is one of the best I have tasted in a long time that mixes well with any of the pasta dishes.
The portions are plentiful and this place looks to make it big with their great concept of high quality cuisine, top notch staff, service and healthy dining options. This is the place for anyone to enjoy a great meal.  They are marketing very well with coupons, delivery up to 4 miles, dine in, take out, catering and much more.  Try some beer or wine from the extensive list and save room for one of their yummy desserts. 
 Located at 140 S Barrington in Brentwood.  Phone :  310-472-4939 and website is www.ilpiccoloverde.com