Rick Springfield stripped down tour, Hollywood Walk of Fame Star- May 2014
RICK SPRINGFIELD CONTINUES FIRST EVER SOLO
TOUR WITH ADDITIONAL 2014 DATES
 THE STRIPPED DOWN TOUR INCLUDES MUSIC, STORYTELLING AND A
SPECIAL QUESTION AND ANSWER SESSION WITH THE AUDIENCE
Grammy award-winning musician, actor and New York Times bestselling author Rick Springfield
has hit the road for his first ever solo tour. The Stripped Down Tour, includes storytelling, a few
of Springfield's many hits, songs from his latest CD, Songs for the End of the World, old favorites
that the singer has never played live, and a question and answer session with the audience.
 The Illinois Entertainer said, "Setting up shop at the intimate and stylish City Winery was the
right call for this rare solo set and the die-hards came in droves, selling out both shows practically
from the get go…The night as a whole achieved its purpose of revealing several unseen sides of
Springfield beyond just the most obvious oldies." Well-known music writer, Gary Graff said, "This
time out he's playing alone, offering up a "Storytellers" style show featuring just his voice, his
guitar and a "band in a box" — a laptop loaded with other musical parts Springfield recorded
to accompany himself at select times during the show. It could have been a gimmick but was
mostly a comfortable fit, offering up a little something more than a troubadour playing his songs
and telling his tales. Springfield did both of those very well, too…An appropriate close to a warm,
revealing evening that was on par with if not even better than his standard, full-scale concerts
(The Oakland press)."
The tour has added dates throughout North America in 2014. The iconic rock star has been
touring for more than 30 years and his shows are legendary for their rock heavy, high energy full
band sets. Springfield felt the time was right for a change. Wanting to bring a more intimate and
different show to his audience, Springfield is excited to bring this change to his fans. "There are
some old favorite songs that I've written that I have never had the chance to perform live mainly
because they have never fit into our sets. I think my fans will be as excited to hear these songs
live as I am to play them live. I've also added a Q&A section with this tour as a way to connect
with my audience."
In early 2013, Springfield collaborated with The Foo Fighters' Dave Grohl on the song, The
Man That Never Was, for the Sound City soundtrack, Sound City: Real to Reel. At the 2014
Grammy's the album was awarded the Grammy for Best Compilation Soundtrack for Visual
Media. In May 2014 Springfield's first novel, Magnificent Vibration will be released and in addition
he will receive a star on the Hollywood Walk of Fame. For more information on the tour and Rick
Springfield, visit
http://rickspringfield.com/rick-springfield-stripped-down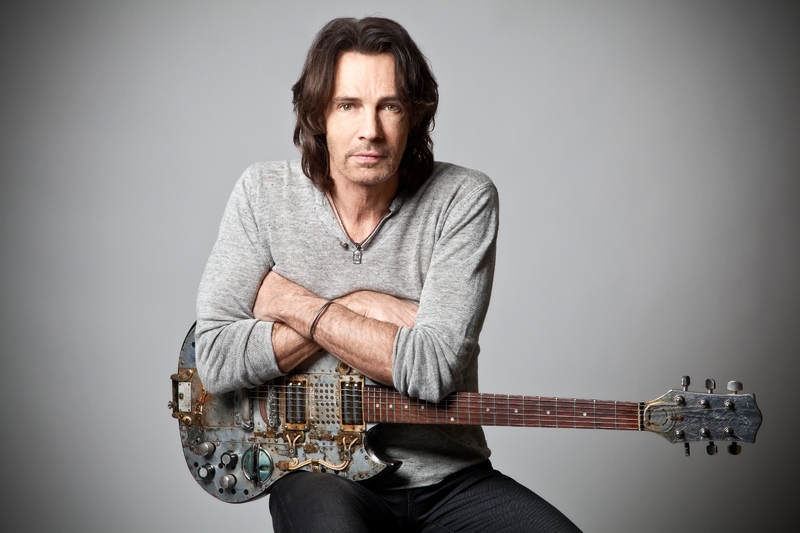 RICK SPRINGFIELD- Bio, info
For all of his accomplishments as an actor, best-selling author, and documentary
subject, Rick Springfield's first love has always been music, a passion he's
harbored since first picking up the guitar at the age of 12 in his native Australia.
With 25 million records sold, 17 top-40 hits, including Don't Talk to Strangers,
An Affair of the Heart, I've Done Everything for You, Love Somebody
and Human Touch, as well as a 1981 Grammy® for Best Male Rock Vocal for
his No. 1 hit single "Jessie's Girl," Springfield shows no signs of slowing down.
"I put everything I've got into making records," he says. "Sometimes people may
think they have you pegged but I trust the music to speak for itself."
Never one to be confined to the recording studio where the music is born,
Springfield has toured for over 30 years, hand-delivering the hits to millions of
fans worldwide via his dynamic live shows. His concerts are legendary with
their rock heavy, high energy full band sets. However, in fall 2013 Springfield felt
it was time to expand his live performance options. Now instead of a rock star
worthy band, Springfield brings a more intimate yet still lively show by performing
solo in his "Stripped Down" show. "There are some favorite songs that I've
written that I have never had the chance to perform live mainly because they
never fit into our sets.  I think fans will be as excited to hear these songs live as I
am to play them." He incorporates personal stories about his music and life into
the show and has even added a question and answer segment as a way to truly
connect with his audiences.
Excited fans and critics have made "Stripped Down" one of the most talked about
tours of 2014, receiving rave reviews and selling out seats across the country.
"Setting up shop at the intimate and stylish City Winery was the right call for this
rare solo set and the fans came in droves, selling out both shows practically
from the get go…The night as a whole achieved its purpose of revealing several
unseen sides of Springfield beyond just the most obvious oldies." says the Illinois
Entertainer.
Springfield will take a short hiatus from his successful Stripped Down solo tour
this summer, hitting the road with his band on a co-headlining tour with friends
Pat Benatar and Neil Giraldo. The multi-city tour will kicks off June 28th
GA with additional dates across the U.S. through July.  This tour marks the first
time that Rick will tour with Pat & Neil. Springfield says, "Although I first met
Pat and Neil when Neil played on the original recording of Jessie's Girl in 1980
it took 35 years before we got together to tour. It should be one for the books."
Following his summer tour, in October 2014, Springfield will return to his native
Australia for his first headline tour in 20 years. Springfield will finish the year with
more "Stripped Down" shows.
On May 6th
MAGNIFICENT VIBRATION. Already receiving rave reviews, Booklist says,
"Captivating, poignant, and hilarious, MAGNIFICENT VIBRATION proves that
some of the most interesting stories can come from pretty unlikely places." The
deeply meaningful and over-the-top novel features a hero who has hit a dead
end in his life but who serendipitously receives an 800 connection to God via
an inscription in a mysterious self-help book and who just may have a shot at
saving the planet. "The only good grades I ever got in school before I was kicked
out were for creative writing," says Springfield.  "I thought that fiction might be
in my future but then my career took a different path once the Beatles showed
me what a blast being in a band could be.  Writing my memoir reminded me how
much I love the craft.  So I decided to give fiction a shot again. MAGNIFICENT
VIBRATION is the result.  I'm still not quite sure where it came from, but once
I got going, it practically wrote itself.  I've heard writers I admire speak of that
phenomenon, so maybe I'm on the right track."
Springfield's autobiography, Late, Late at Night, published by Simon &
Schuster's Touchstone imprint in 2010, entered The New York Times best-
seller list at No. 13 and hit the Los Angeles Times and Publishers Weekly
lists as well. Rolling Stone named it one of the top-25 rock autobiographies of
all time. In the book, which he wrote himself, Springfield speaks frankly about the
depression he's battled throughout his life. "I'm not the shiny, happy guy people
think I am. I suppose they confuse who I really am with my stage persona,"
says Springfield. "But good can come from hardship. Depression causes me
to over-analyze events in my life, and that's actually a bonus when it comes
to songwriting. Hey, if things had gone my way at the time and I'd gotten laid,
Jessie's Girl would never have been written."
 2014, Touchtone will publish Springfield's fiction debut,
In 2013 Springfield teamed up with Dave Grohl on Grohl's multi-faceted passion
project, Sound City, which encompassed a documentary (Sound City), an
album (Sound City: Real to Reel), and the Sound City Players tour, a string
of critically acclaimed shows with fellow documentary subjects including Stevie
Nicks, Trent Reznor, John Fogerty, and Lee Ving among others.  Each artist's
set was backed by The Foo Fighters, and Springfield's own set included notable
declarations from Grohl such as, "I want to be Rick Springfield." and "Bucket
list. Check." CraveOnline called Sound City: Real to Reel "a powerhouse
collection of some of the greatest musical talent ever assembled." Springfield
and Grohl co-wrote The Man That Never Was, which was inspired by a true
story from World War II. "Writing music can be a solo endeavor but at its heart,
rock is collaborative. Working with Dave and the Foo Fighters was collaboration
at its best. Those guys are true musicians: creative, spontaneous, generous,
and talented. Working with them was a great experience." The Man That
Never Was has been widely recognized by critics as one of the best songs
on the Sound City album. "The highlights… are led by Stevie Nicks and, yes,
Rick Springfield." (People) Springfield has also been hailed for his part in the
documentary: "The film's breakout story is arguably Rick Springfield." (Rolling
Stone)
The Sound City: Real to Reel CD also won the 2014 Grammy® for Best
Compilation Soundtrack.
In October 2012 Springfield released, Songs for the End of the World his
 studio record, a collaboration with songwriter Matt Bissonette. Songs for
the End of the World addresses the need to be consoled and cherished in
an age of anxiety about the future of the planet. Filled with personal lyrics and
giant hooks, it's a pop/rock tour de force. "It's high energy," he explains about the
album's mix of moods. "At its core, it's about looking for love and solace while the
world around us—everything we once felt sure about—disintegrates. Even with
the end so palpably imminent, we're still human beings, filled with longing and—
maybe against all odds—hope. I believe music is healing," says Springfield. The
Tampa Bay Times said, "Springfield remains one of the best live entertainers of
his generation — maybe the top dog — so if he wants to explore darker closets on
studio albums, I'm not going to discourage him one bit. Especially when the result
is a project I enjoy as much as this one."
Also in 2012 Springfield's documentary An Affair of the Heart, which captured
the close ties between Springfield and his fans, debuted at numerous film
festivals and won special jury awards at the Nashville, Florida, Boston, and
Daytona Film Festivals. An Affair of the Heart premiered to record numbers
on the EPIX channel in May 2013 and is now available on DVD.
In the early '70s, Springfield already had a handful of hit records in his native
Australia. Once he emigrated to the United States, he resorted to acting—
eventually landing the role of Dr. Noah Drake during the heyday of daytime TV's
General Hospital—only as a way of making ends meet until his musical career
took off here. And take off it did, with the 1981 success of Working Class Dog
followed by Success Hasn't Spoiled Me Yet, Living in Oz, Hard to Hold
soundtrack and Tao. Despite his original and defining passion for music, many
at the time mistook Springfield for a soap star trying to convert daytime success
to a sort of faux and fleeting music career. Nothing could be further from the
truth, of course, but to argue the point—well, to quote a Springfield lyric: the
point is probably moot. Springfield is content to let his music and decade's-long
productivity speak for itself. "If you pay attention to where I've put my time, who
I really am becomes clear." In addition to General Hospital Rick's other notable
TV roles include a 4-episode arc on Californication, Hawaii Five-O and Drop
Dead Diva.
Springfield's current musical career renaissance can be traced back to the
albums Shock/Denial/Anger/Acceptance (2004) and Venus in Overdrive
(Ume, 2008), which entered the Billboard sales charts at No. 28, his highest
debut in 20 years. In 2005, Sony Legacy's released the retrospective double CD
Written in Rock: The Rick Springfield Anthology.