Sunny Yummy portable, squeezable pudding pouches for children- September 2014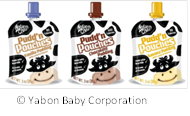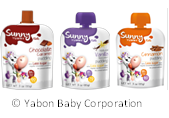 Go Back-to-School with Yabon Baby Corporation's Portable
and Delicious Dairy Snack Pouches
Protein- and calcium-packed dairy puddings are the perfect addition to kids' lunchboxes
MIAMI, FL – (August 19, 2014) – Just in time for back to school shopping lists, Yabon Baby Corporation introduces Sunny YummyTM, its new line of delicious, portable, squeezable pudding pouches that contain real proteins and a significant level of calcium, and are low in sugar. Sunny Yummy is the newest product from Yabon Baby Corp, the children's nutrition specialist who also produces and distributes Nature's ChildTM squeezable dairy pudding pouches, as well as Nature's ChildTM squeezable fruit pouches.
For the past 60+ years, Yabon Baby Corporation has prided itself in offering products that deliver both superior flavor and essential nutrition, with no artificial flavors or trans fats. From fruit pouches to dairy pouches, Yabon offers a complete range of healthy, portable snack solutions that are a smart alternative to regular snacks.
And it looks like parents and kids are getting savvier about snacks as well, and are ready to introduce healthier alternatives to traditional snacks into their lives and lunchboxes. In the second annual Rock the Lunchbox Survey of more than 2,000 kids and parents, 72 percent of kids say it's "cool" to have healthy food in their lunchboxes. The survey also concluded that 61 percent of kids prefer bringing lunch from home versus buying lunch at school, and 64 percent of kids say snacks are the most coveted item in their packed lunches. 51 percent of parents say they struggle with variety and coming up with new ideas to make lunch healthy and delicious, while 95 percent of parents say it's important to provide healthy options in their children's lunches.
Sunny Yummy TM & Nature's ChildTM main ingredient: Real Milk
Because Nature's ChildTM & Sunny YummyTM dairy pudding products are made from real foods –real milk, real cocoa, and other natural flavors – they provide a significant percentage of the protein and calcium that growing kids need every day. The grab-&-go dairy products embody the concept "good food in every way" – low fat, no artificial flavors, trans fats, or other unhealthy "short cuts" and fewer calories than other similar products.
"Our dairy puddings are chock full of calcium, protein, and other important nutrients to fuel your day," states Lionel Dupin, the managing director for Yabon Baby Corporation, the children's food company behind Nature's ChildTM & Sunny YummyTM. "And because they're portable and always-fresh, they are a perfect and delicious addition to a lunchbox or for any time a child needs a healthy and energizing snack."
Nutrition is at the heart of Nature's Child & Sunny Yummy product range
Nature's Child Pudd'n Pouches, the alternative to fruit pouches
Launched in 2012 and made from natural ingredients, with real milk & protein, Nature's Child Pudd'n PouchesTM were the first squeezable dairy pudding product of its kind. High-quality, delicious and convenient, the puddings are available in 3 flavors (Vanilla, Chocolate and Banana). The product never uses artificial colors or flavors, contains no empty calories, and never contains corn syrup.
With an average retail price of $3.50, Nature's ChildTM enjoys nationwide distribution, both in-store (Albertsons So Cal, HEB, Kroger, Meijer, Publix, Target, Walmart & online (amazon.com). 
Sunny YummyTM, the healthy grab-and-go dairy snack
Sunny YummyTM, the latest addition to Nature's Child pudd'n pouchesTM line, is a healthier, fun snack product for children (and pudding lovers of all ages) that offers less sugar per serving than any other portable puddings, yet taste like a gourmet treat.
Sunny YummyTM dairy pudding pouches are currently available in 4 delicious flavors: chocolate-caramel, vanilla, lemon and cinnamon – with strawberry coming–by the end of the year- and are sold at Babies 'R Us stores throughout the country as well as in Albertsons in Utah. The average retail price for a Sunny Yummy pack (4 pouches) is less than $3.99.
About Nature's ChildTM & Sunny YummyTM
Nature's ChildTM & Sunny YummyTM products embody the concept of "good food in every way," and are made with natural, high-quality and wholesome ingredients. These products, containing both protein and calcium, are appropriate for people of all ages, but are especially made for kids ages 4 – 12.  The convenient, squeezable pouches require no spoon, and taste fresh and delicious for up to fourteen months in your cupboard. This is the "grab-&-go" snack food you've been waiting for – healthy, delicious, and fun to eat!
For additional information, please visit:  
www.sunnyyummy.com 
www.puddnpouches.com
www.natureschildsqueezers.com
About Yabon Baby Corporation
Nature's ChildTM & Sunny YummyTM are brands owned by Yabon Baby Corporation, a 60+ years of experience company, focused on healthy & easy-to grab snacks. Adequate nutrition during childhood is essential for lifelong health and wellbeing, which is why Yabon Baby Corporation has made children's nutrition its top priority.